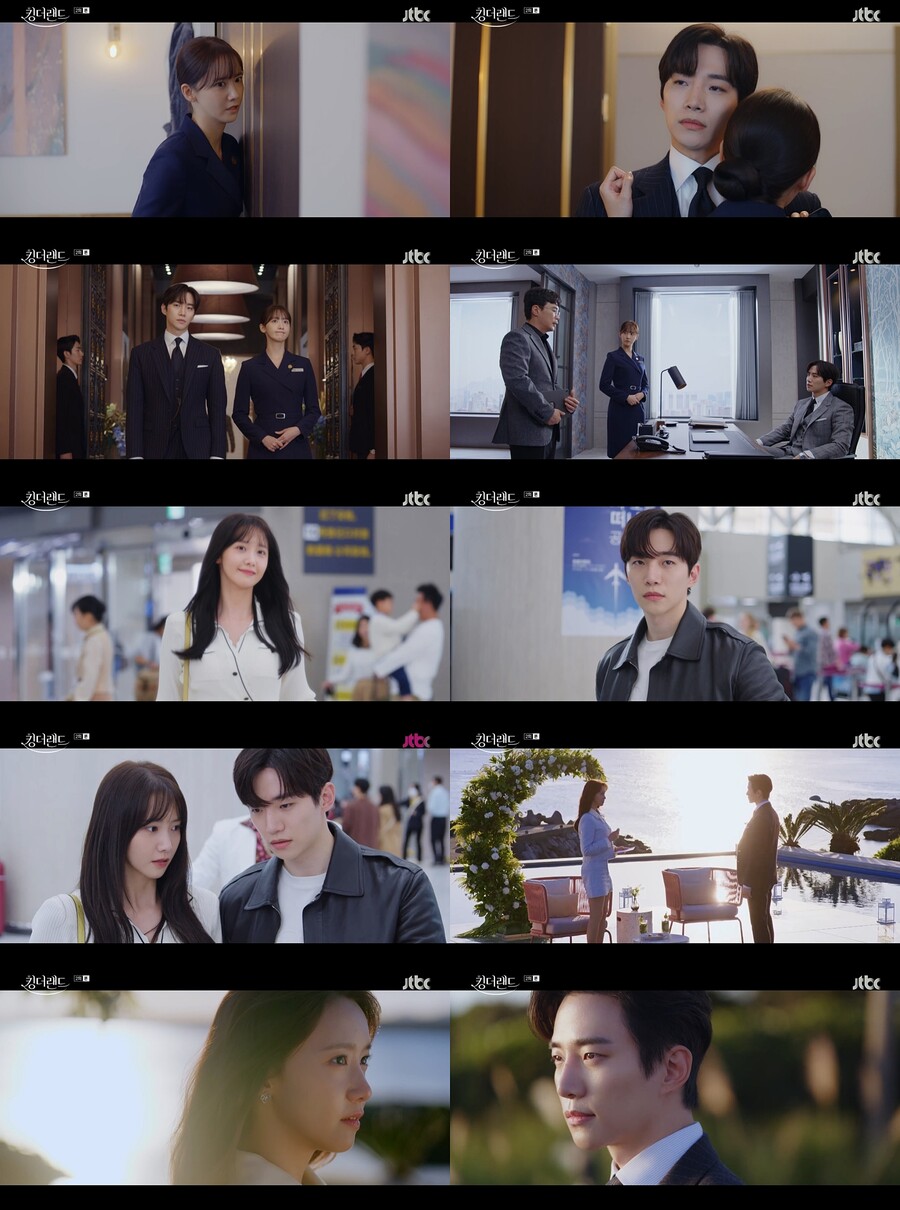 >> Lee Junho and YoonA Promises Sweet Laughter in 'King the Land'
JTBC's weekend drama King the Land kicked off to a great start in its first week of release.
According to Nielsen Korea, the drama's second episode garnered an average nationwide viewership rating of 7.5 percent, marking a significant increase from the previous episode's 5.1 percent.
The first episode of the drama treated viewers to a hilarious encounter between Cheon Sarang (played by Yoona) and Gu Won (Junho) as she mistook him for a perverted customer.
Continuing the delightful momentum, the second episode took an exciting turn as Cheon Sarang and Gu Won teamed up for a promotional video for King Hotel. Despite them clearing up the initial misunderstanding, a subtle tension lingered between them. However, Gu Won found himself quietly helping Sarang tackle challenging customers.
Later in the episode, Chairman Koo Il Hoon (Son Byung Ho) directed the duo to do a live interview on Jeju Island. The change of location became an opportunity to break down the walls between the two, and he couldn't help but be captivated by Cheon Sarang looking all new in her gorgeous business casual outfits. Likewise, Cheon Sarang blushed upon seeing Gu Won, impeccably dressed for the live interview.
Here are some of the enthusiastic reactions from viewers who tuned in to episodes 1 and 2 of King the Land:
"I'm fascinated. Can you feel the old kdrama spirit too?"
I'm fascinated.
Can you feel the old kdrama spirit too? 🥹🧡#KingTheLand#KingTheLandEp2 pic.twitter.com/oibblvLukp

— kdrama diary (@kdramasdiary) June 18, 2023
"Great actor and actress, great view, great cinematography and, great OST. I super love everything about this scene! I cannot wait to get to know more about Gu Won and Cheon Sarang and see them become each other's comfort waahh."
great actor and actress, great view, great cinematography and, great ost. i super love everything about this scene! i cannot wait to get to know more about gu won and cheon sarang and see them become each other's comfort waahh #KingTheLand #KingTheLandEp2 pic.twitter.com/TQ5rA0m8hk

— 𝗿𝗮𝗲 (@yoongsraeo) June 18, 2023
"The way Sarang and Noh Sangsik just leave Gu Won to die lmao."
The way Sarang and Noh Sangsik just leave Gu Won to die lmao😂😂😂#YoonA #임윤아 #윤아 #LimYoonA #Junho #LeeJunho #이준호 #KingTheLand #킹더랜드 #KingTheLandEp2 pic.twitter.com/TpmS1QuAwN

— Mystarmyangel (@mystarmyangel) June 18, 2023
"Junho acted the subtle post traumatic scene so well. I think he controlled it here but we should be ready Gu Won might not be able to control it always. The smiles definitely look scary from his POV."
Junho acted the subtle post traumatic scene so well 🥹 I think he controlled it here but we should be ready Gu Won might not be able to control it always 😭 the smiles definitely look scary from his POV 🥹#KingTheLand #KingTheLandEp2 #킹더랜드 #LeeJunho #Junho #이준호 pic.twitter.com/gQX5z7CNiV

— Daisy loves KING JUNHO ✨ (@daisy_talks) June 18, 2023
"Gu Won's entrance is just so unfair for my heart. Just how many times will junho make me fall hard for him?!"
gu won's entrance is just so unfair for my heart 🫠🫠 just how many times will junho make me fall hard for him 😭#KingTheLandEp2 #KingTheLand pic.twitter.com/UpVqTWxTMi

— CJ댕 stans KING THE LAND BEST ROMCOM 2023 (@kaeseorin_cj) June 18, 2023
"CURRENTLY SCREAMING OVER KING THE LAND EPISODE 3 PV! HOW DO I WAIT TIL NEXT SATURDAY HELP!"
CURRENTLY SCREAMING OVER KING THE LAND EPISODE 3 PV

HOW DO I WAIT TIL NEXT SATURDAY HELP😭😭pic.twitter.com/syaYpfhjAO

— anya (@noahraeli) June 18, 2023
"Sarang's flexing her language skills English, Chinese & Japanese!! 'Happy hours are from 3-5PM and please feel free to have complimentary snacks and drinks at the hotel lounge.'"
Sarang's flexing her language skills👏🏼 English, Chinese & Japanese!!

"Happy hours are from 3-5PM and please feel free to have complimentary snacks and drinks at the hotel lounge."#KingTheLandpic.twitter.com/nU9stHgYZB

— 😵‍💫 (@ordinarynojaem) June 17, 2023
"The entire crew deserves a fucking raise in their pay. Nah but just look at those outfits, the locations, the camera angles, the beautiful ost and THEM. Insanely gorgeous!"
the entire crew deserves a fucking raise in their pay. Nah but just look at those outfits, the locations, the camera angles, the beautiful ost and THEM. Insanely gorgeous 😭✨🤌🏻#KingTheLand • #KingTheLandEp2 pic.twitter.com/0rPeugmAMn

— 𝐒𝐚𝐟. (@thedorlynsflaws) June 18, 2023
"I REALLY LIKED EPISODE 2. Now I can finally say with my heart I'm liking King The Land. THIS IS THE ROM-COM I WANTED THANK YOU JUNHO & YOONA!"
I REALLY LIKED EPISODE 2 🥹❤️
Now I can finally say with my heart I'm liking King The Land😭❤️ THIS IS THE ROM-COM I WANTED THANK YOU JUNHO & YOONA ❤️#KingTheLand #KingTheLandEp2 #킹더랜드 #LeeJunho #Junho #이준호 #LimYoona #YoonA #임윤아 pic.twitter.com/cp5o1DjgeG

— Daisy loves KING JUNHO ✨ (@daisy_talks) June 18, 2023
"The way he was grappling with his tears is really tugging at my heartstrings, Lee Junho the actor that you are!"
The way he was grappling with his tears is really tugging at my heartstrings, Lee Junho the actor that you are 😭😭#LeeJunho #KingTheLand pic.twitter.com/zldrdgxXEl

— Inès || Allure stan (@inesyawyawyaw) June 18, 2023
"Junho is so handsome and dreamy. I'm in love all over again."
junho is so handsome and dreamy i'm in love all over again #KingTheLand #KingTheLandEp1 pic.twitter.com/eHAbsnLztu

— ً (@kdramamiss) June 17, 2023
"These are the part that I can fully understand without any subs – universal language. Applauding the production team for providing many gorgeous slow-mo of Guwon."
These are the part that I can fully understand without any subs – universal language🔥❤️🐧 Applauding the production team for providing many gorgeous slow-mo of Guwon🥰#LeeJunho #KingtheLand #KingtheLandEp2 pic.twitter.com/H56jbx04Zl

— Lee Junho | KING THE LAND🐧❤️ (@2pmleejunho06) June 18, 2023