Are you ready to dive into the "New World?"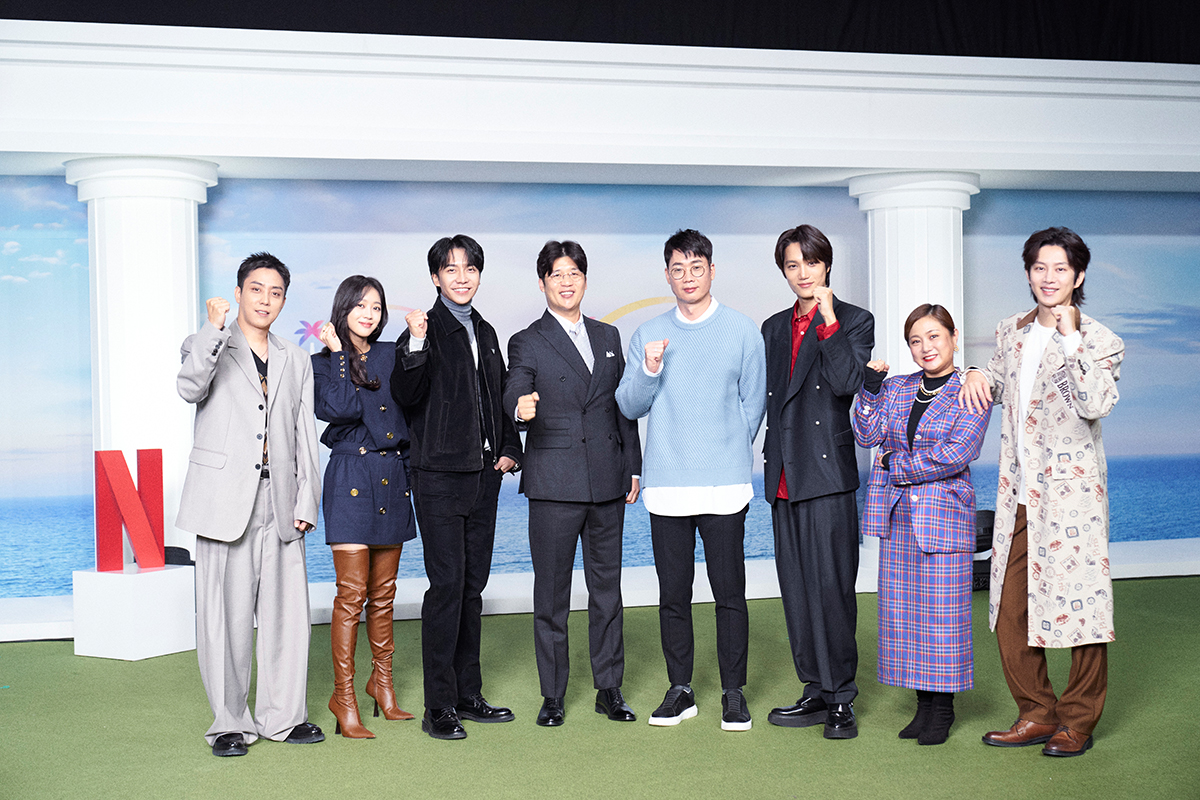 On the 17th, Netflix's new original show New World held its press conference. The star-studded event was hosted by Lee Seung Gi, Eun Ji Won, Kim Hee Chul, Jo Bo Ah, Park Na Rae, EXO's Kai and the two showrunners, Jo Hyo Jin and Go Min Suk.
New World is an upcoming Netflix variety show where the cast has to spend days on a mysterious utopian island and play games, forge friendships with a few surprise twists and betrayals along the way.
Lee Seung Gi introduced the new show, saying, "We live in a space called the New World where each individual's desire will come true for six days. There are virtual currencies and games to earn or lose the currencies. It's the first time we've ever done this kind of a show."
Eun Ji Won added, "The concept of granting what we desire through these games intrigued me much. If you like online games, there are many things you'll love about this show." Kai also showed his confidence, saying, "I think I'll get to show you a different version of myself. While filming, I was surprised to realize that I had such sides in me."
Even during their talks, the cast showed off fantastic chemistry.
"I don't think our show wouldn't have been this much fun if it wasn't for Jo Bo Ah," said Lee Seung Gi. "She always played a key role. We had to have her to win the games. It was kind of like 'Temptation of Wife.'"
Kim Hee Chul also stressed, "It was my first time filming a reality show. I've never filmed in a place without a roof before, and it was so much fun." He added, "Our chemistry was amazing."
Lee Seung Gi and Eun Ji Won's reunion also became a hot topic. "Being with Eun Ji Won makes me so comfortable. Somebody has to be a villain, and being a villain in front of him relieves the pressure," Lee Seung Gi shared.
Jo Hyo Jin explained that the cast's chemistry, the beautiful scenery and the story that goes back and forth between fantasy and reality will be the key takeaways of this new show.
Meanwhile, New World will release two episodes every Saturday starting on November 20th.
Source (1)
Translator Kim Hoyeun: If you are a fan of K-drama, K-movie, and K-pop, I am your guy. I will continue to provide you with up-to-date K-entertainment news.