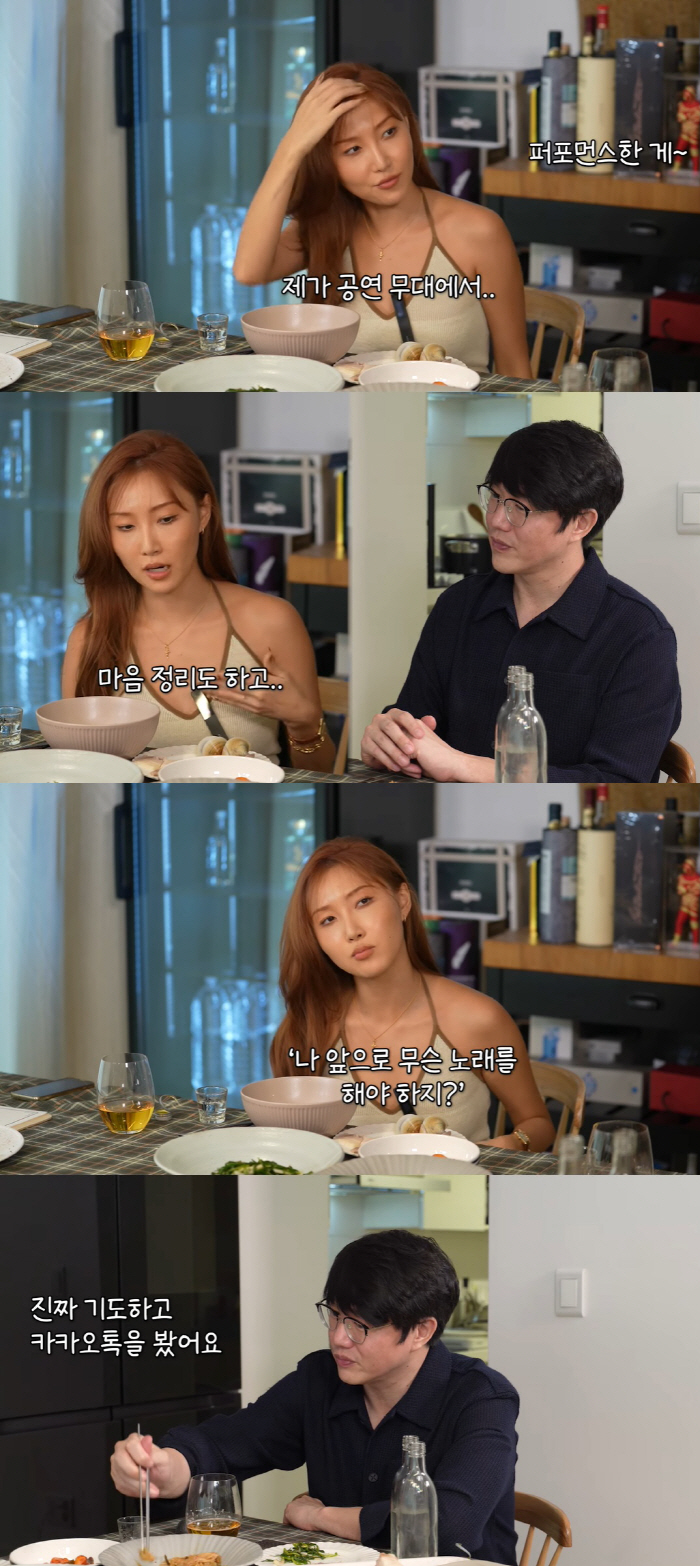 Hwasa laid it all on the table about her tough moments dealing with a recent scandal.
The singer appeared as the first guest on Sung Si Kyung's new segment of his YouTube channel revealed on the 4th.
During the conversation, Hwasa introduced her upcoming single, I Love My Body. She described the track as "straightforward but profound," adding, "The song became especially relevant because I had been embroiled in a scandal. I was in the U.S. for Mamamoo's North American tour, and the moment I landed, my phone was flooded with messages. My performance had stirred up controversy, and the level of hate comments was really overwhelming."
Hwasa continued, "I usually don't dwell on hate comments, but this time, it was intense. I had to find my mental stability before our first show in New York. Despite trying to keep my cool and go on with the performance, I broke down in tears as soon as it ended." She further revealed, "I cried in the elevator on my way back to the hotel room, which I shared with Wheein. That was the hardest I cried all year. It was like a waterfall; I even stepped out for some air and couldn't hold back the tears."
A turning point came for Hwasa when she received an unexpected message from Psy. "I was feeling down and questioning, 'What kind of music should I be making?' when Psy contacted me. It wasn't like I was a P NATION (Psy's label) family or anything, but he sent me a song. The moment I heard it, I laughed for the first time in ages. The title itself, 'I Love My Body,' lifted my spirits, especially knowing it was from Psy."
Through this song, Hwasa rediscovered her initial passion. "I used to have a mindset of 'If you hate on me, I'll make you a fan.' But this time, I felt truly shaken. However, this experience has been a kind of silver lining. It made me stronger and more resilient. I want to address the situation I've been through in a delightful and lovable way in the music video," she revealed.
Meanwhile, Hwasa found herself mired in controversy over explicit performance at a college festival during the shooting of tvN's Dancing Queens on the Road in May.
Source (1)