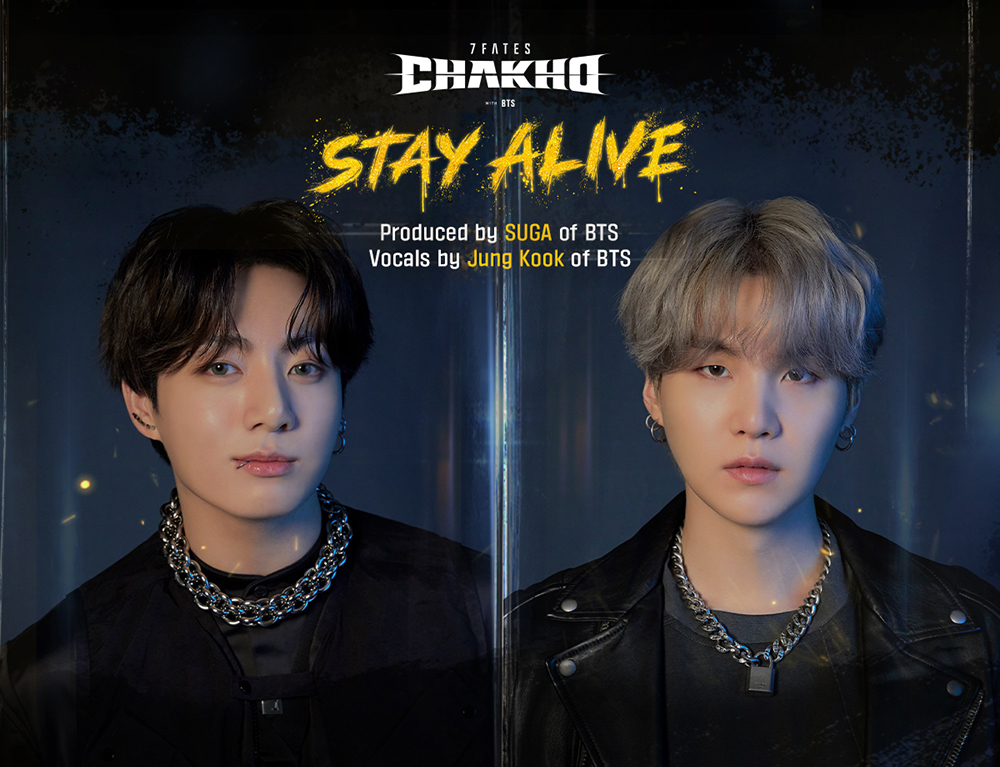 Jungkook's "Stay Alive" made a splendid debut, sweeping the "highest" and "fastest" records on global music platforms.
On the 11th, "Stay Alive," the soundtrack for BTS's webtoon "7Fates: CHAKHO" produced by Suga and sung by Jungkook, was finally unveiled. And upon its release, the song is showing dazzling performance on the platforms.
According to the World Music Awards (WMA), Jungkook's "Stay Alive" recorded 4.27 million streams on Spotify's global chart, becoming the highest debut by a Korean solo artist. The track landed at No. 3 with only 7,000 streams less than The Kid LAROI and Justin Bieber's "STAY."
BIGGEST DEBUTS BY KPOP SOLO ACTS IN GLOBAL SPOTIFY CHART HISTORY!💪👑👑👑💜🤍💛
1️⃣ #JUNGKOOK – #STAYALIVE – 4.27M STREAMS
2️⃣ #ROSÉ – #ONTHEGROUND – 3.26M
3️⃣ #LISA – #LALISA – 3.25M@BTS_twt @BLACKPINK pic.twitter.com/NmmWghs45Z

— World Music Awards (@WORLDMUSICAWARD) February 12, 2022
#STAYALIVE by #JUNGKOOK, prod. by #BTS's #Suga, records the "HIGHEST DEBUT" by a Korean Solo Artist in #GlobalSpotify history, both in position (#3) and number of streams (4,273,772)!💪🥇🔝🇰🇷👨‍🎤💥3️⃣🌎🎧📈➕4️⃣.2️⃣7️⃣Ⓜ️🎧🔥👑💜#StayAliveByJungkook
🎧:https://t.co/DmovYbMpit pic.twitter.com/g1oNjS8yGk

— World Music Awards (@WORLDMUSICAWARD) February 12, 2022
This marks the 12th most-streamed song upon its debut among all the songs released by Korean artists. Moreover, Jungkook became the only artist that debuted with more than 4 million streams in 2022 after The Weekend.
WMA also reported that "Stay Alive" has reached No. 1 on iTunes in 100 countries, the fastest song by a solo act in history to reach the milestone.
#Jungkook's #StayAlive (Prod. by #SUGA of #BTS) has reached #1 on iTunes in 100 countries, the FASTEST Song by a Solo Act in HISTORY to reach this Milestone!💪🥇💨👨‍🎤🎶💥1️⃣🎵✖️💯🌎👑💜 pic.twitter.com/roYpqPhBhy

— World Music Awards (@WORLDMUSICAWARD) February 13, 2022
Meanwhile, "7Fates: CHAKHO" is an urban fantasy set in the near future, inspired by the "chakhogapsa," known as the tiger hunters in the Joseon dynasty. Seven young men whose fates are intertwined join forces as they overcome the ordeals and grow up. The project has gained worldwide popularity, recording all-time views upon release.
Source (1)
Translator Kim Hoyeun: If you are a fan of K-drama, K-movie, and K-pop, I am your guy. I will continue to provide you with up-to-date K-entertainment news.