The new webtoon and web novel that has BTS members as its characters have become a hot topic.
There are expectations that the collaboration between K-pop artists and webtoons can become a new case for intellectual property (IP). Yet, a lot of people are pointing out the excessive commercialization of the artists.
HYBE and NAVER Webtoon's original content "7Fates: CHAKHO" was released on the 15th. It's an urban fantasy set in the near future, inspired by the "chakhogapsa," known as the tiger hunters in the Joseon dynasty. Seven young men whose fates are intertwined join forces as they overcome the ordeals and grow up.
The overall concepts of the character are based on the BTS members. In particular, the refreshing idea taken from the myth of a bear and a tiger drew keen attention.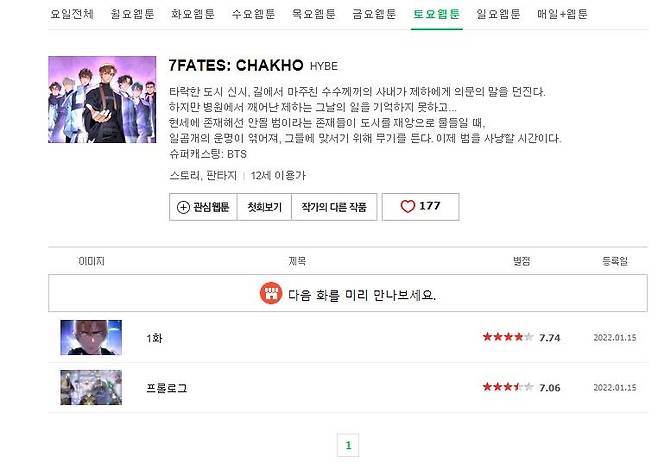 However, it looks like ARMY thought otherwise. As of the 16th afternoon, the first episode of "7Fates: CHAKHO" has only received a rating of 7.74 out of 10. Considering that most of the work has 9-star ratings, this number is considerably low. On the other hand, the webtoon released on Naver Webtoon Global, which targets fans around the world, has 9.92 ratings.
Some complain that the label is taking too much advantage of the artists to expand its business. One fan left a comment, saying, "I heard that HYBE is doing various businesses like games, videos, and even education. They're just using BTS for their own good."
Source (1)
Translator Kim Hoyeun: If you are a fan of K-drama, K-movie, and K-pop, I am your guy. I will continue to provide you with up-to-date K-entertainment news.