The global boy band BTS has accumulated 30 million album sales.
On Wednesday, Gaon Chart released data summarizing the combined album sales of the singers that debuted after 2011 (from January 2011 to November 2021).
According to this data, BTS has sold a total of 32,783,223 copies, setting the record for the most album sales by a male group. NCT, EXO, and Seventeen followed the list, ranking from second to fourth. Fifth place went to TWICE for selling 7,299,094 copies. The act became the female group with the most album sales.
In the solo singer category, Girls' Generation's Taeyeon topped the list among the female solo artists with 1,051,567 copies. As for the male solo artist category, EXO's Baekhyun came in first with 2,557,711 copies.
In the meantime, 12 teams (4 solo artists, 8 groups) sold over 1 million copies in total, and 7 teams (1 solo artist, 6 groups) sold over 2 million copies. Additionally, only 3 groups became artists with 3 million album sales and 2 groups with 4 million album sales. Lastly, 3 groups had sold over 10 million copies.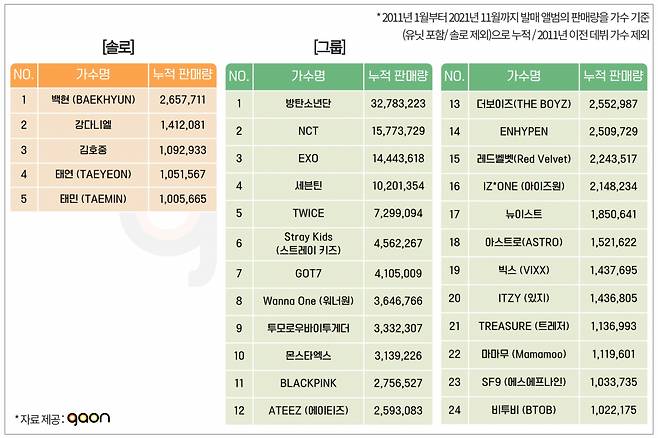 Source (1)
Translator Kim Hoyeun: If you are a fan of K-drama, K-movie, and K-pop, I am your guy. I will continue to provide you with up-to-date K-entertainment news.