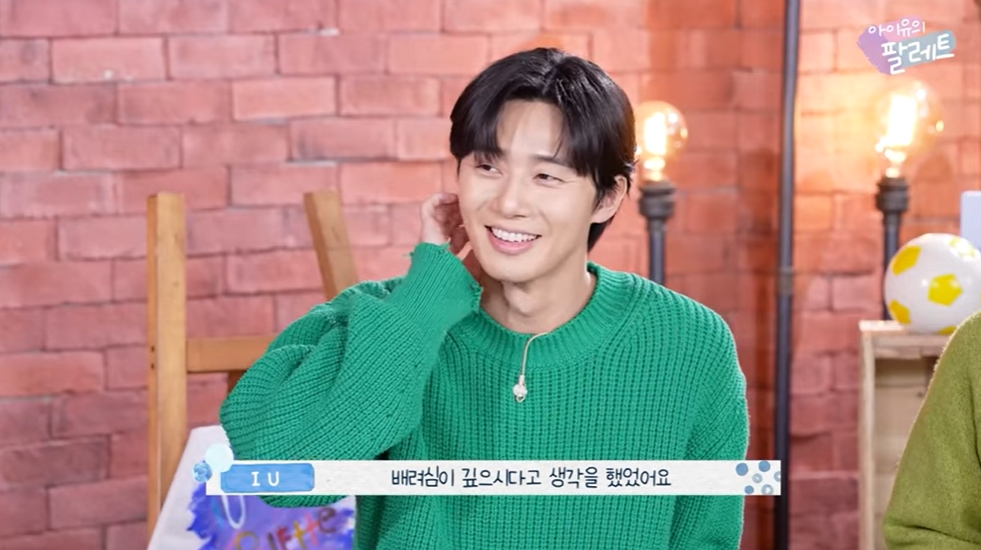 Episode 20 of IU's Palette featured three guest stars from the movie Dream – Park Seo Joon, Jung Seung Kil and Heo Joon Seok.
Park Seo Joon shared why he chose to star in the movie Dream during his appearance in Episode 20 of IU's Palette. He said, "While filming for Itaewon Class, my character had to display a wide range of complicated emotions, with numerous scenes requiring me to act with diversity. However, the character Hongdae in Dream was a completely different role that offered a fun and exciting challenge, especially with the talented cast members. I'm glad that I made the decision to star in this movie."
IU then said, "The character you portrayed really made us wonder, "Is Park Seo Joon's real-life personality like this too?" You seemed so comfortable in the role of Hongdae." Upon hearing what IU said, Seo Joon responded by saying, "My MBTI type is I, so I am always shy around people." To this, the singer responded, "That's a lie!" Seo Joon was puzzled and jokingly said, "Have I made a mistake? I'm very sorry," which made everyone burst out in laughter. He then added, "That's why I couldn't speak comfortably with you," and IU nodded, saying, "That's right, he's still using honorifics with me. I'm also type I. But during our promotion schedules, I've been feeling that we're gradually warming up." Seo Joon agreed by saying, "I feel that too," and IU responded with a cute thumbs up, "I hope we get closer."
She asked him, "I thought you make everyone comfortable and you were really caring. So when do you get annoyed?" To which he jokingly replied, "When I get in my car after the shooting is over." He quickly added, "Thank you so much for your kind words. Because I'm too shy, I try my best to warm up, but I'm not the kind of person who socializes easily. So, I was always concerned about that. But hearing you say it so nicely, I was like, 'I guess I wasn't doing that bad?'", with a sense of relief.
>> IU and Park Seo Joon Share Their Experience Working Together for 'Dream'
Source (1)