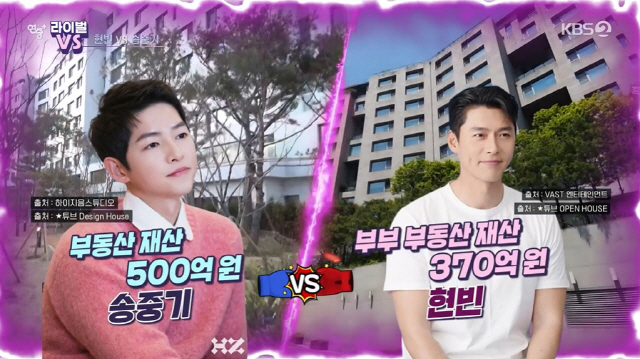 The January 12th broadcast of KBS's Entertainment Company Live took a look at some interesting facts about Song Joong Ki and Hyun Bin, from their hit dramas to their real estate properties with eye-popping price tags.

Song Joong Ki rose to stardom with his role in the 2016 drama Descendants of the Sun. He makes about $800,000 from his endorsement deals annually and about $2.82 million from endorsing a Chinese brand for two years.
His huge star power not only quadrupled the sales of the cosmetic products he endorsed but also made the bags he wore at the airport sell like hotcakes. 
The actor bought a high-end condominium unit in Hawaii a few years ago for $2.2 million and a house in Yongsan for about $8.1 million in 2016. He rebuilt the house in Yongsan, and the property now has an estimated market price of $16.1 million. Reports say he has $40.2 million in total in property, including his current $7.65 million house and a $12.1 million villa.

Hyun Bin rose to stardom with My Lovely Sam Soon and continued his lucky streak with the sensational drama Secret Garden. He reportedly makes $400,000 from endorsing a brand for six months.
The celebrity made $1.1 million by selling a Seoul apartment he bought for $3.2 million in 2009. Hyun Bin also reportedly acquired his agency's building for about $8 million and registered it under his family member's name. His honeymoon house is estimated to be $3.86 million, and the couple now reportedly owns $29.8 million in property.
>> Song Joong Ki Makes Millions of Dollars From Real Estate Investment
Source (1)