Netflix original series All of Us Are Dead has started a new craze immediately after its release, ranking first in 91 countries.
Even before the release, the All of Us Are Dead trailer recorded more than 17 million views (as of January 27th) in the UK and the US. And after the release, the show is heating up the world and writing a new history of the K-zombie.
All of Us Are Dead centers around a group of high school students who are trapped in their school that became ground zero for a zombie virus outbreak.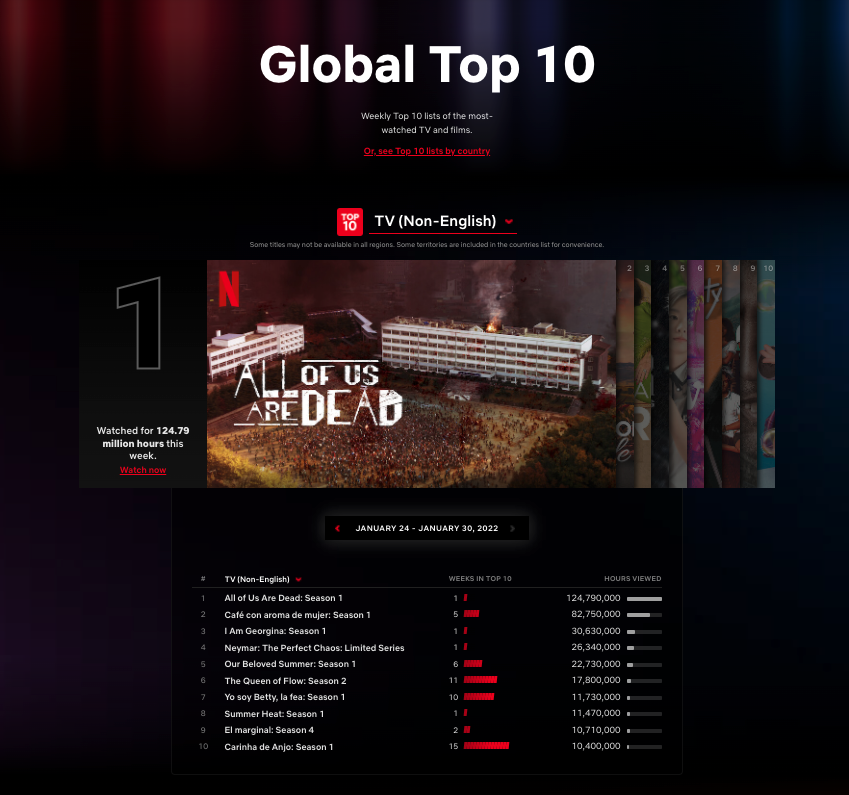 According to the data released by the Netflix TOP 10 website (top10.netflix.com) on the 2nd, the show took the top spot in Netflix's global TOP 10 TV (non-English) category. It has garnered 124.7 million hours of views (January 24th to 30th), ranking first on the TOP 10 list in 29 countries.
Additionally, All of Us Are Dead is leading a global sensation by making the TOP 10 list in 62 countries, including the States, Canada, Brazil, Greece, Russia, Spain, and Italy. Moreover, it has received more hours of views than Ozark (96.34 million), which took the top spot in the TV (English) category.
Source: Netflix
Translator Kim Hoyeun: If you are a fan of K-drama, K-movie, and K-pop, I am your guy. I will continue to provide you with up-to-date K-entertainment news.