Evidence of a romantic relationship between Park Seo Joon and YouTuber xooos has been revealed.
On the 20th, YouTuber Lee Jin Ho hosted a live broadcast to dig deeper into the alleged romance between Park Seo Joon and xooos. He revealed that the rumors of Park Seo Joon's relationship began circulating 2-3 months ago and that he had received a tip-off related to this about a week ago.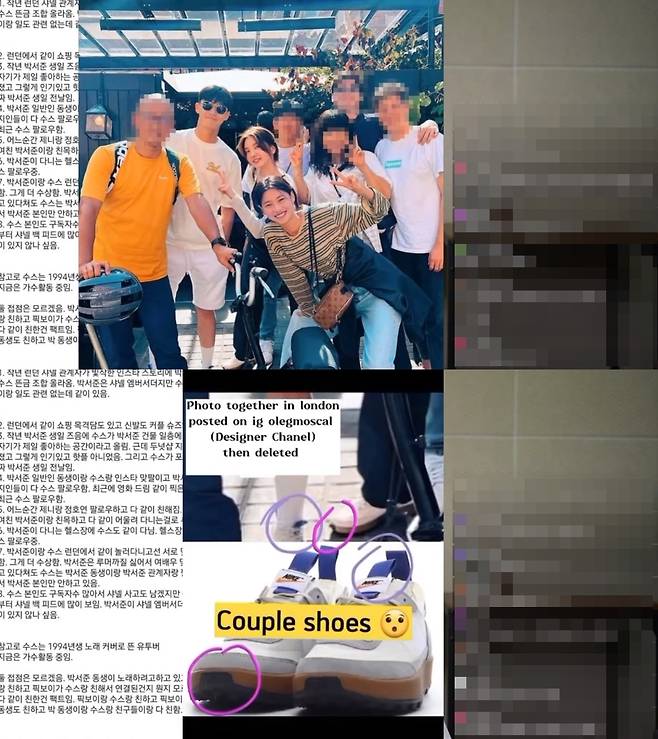 Among the evidence Lee Jin Ho unveiled was a post that read, "Last year, a Chanel official posted a photo with Park Seo Joon and xooos together on Instagram Story then deleted it right after. While Park Seo Joon is a Chanel ambassador, xooos has no ties with Chanel, yet people spotted them together." The photo showed Park Seo Joon and xooos posing together with Jung Ho Yeon and others.
Furthermore, fans spotted the duo shopping together in London, and at that time, wearing matching sneakers of the same design. Moreover, a photo that xooos posted on Instagram, citing it as her favorite place, is reportedly a building owned by the actor. Another proof of releationship Lee Jin Ho present was the  fact that Park Seo Joon's younger sibling and close friends follow xooos on social media.
Lee Jin Ho remarked, "It seems they've been dating for at least a year. When I asked their agency, they stated they 'couldn't verify his private life.'" He quickly added, "Considering Park Seo Joon's personality, I doubt he'd have said 'can't confirm' if he really wasn't dating. Park Seo Joon has never been one to let rumors about his love life circulate or be the first to break the news. He tends to tread his path quietly."
Meanwhile, xooos debuted through the drama Producer and has also appeared in drama Risky Romance as well as pursued a singing career. Currently, she is a popular YouTuber with over 1.54 million subscribers.