BIGBANG member T.O.P will be the first Korean celebrity to go on a space trip.
According to an exclusive report on December 6th, the rapper was selected as one of eight artists to participate in a space trip project called #dearMoon, the mission led by famous Japanese entrepreneur Yusaku Maezawa. This project is scheduled to be launched in 2023.
Maezawa Yusaku is a Japanese billionaire entrepreneur and art collector. Dubbed the 'Japanese Elon Musk' for his incredible vision and innovative ideas, he shocked the world in 2018 by announcing that he will be leading the first-ever civilian mission to the Moon with his #dearMoon project sometime in 2023.
Online meeting with Elon @elonmusk is done. I can make a major announcement about space around the noon of December 8, PST. It's another new announcement on the anniversary of exactly one year since the day I went to ISS last year.

— Yusaku Maezawa (MZ) (@yousuckMZ) December 5, 2022
Alongside the announcement, Maezawa revealed that he wants to invite eight artists from around the world on the once-in-a-lifetime space trip and that he would cover all the travel expenses of the selected participants.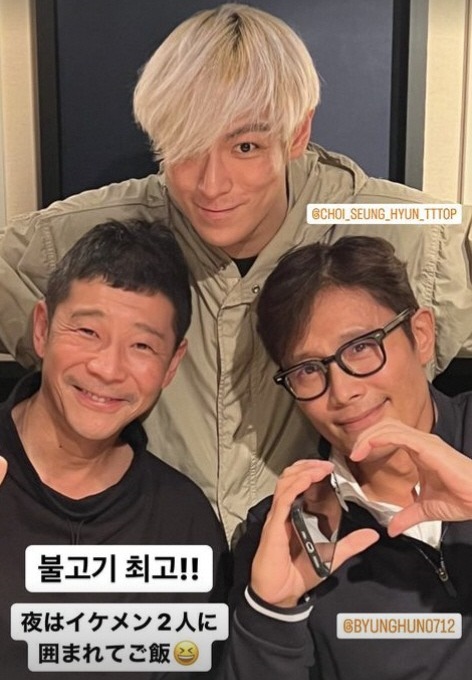 In September, Maezawa Yusaku showed off his close friendship with T.O.P and Lee Byung Hun by sharing a picture of them on his Instagram. After seeing the photos, many wondered if the two celebrities would be joining him on his upcoming project. It has not yet been confirmed if Lee Byung Hun will be joining T.O.P in the space trip project.
Source (1)