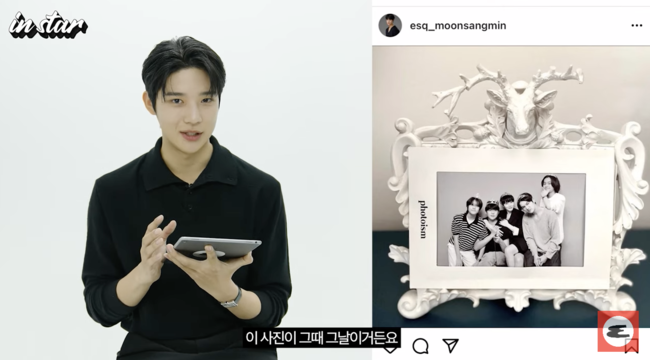 Moon Sang Min expressed his gratitude to Kim Hye Soo in a video interview for ESQUIRE Korea.
He briefly introduced his latest drama series, Under the Queen's Umbrella, saying, "It is about spirited mothers jumping into the royal educational war to make their songs inherit the kingdom. Various fun stories unfold throughout the show."
Regarding his role, he shared, "Grand Prince Seongnam grew up in Seochon, unlike other princes. Perhaps because of that, he has a very proactive, dynamic personality and knows how to think outside the box. He has an unexpected charm as he has a soft spot for his younger brothers and really feels compassionate and empathetic towards them, unlike how he looks on the outside."
He also picked the most memorable episode in the series. He said, "On Korean Thanksgiving Day, all the cast members could not go to their hometown as they had to film the show during the holiday. However, Kim Hye Soo surprised us by inviting all the princes to her dinner," showing a picture of them at the occasion.
Moon Sang Min recalled, "Since we were together, I wanted to make memories with all of them. So I asked Kim Hye Soo if she would like to go to take a picture with us, and she loved the idea."
The actor continued, "We went to a full photo studio, not a booth. So it almost felt like taking a family photo together. Kim Hye Soo also said she had never done it before, so we all enjoyed taking photos there."
Source (1)