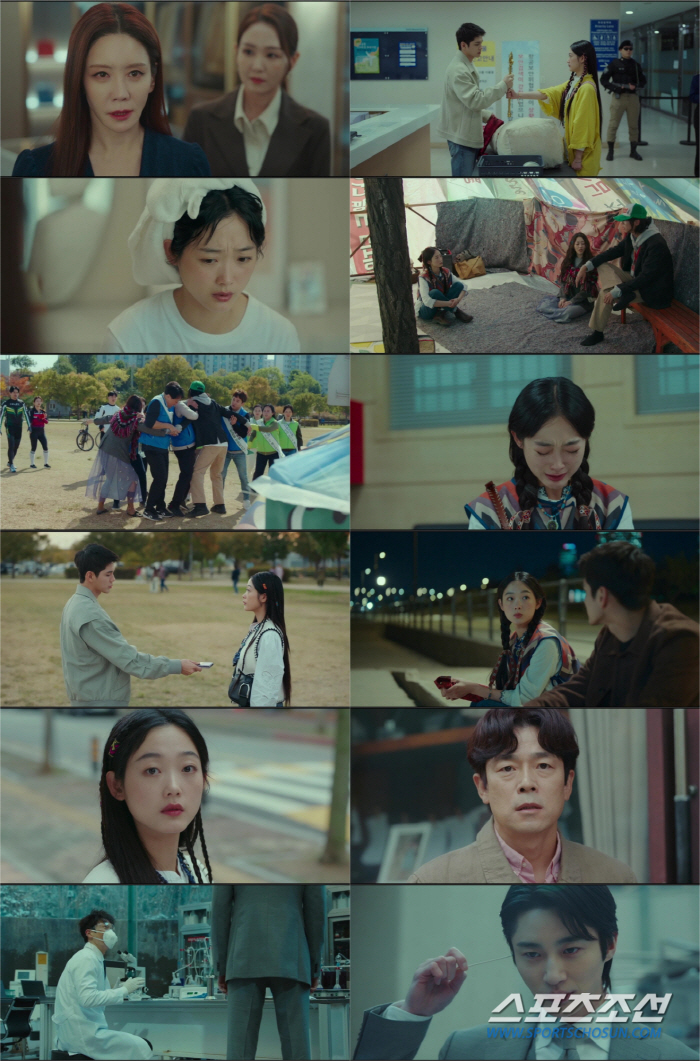 JTBC's new weekend drama Strong Girl Nam-soon captivated viewers with its intriguing storyline. In the second episode, we see how Kang Nam Soon (played by Lee Yoo Mi) adjusts to her new life in Korea.
Kang Nam Soon shares a wacky first encounter with Detective Gang Hee Sik (Ong Seong Wu). Hee Sik and his colleagues begin searching passengers' luggage in hopes of finding drugs stashed somewhere on the plane Nam Soon is aboard with a golden wand, which instantly catches Hee Sik's eyes. Although the wane is key to finding her mother, Hee Sik sees it as something suspicious enough to investigate.
There's another crisis on the horizon as Nam Soon falls victim to accommodation fraud. She's deceived into giving up all her belongings, including money and her phone, and unexpectedly finds herself on the streets.
Nam Soon sets up a tent in Han River Park but she is soon taken to a police station. Fortunately, she is released with the help of Hee Sik.
Hae Sik promises to Nam Soon that he will help her find her mother and catch the fraudster. Before getting her passport reissued, the two head to the photo studio. And there, she discovers that the owner is none other than her father Kang Bong Go, with whom she parted ways long ago in Mongolia.
Geum Joo (Kim Jung Eun) takes matters into her own hands to tackle the growing drug crime. Meanwhile, Ryu Shi Oh (Byeon Woo Seok) appears as the head of the drug distribution and sales company, leaving viewers on the edge of their seats.
Source (1)