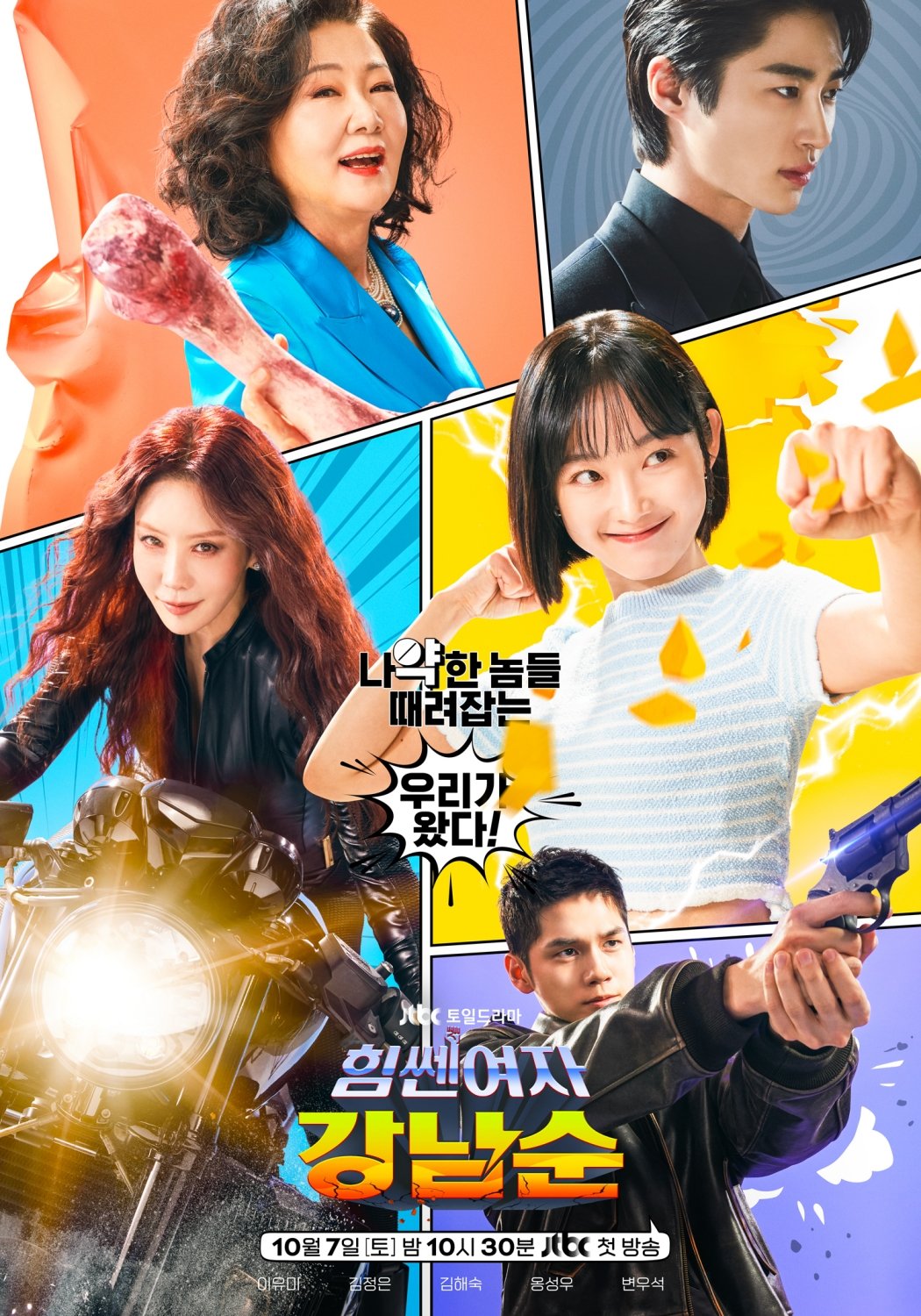 JTBC has cropped a main poster for its new Saturday-Sunday drama Strong Girl Namsoon.
Strong Girl Namsoon is a comical crime action drama about a three-generation family of women who are endowed with extraordinary strengths. The journey follows them as they uncover the truth behind the drug crimes that occur in Gangnam. The upcoming show marks the collaboration between writer Baek Mi Kyung of Strong Girl Bongsoon and director Kim Jeong Sik of Work Later, Drink Now. The star-studded cast includes Lee Yoo Mi, Kim Jung Eun, Kim Hae Sook, Ong Seong Wu, Byeon Woo Seok, Lee Seung Joon and more.
The new poster shows Kang Nam Soon (played by Lee Yoo Mi) swinging a punch with a confident smile, raising anticipation about her upcoming hand-to-hand combat with villains. Next to her, her mother Hwang Geum Joo (Kim Jung Eun) is on a motorcycle, exuding an undeniable charisma. Nam Soon's grandmother Gil Joong Gan (Kim Hae Sook) is a well-known living legend in Majang-dong. Gang Hee Sik (Ong Seong Wu) and Ryu Shi Oh (Byeon Woo Seok) also capture the attention as a determined detective and ruthless villain. 
Lee Yoo Mi plays the role of Do Bong Soon's sixth cousin Gang Nam Soon. She is a quirky and bubbly character with extraordinary strength. She flew from Mongolia to find her parents. Kim Jung Een stars as Hwang Geum Joo, Nam Soon's wealthy mother who lives in Gangnam and has a strong sense of justice. Kim Hae Sook portrays Nam Soon's grandmother Gil Joong Gan who has been a legendary figure in Majang-dong.
Ong Seong Wu transforms into a man of knowledge and virtue, Gang Hee Sik, the youngest police officer in the Gangnam Han River District Police Department. Meanwhile, Byeon Woo Seok joins as an ambitious villain named Ryu Shi Oh, who heads the distribution and sales company, Dugo.
Strong Girl Namsoon will premiere on October 7th.
>> New JTBC Drama 'Strong Woman Gang Nam-soon' Promises Girl Power Like Never Before
Source (1)