The first half of 2023 was a roller coaster ride for the Korean entertainment industry, with its fair share of shocking revelations and controversies.
The Fake News Fiasco
In January, reports surfaced claiming IZ*ONE's Kim Chaewon was dating rapper A, and G-Dragon was in a relationship with the granddaughter of the Shinsegae Group chairman. These rumors originated from a Japanese weekly newspaper and Chinese entertainment media Sina Entertainment, respectively. Both Kim Chaewon's agency and the Shinsegae Group denied these claims.
Barbie Hsu and Koo Jun Yup faced numerous fake news items, including divorce and abortion rumors, not only in Korea but also in China, mostly spread through YouTube and online communities. In response, Hsu announced her intention to take legal action against these false rumors.
Fake divorce news also affected Kim Yuna and Ko Woo Rim, who plans to take legal measures.
Last month, Sung Hoon and Park Na Rae took a strong stand against absurd rumors that spread indiscriminately in online communities, including sexual harassment remarks and unverified rumors.
Stars Troubled Over "Non-Payment"
Recently, Song Ji Hyo was embroiled in a dispute with her former agency, UZUROCKS. In April, Song informed UZUROCKS about the termination of her exclusive contract and appointed a legal representative for legal action related to wage and settlement payments.
Song Ji Hyo alleged that UZUROCKS's CEO Park embezzled a total of 1.2 billion won (about $923,000). It was reported that Song Ji Hyo paid for the surgery and living expenses of employees who could not receive their salaries.
Ji Suk Jin, from the same agency, is also said to have stepped forward to help the staff. He checked with his staff daily that they, including his manager and stylist team, received their salaries and even paid them out of his own pocket.
Military Service Evasion
Rappers Ravi and Nafla caused a huge stir with their fraudulent epilepsy diagnosis to evade military service.
Ravi and Nafla were brought to trial on charges of conspiring with a broker to submit a false epilepsy diagnosis in order to receive a military exemption. In April, both of them, indicted on charges of evading military service, admitted all the charges. Consequently, the prosecution sought 2 years and 2.5 years in prison, respectively.
Continuous Drug Scandals and Drunk Driving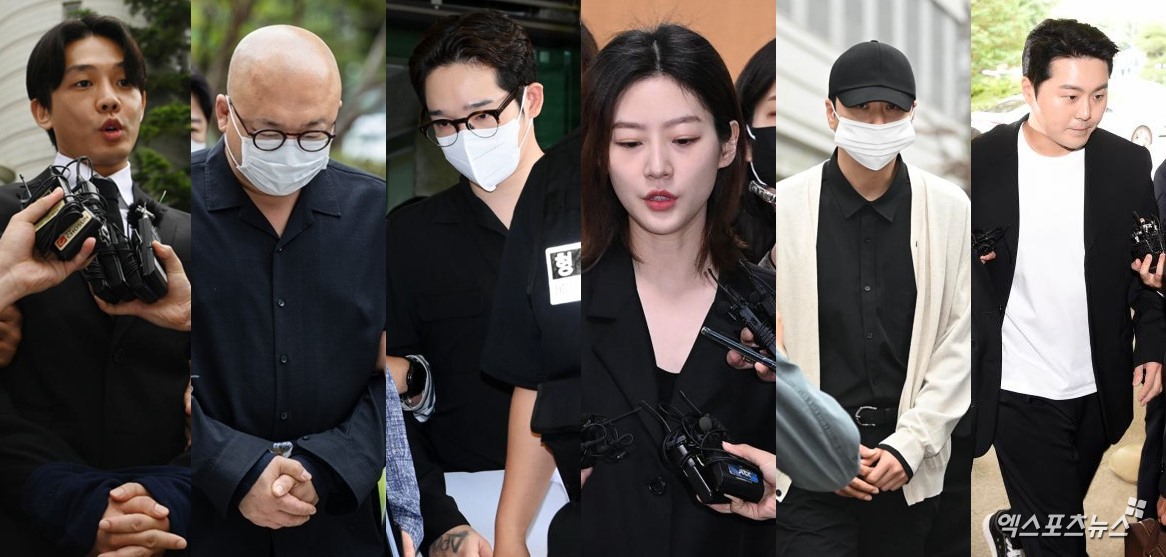 Actor Yoo Ah In, composer Don Spike, and Nam Tae Hyun faced trial on drug charges, shocking everyone. Their actions affected not only those close to them but also their upcoming works, raising the ire of the public.
Actors Kim Sae Ron and Kwak Do Won and singers Shin Hye Sung and Eru attended court this year for DUI charges.
Source (1)