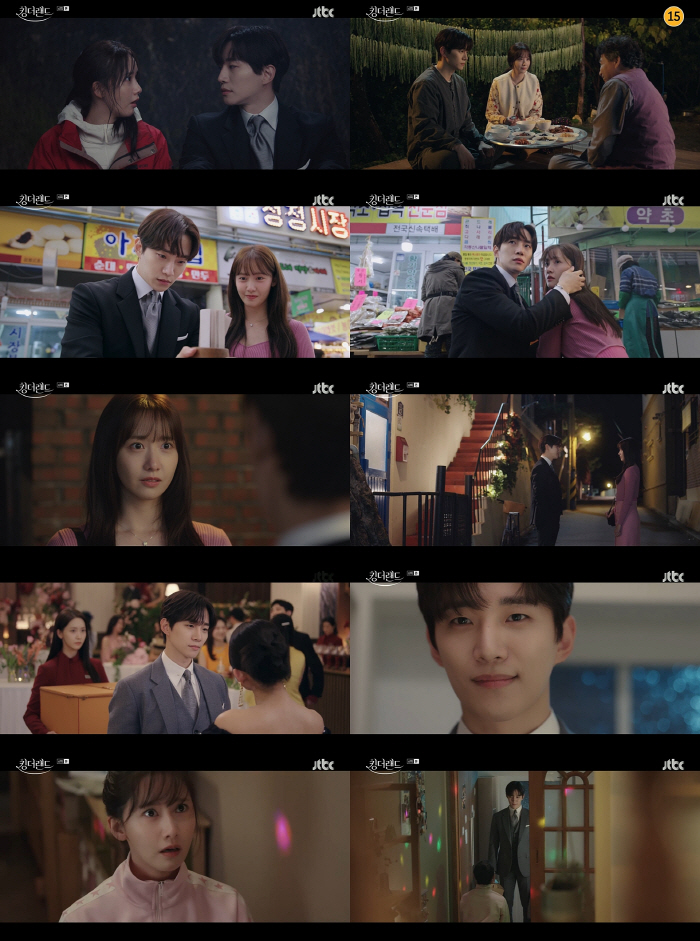 >> Breaking: Junho and YoonA Started Dating Even Before 'King the Land'?
Episode 6 of JTBC's King the Land showcases Goo Won (played by Junho) and Cheon Sa Rang (YoonA) growing closer after a near-miss incident. The episode achieved the show's highest viewership rating of 12 percent, maintaining its successful streak.
Goo Won is informed about Sa Rang's disappearance in the mountains and immediately rushes to rescue her. Sa Rang, frightened and alone in the dark, bursts into tears of relief upon his arrival. Fortunately, they are both saved from the cliff when a ginseng digger finds them at the right moment.
guwon came to rescue sarang with his helicopter, jump without a harness. he really thinks he's spiderman 😭😭 so DUMB#KingTheLandEp5 #KingTheLand #킹더랜드 pic.twitter.com/tHg0aOzCbI

— jill질. (@midorawr) July 1, 2023
💓: I was so scared I thought I'd die here 😭😭
👑: It's ok, I'm here now.#KingTheLandEp6 #KingTheLand
pic.twitter.com/O1eai5GpTT

— lia댕 (@junholeecious) July 2, 2023
guwon wants to drive so he can sit with sarang infront but didn't got what he want so he was very sulky while driving 🤣#KingTheLandEp6 #KingTheLand pic.twitter.com/PdZAb4Euii

— jill질. (@midorawr) July 2, 2023
Sa Rang decides to give the wild ginseng she found in the mountains to her grandmother, Cha Soon Hee (played by Kim Young Ok). Goo Won accompanies her to her grandma's place, wanting to spend more time with her.
guwon cutely cutting the onions with a teary eye hahahha poor him #KingTheLandEp6 #KingTheLand pic.twitter.com/9I7aXA66vz

— jill질. (@midorawr) July 2, 2023
MY PARENTS 😭🫶🏻#KingTheLand #KingTheLandEp6 pic.twitter.com/m7Rf9pH5mr

— daisy han (@kdramadaisy) July 2, 2023
sarang is a loser also, she was thinking of guwon 😭😭🫶🏻#KingTheLandEp6 #KingTheLand pic.twitter.com/Lw7BVMgTb2

— jill질. (@midorawr) July 2, 2023
Sa Rang slowly opens her heart to Goo Won, who asked her out. Everything seems to be going smoothly until she catches sight of Goo Won hugging a VIP guest from King the Land and learns about rumors of their impending marriage.
To clear her thoughts, Sa Rang throws a home party with her friend. While she is fully enjoying the festivities, the doorbell rings, and she opens the door to find Go Woo standing there, instead of a delivery man. Viewers are left wondering why he came to her house and whether Sa Rang can resolve misunderstandings and open her heart to him once again.
OF COURSE HE CAME TO CLEAR UP THE MISUNDERSTANDING 😆 while sarang is having fun singing breakup song 😂

ahh i love that they don't prolong the conflict!#KingTheLand #KingTheLandEp5 pic.twitter.com/orxsaGsDaE

— daisy han (@kdramadaisy) July 2, 2023
Source (1)