BTS(@BTS_twt) became the most tweeted about k-pop celebrity in the world of the year 2021.
According to Twitter on 26th, over 68 million tweets were made by global fans of BTS during their offline concert 'BTS PERMISSION TO DANCE ON STAGE – LA' held in Los Angeles last year. Twitter added, "Once again, BTS has proved their unrivaled influence globally."
NCT(@NCTsmtown), who impressed their fans with their unit performances, became the second most tweeted about k-pop artists, taking the second spot for two years in a row.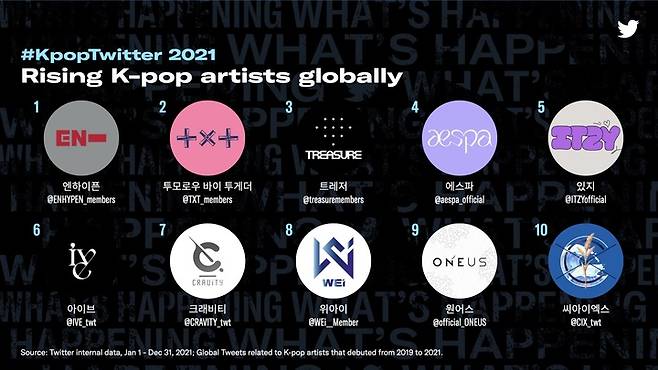 The third place went to ENHYPEN(@ENHYPEN_members), one of the biggest fourth-generation K-pop idol groups. The group also came in at No.1 on the Rising Star K-pop Artists Globally list, which introduces K-pop rookies who have played an active role last year. The group ranked 5th in the previous year.
Additionally, the country with the largest number of unique users posting K-pop tweets turned out to be Indonesia for two years in a row.
Twitter's analysis reveals that there had been more than 7.8 billion Tweets about K-pop artists in 2021. Twitter said that K-pop once again set a new record following 6.1 billion tweets in the same period last year.
Source (1)
Translator Changhyun Kim: Hello, K-pop, K-drama, and K-movie lovers! I will provide you with accurate and reliable Korean Entertainment news.