Written and translated by Kim Yoo Hyang
On the 11th, Dreamcatcher has revealed the timeline for their 6th mini-album Dystopia : Road to Utopia through official SNS channels. This is their first Korean comeback after the release of "BOCA" from Dystopia : Lose Myself back in last August. Dreamcatcher, who has led the fierce genre of rock into the mainstream of K-Pop since their debut, has been ardently in action both locally and internationally. The group built their universe through diverse concepts including horror, fantasy, and also sci-fi. Let's take a peek at the new world Dreamcatcher is about to present in their new album Dystopia : Road to Utopia, as we examine their past performances, songs, music videos, and lots more.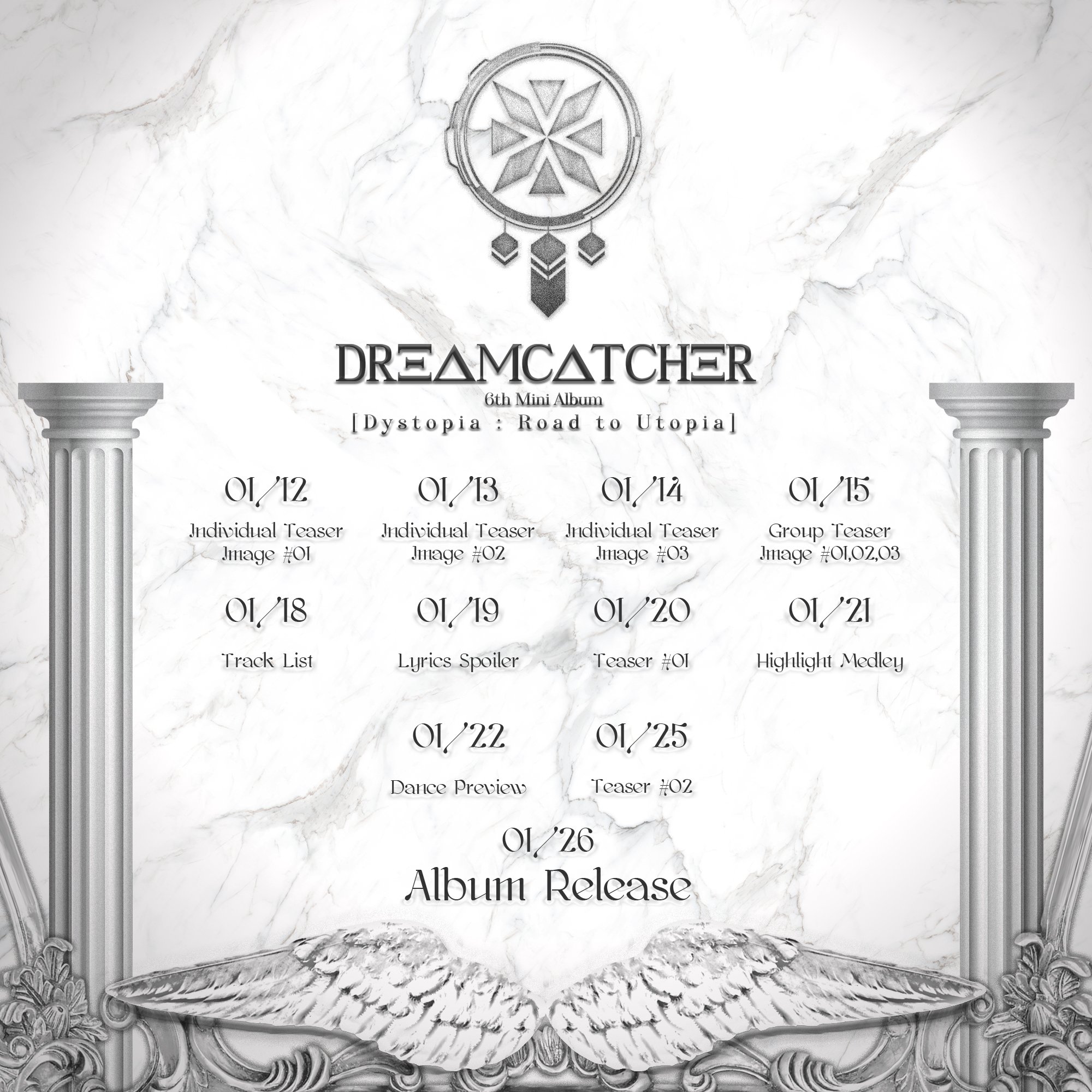 Dystopia and Nightmare: The Genre Pioneered by Dreamcatcher
As Dreamcatcher released a full-length album, Dystopia : The Tree of Language on February 18th of 2020, they raised the curtains for the 'Dystopia' series. The title track "Scream" provided a fancy music video of the occult genre, in which the medieval witch hunt was referenced to. Like a part of their lyrics, this album is where Dreamcatcher "opened their eyes" to a spectacular narrative of their own. Through their first full-length album, their specified the universe that they have previously introduced. Dystopia : The Tree of Language demonstrated its excellence as it was also chosen as Time Magazine's 'The Best K-Pop Songs and Albums of 2020.'
Before the group's first full-length album, there were albums in the 'Nightmare' series, which includes Nightmare, Fall Asleep in the Mirror, "Full Moon," Escape the Era and The End of Nightmare. The title song "Chase Me" from Dreamcatcher's debut album Nightmare, in particular, marked the start of their thorough universe, as it interpreted what horror could mean for a K-pop girl group. As this narrative linked to their next song "GOOD NIGHT" the group began to garner a hardcore fan base. While actor Cho Dong Hyuk makes an appearance in the music videos of the first two title songs, Dreamcatcher members are seen to chase and be chased. As they simultaneously save and curse each other, Dreamcatcher established an odd yet fascinating universe. 
They continued to stir the interests of K-Pop fans as they fused several different genres in songs such as "YOU AND I," "What," and "PIRI." Whilst the music videos are impressive, the lyrics which lead the song's persona into a dark and powerful place also play a significant role in building Dreamcatcher's story-world. Here are some examples: "Open the door, I will shine bright in the sky while I embrace all the moonlight as we become one. Forever, like a dream" (from YOU AND I) and "Please stay locked up in this endlessly repetitive nightmare, like a doll only for me" (from GOOD NIGHT).
How does Dreamcatcher present these fantasies, horrors, occult concepts – which could easily be clichés – exceptionally well in their own way? That is because they do not illustrate their album concepts lightly nor easily. For these members, a concept does not end after a jacket photoshoot, nor after a teaser. It is not frivolous, as they maintain the story throughout. Like how a player gets gradually attached to the world within the game as they complete each level, Dreamcatcher slowly but surely drags their fans into their own 'Dystopian world. The concepts are not temporary, as they are the identity and plot of the group. Additionally, Dreamcatcher does not depict the traditional meaning correlated to the word Dystopia, which is a 'dark futuristic image.' They draw a dystopia that is 'dark, but even more forlorn because there exists hope.'
Members, Costumes, Concepts: The Power That is Generated from them
Dreamcatcher's concept is not only portrayed by music and music video; it is actualized in various ways such as their stages, props, and outfits. Since their 3rd mini-album Alone In The City's "WHAT," stage clothing specialized each member's specific image and character. Though earlier outfits were unified between the members, they were never once categorized to be 'typical.' Dreamcatcher wore 'grim reaper' outfits with Hanbok motifs for their debut title "Chase Me," giving an oriental twist to the nightmare they were portraying. (T/N: Hanbok is Korean traditional clothing.)
Unlike a lot in the industry who choose to follow the fast-changing trends of fashion with overly revealing and uncharacteristic clothes, Dreamcatcher performs in costumes that are tailored to suit the album and song. The stage costumes of "PIRI" are particularly noticeable, as each member's sleeves, lengths, materials, shapes differ. Although the color codes are unified on stage, Dami wears a cape, while Sihyun wears long trousers, and Yoohyeon has a choker around her neck. Although all seven members have their own styles, they all exude mystical, fantasy-like concept which transcends those of a human. Furthermore, we can see how invested they are in formal suit concepts from stages of "Black and White," and "Over the Sky" where they go up dressed in uniquely deconstructed sets of suits. 
Stage outfits in K-Pop are no longer simply for looking good. They have become another form of expression and a medium of communication for groups like Dreamcatcher, who bases their group identity on a concept or a story. Their appearance on music shows become more polished and perfected with costumes that are faithful to the concept.
As of the 19th, Dreamcatcher has released their track-list, individual, and group concept photos for the sixth mini-album Dystopia : Road to Utopia. Three different versions of photos including 'CyberPunk, Utopia, The End' demonstrate the diverse appeal of Dreamcatcher as they all raise expectations for the upcoming album. The anticipation for how the group will portray their road to utopia from the dystopian world, as well as how they would embody hope within despair, is high. Dreamcatcher's costume within the released concept photos can also be seen to be unique, diversified, and including suits. As always, Dreamcatcher is to tell new stories of their own salvation and curses through this comeback.