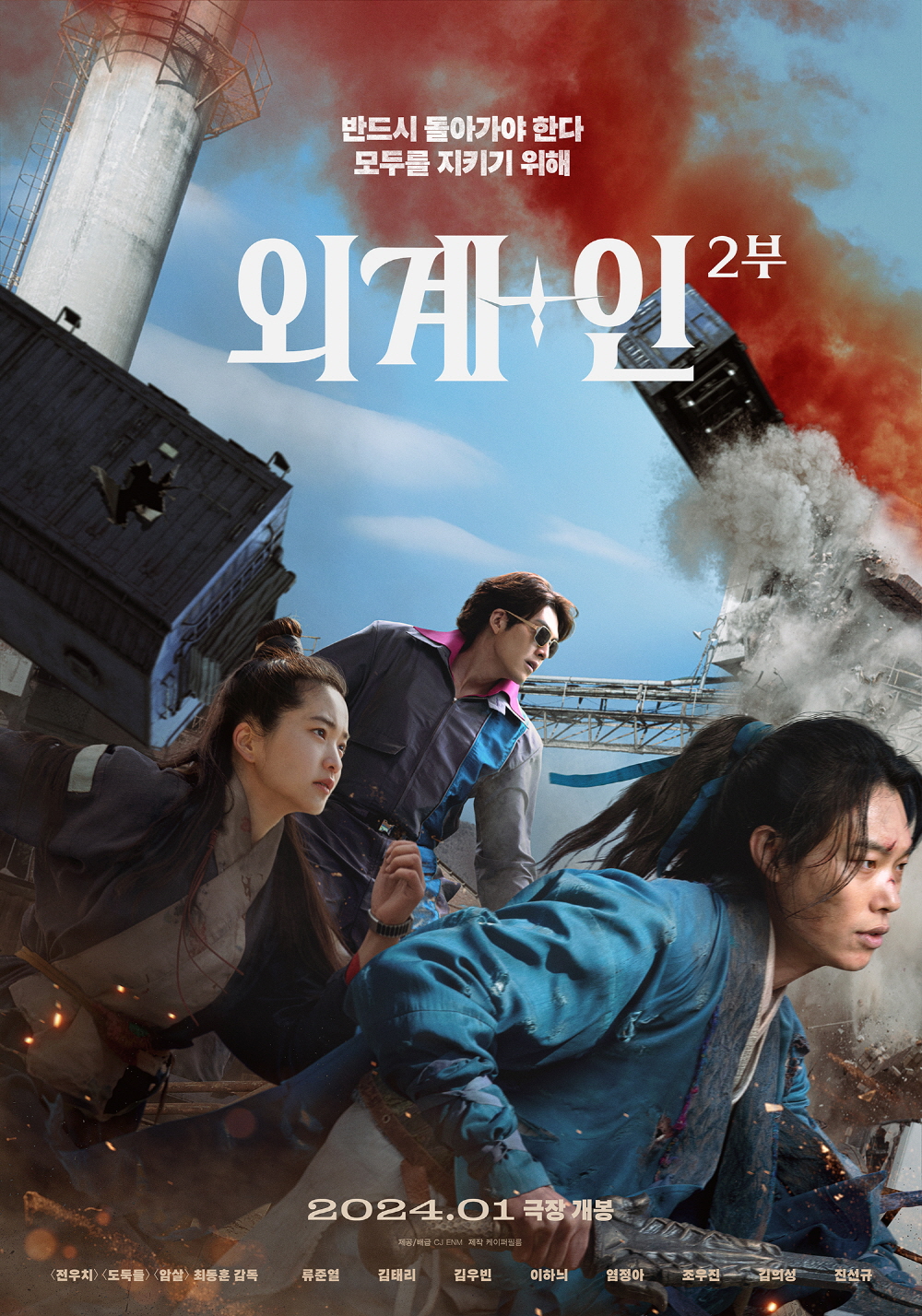 Alienoid: Part 2 has released its teaser poster and trailer, confirming its arrival in January 2024.
The second installment of Alienoid picks up where the first left off, following a group of humans and Taoists embarking on a journey back to the present day to retrieve the Divine Sword and save humanity.
The newly released poster features Mureuk (played by Ryu Jun Yeol), Lee Ahn (Kim Tae Ri), and Thunder (Kim Woo Bin) running through collapsing buildings amidst the toxic alien atmosphere known as "Hava."
The teaser trailer begins with Lee Ahn retrieving the Divine Sword from the Goryeo period and returning to the present time alongside two mages, Heung Seol (Yum Jung Ah) and Cheong Woon (Jo Woo Jin), to prevent the explosion of Hava. In the meantime, Thunder, who had disappeared after landing in Goryeo in the first part of the movie, reappears and hints at the opening of a time portal to the future.
The movie teases a shift in the dynamic between Mureuk and Lee Ahn as Mureuk realizes the existence of something within his body. The appearance of various characters, including judicial customs inspector Min Gae In (Lee Ha Nee), the blind swordsman Ryeung Pa (Jin Seon Kyu), and the menacing Jajang (Kim Eui Sung) has left viewers excited about the upcoming storyline.
Alienoid: Part 2 is scheduled to hit theaters in January 2024.
>> Bechdel Choice 10 of 2023: 'Kill Boksoon,' 'Soulmate,' 'Alienoid,' and More
Source: CJ ENM