In the magical world of entertainment, love sometimes finds its way and make fairy tales come true. Join us as we explore 14 heartwarming stories of Korean celebrity couples who discovered their happily ever after while working together on set. From shared on-screen chemistry to genuine off-screen romance, these couples have embraced their love stories and are living them to the fullest.
1. Lee Sang Woo – Kim So Yeon
Born in 1980, Lee Sang Woo and Kim So Yeon met through the drama Happy Home in 2016 and got married the following year in 2017. They created huge buzz by starring together in Penthouse 2, with Lee Sang Woo making a special appearance as a journalist.
2. Ki Taeyoung – Eugene
Ki Taeyoung and Eugene became each other's destiny while working together in the drama Creating Destiny. They got married in 2011 and welcomed their daughter, Ro Hee, in 2015. In 2016, the couple appeared on the reality TV show The Return of Superman with their lovely young daughter.
3. Jung Woo – Kim Yoo Mi
Jung Woo and Kim Yoo Mi met through the drama Red Family and publicly confirmed their relationship in November of the same year. After three years of dating, they tied the knot in 2016. The couple also has a daughter together. Jung Woo, born in 1981, and Kim Yoo Mi, born in 1979, make up an elder bride and younger groom couple.
4. Yeon Jung Hoon – Han Ga In
Yeon Jung Hoon and Han Ga In met during the drama Yellow Handkerchief and got married in 2005. They welcomed their first daughter in 2016 and their second son in 2019.
5. Ryu Soo Young – Park Ha Sun
Ryu Soo Young and Park Ha Sun's romance bloomed on the set of the drama Two Weeks. After two years of dating, they took the plunge and got married in 2017, and they now share the joy of parenthood with their lovely daughter. Interestingly, while their characters didn't walk down the aisle in the drama, they found their way to the altar in reality.
6. Joo Sang Wook – Cha Ye Ryun
Joo Sang Wook and Cha Ye Ryun met while working together on the drama Glamorous Temptation and eventually became a real-life couple. After dating for about a year, they got married in 2017 and welcomed their daughter the following year.
7. In Gyo Jin – So Yi Hyun
In Gyo Jin and So Yi Hyun first met while working on the drama Fairy and Swindler. Later, they continued to star together in three more dramas, including Aeja's Older Sister, Minja and Happy Ending. Their relationship was confirmed in 2014, and just two days later, they surprised everyone with the announcement of their marriage. The couple also made a heartwarming appearance on the show The Return of Superman with their daughter, Ha Eun.
8. Lee Chun Hee – Jeon Hye Jin
Lee Chun Hee and Jeon Hye Jin found love while working together on the drama Smile, You. They exchanged vows in 2011 after a year of dating. With an age difference of nine years, Lee Chun Hee was born in 1979, and Jeon Hye Jin in 1989. They have a daughter named So Yu, and recently, the couple made a joint appearance on an environmental variety show on KBS called Harmless From Today (literal translation).
9. Ji Sung – Lee Bo Young
Ji Sung and Lee Bo Young showcased fantastic chemistry as a couple in the drama Save the Last Dance for Me and eventually became a real-life couple. Despite their characters not ending up together in the drama, destiny had a different plan, and they became an actual married couple. After dating for seven years, they tied the knot in 2013, and now, they are blessed with a son and a daughter.
10. Park Se Young – Kwak Jung Wook
Park Se Young and Kwak Jung Wook met while working on the drama School 2013 and started dating. Last year, they surprised everyone with their marriage announcement, transitioning from colleagues to lovers and finally becoming a married couple.
11. Shin Ae Ra – Cha In Pyo
Shin Ae Ra and Cha In Pyo, who starred together in the 1994 drama Love Is in Your Embrace, got married in 1995. They are highly-regarded as one of the most respected celebrity couples in the entertainment industry, often seen participating in charity events together.
12. Oh Yeon Soo – Son Ji Chang
Oh Yeon Soo and Son Ji Chang got married in 1998, and they were brought together by the 1993 drama Never on Sunday. The two became a hot topic when Oh Yeon Soo revealed that she had a crush on Son Ji Chang when they both attended the same high school.
13. Hong Eun Hee – Yoo Jun Sang
Hong Eun Hee and Yoo Jun Sang, despite an 11-year age difference, found love and became a married couple. They first crossed paths in the 2002 drama Bestseller Theater – April Story.
14. Park Sung Woong – Shin Eun Jung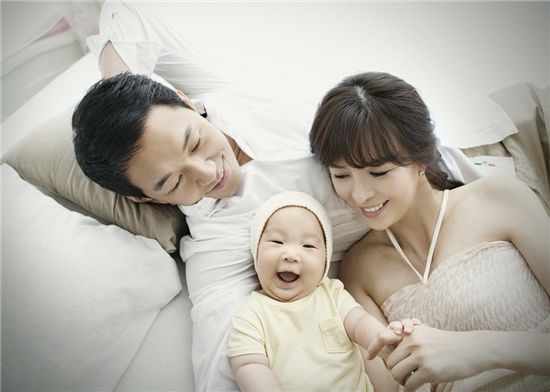 Park Sung Woong and Shin Eun Jung first met on the set of the MBC drama The Legend in 2007, and that's where their love story began to blossom. The couple made headlines when they tied the knot, with Bae Yong Joon arriving at the ceremony in a helicopter.
>> 6 K-Drama Couples Who Sparked Dating Rumors With Their Electric On-Screen Chemistry