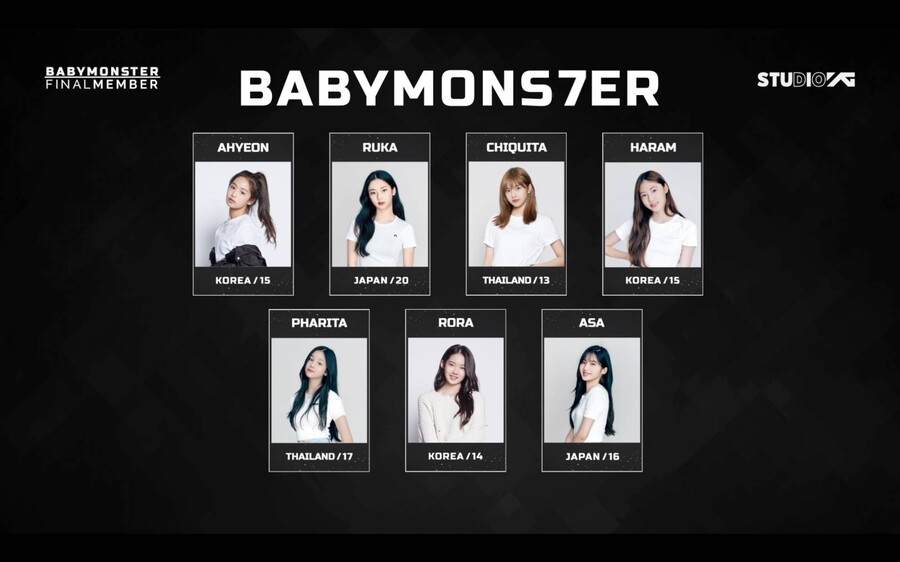 YG Entertainment's highly anticipated new girl group, BABYMONSTER, is set to make their debut as a seven-member group.
The agency recently unveiled an announcement video titled "BABYMONSTER-DEBUT MEMBER ANNOUNCEMENT VIDEO" on their official YouTube channel, revealing the final lineup for the septet's debut.
The group's roster includes the versatile talent Ahyeon, YG's hipster rapper Ruka, the youngest member Chiquita, the skilled live performer Haram, and the multi-lingual Pharita, who speaks fluent Thai, English, and Korean.
In a surprising turn of events, executive producer Yang Hyun Suk made an exciting announcement by adding two more members to the group. Rora, who was originally intended to join a different girl group, and Asa, who had plans for a new Japanese project, have now become part of the BABYMONSTER family.
He shared, "'YG Family' goes beyond being a mere group of YG singers. I consider YG's fans as genuine members of 'YG Family.' Asa and Rora are the members who were chosen by the fans."
The group is now preparing for their highly anticipated debut, scheduled for the fall of this year. BABYMONSTER will showcase their talents as a cohesive unit and through various sub-unit activities.
Yang Hyun Suk added, "We will offer full support so that their debut happens as soon as possible. I am sincerely grateful to the fans who have been with us on this journey. I also want to congratulate all the members who may have felt anxious throughout the entire process."
Source (1)