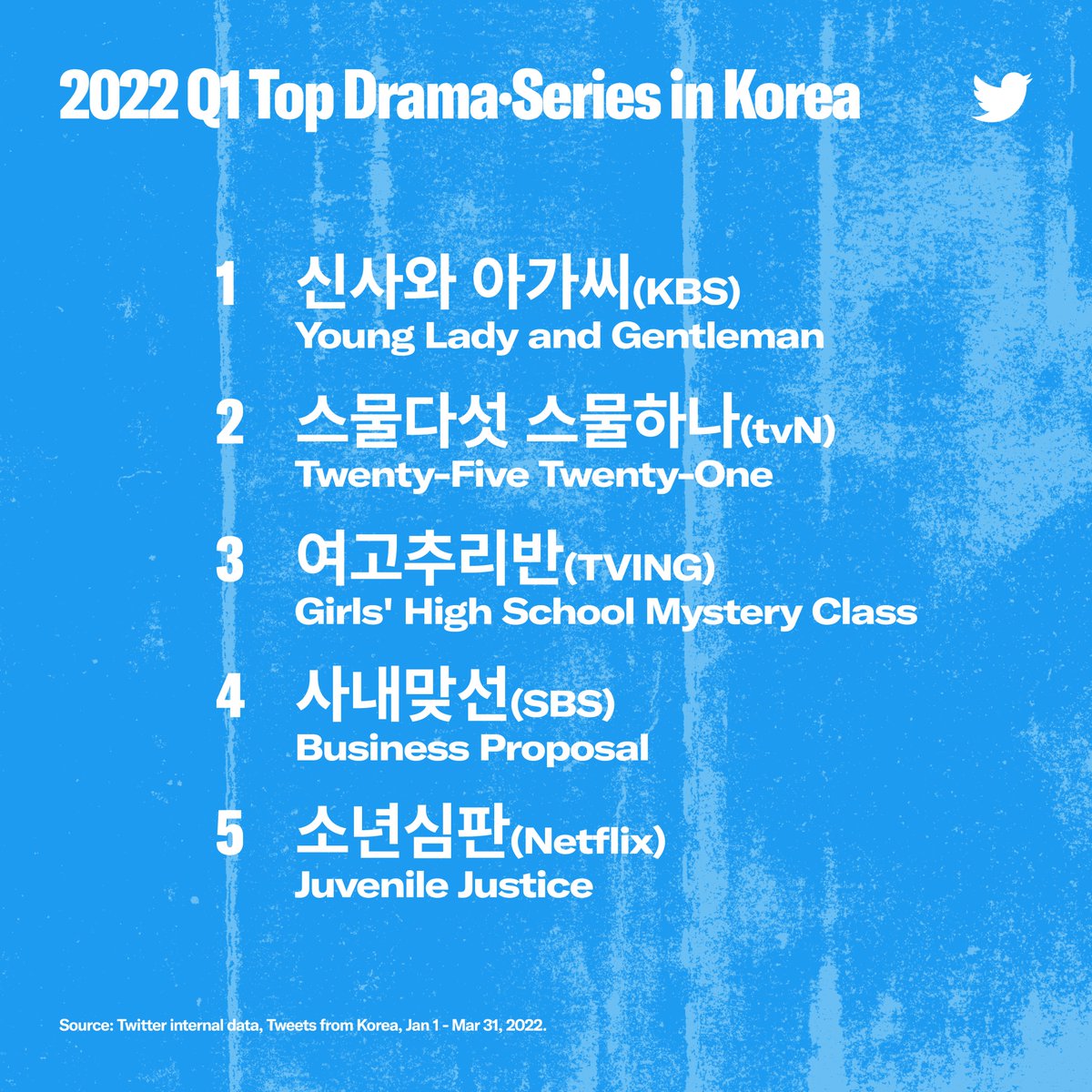 Young Lady and Gentleman and Twenty-Five Twenty-One dominated the Twitter trend in the first quarter of 2022.
On the 14th, Twitter Korea announced the top 5 drama/series of the first quarter of 2022. According to the chart, Young Lady and Gentleman came in first, followed by tvN's Twenty-Five Twenty-One, TVING's Girls High School Mystery Class, SBS's Business Proposal, and Netflix's Juvenile Justice. This ranking is based on organic impressions of domestic Twitter real-time trends.
The popularity of Young Lady and Gentleman, which recorded 38.2% viewership, was clearly reflected in Twitter trends.
Twenty-Five Twenty-One secured a strong fandom centered on the younger generation, taking second place. In particular, the drama fans simultaneously posted about the heart-fluttering scenes and famous lines, significantly increasing the number of tweets.
왔어요~ 왔어
하태커플의 시청률 공약이 왔어요~💕

SBS 월화 드라마 <사내맞선>
☞ 매주 [월,화] 밤 10시 방송#SBS월화드라마 #사내맞선#퇴사방지오피스로맨스 #businessproposal #안효섭 #김세정 #김민규 #설인아 #시청률공약 pic.twitter.com/ZRWo5VsTdt

— SBSNOW (@SBSNOW) April 4, 2022
Business Proposal, which ranked fourth, received great praises for its comical yet romantic plot and actors' impressive chemistry. On the 4th, a day before the final episode, SBS released a clip of Ahn Hyo Seop and Kim Se Jeong singing the drama OST "Love, Maybe" to mark the viewership surpassing 10%. This particular post got more than 10,000 retweets, proving the drama's worldwide popularity.
Source (1)
Translator Kim Hoyeun: If you are a fan of K-drama, K-movie, and K-pop, I am your guy. I will continue to provide you with up-to-date K-entertainment news.