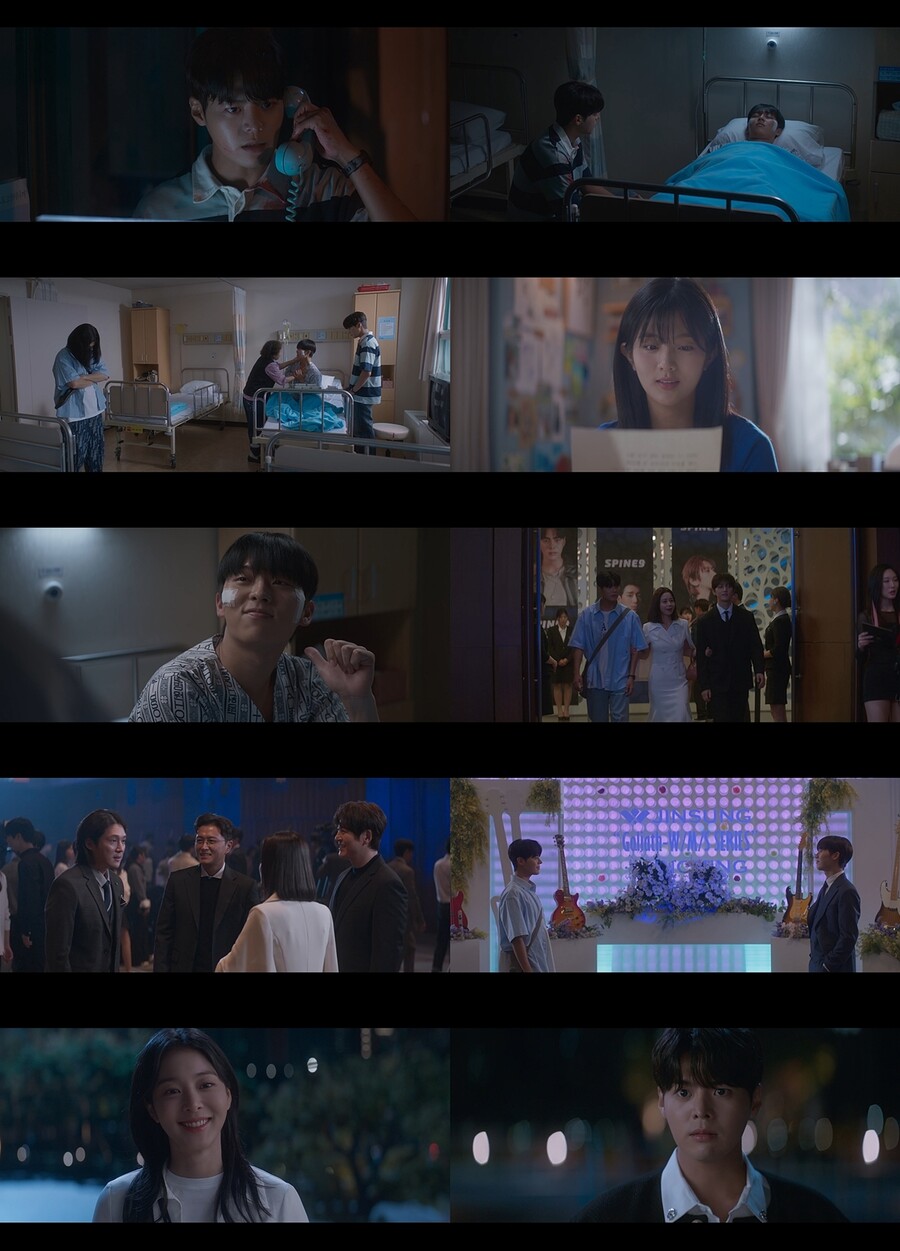 tvN's Twinkling Watermelon concluded on a high note with a heartwarming ending.
The final episode tugged at viewers' heartstrings as Lee Chan (played by Choi Hyun Wook) and Cheong Ah (Shin Eun Soo) saw their lives changed upon returning to the present from their time travel, where they met Eun Gyeol (Ryeoun) and Eun Yu (Seol In Ah). The concluding episode achieved an average nationwide viewership rating of 4.5 percent.
>> 'Twinkling Watermelon' Review: A Nostalgic Slice of Youthful Exuberance
Eun Gyeol grapples with guilt over his father's hearing loss. A call from the Master of the instrument store Lavida Music (Jung Sang Hoon) informs him that the time travel is coming to an end. Sadly, he bids farewell to his father, Lee Chan, who is the same age as himself. During her time travel, Eun Yu unexpectedly encounters her mother. Her loving words, "You live your own life, Mom. You have every reason for that," reveal the depth of her affection.
This scene made me cry!😭 EunYu was right that EunGyeol should trust YiChan to work it through. And he really did. Now it's time for him to "twinkle" for himself and be amazing. 😭

I will miss this father and son duo!🥺#TwinklingWatermelon#TwinklingWatermelonEp16 pic.twitter.com/M2APsOdNwe

— kaykdramanotes (@kaykdramanotes) November 14, 2023
Eun Gyeol parts ways with the people she met during her time travel in 1995 and discovers that many things have changed in 2023. Lee Chan becomes the head of Jinseong Musical Instruments, and Cheong Ah assumes the chairmanship of the Sewon Arts High School Foundation. The members of the Watermelon Sugar band maintain their strong bond with one another. As for Eun Gyeol and Eun Yu, they continue their romantic relationship even after the time travel concludes.
yoon cheongah, bachelor of art (visual design), master of education. the chairwoman of seowon art high school

ha yichan, bachelor of computer science, master's degree. the director general of jinsung musical instruments#twinklingwatermelon #twinklingwatermelonep16 pic.twitter.com/IQMcqlIrKo

— chacha (・ัε・ั ) (@yeondongha) November 14, 2023
As always, they will find a way back to each other no matter what!!#twinklingwatermelon#twinklingwatermelonep16 pic.twitter.com/LyXjvhNNU1

— dimp🍉 (@uhmm_j) November 14, 2023
Meanwhile, it is revealed that the Master of Lavida Music is Grandpa Viva (Chun Ho Jin), who generously granted Eun Gyeol and Eun Yu the opportunity to time travel together. The Master's affectionate gaze toward his cherished student and granddaughter touched the hearts of many viewers.
thank you #twinklingwatermelon for the good plot, amazing story, well-builded characterization, and wonderful cinematography

thank you for the past 8 weeks, for being one of my comfort drama, for being the reason i really looked forward to mondays #twinklingwatermelonep16 pic.twitter.com/9XUIO6w33L

— chacha (・ัε・ั ) (@yeondongha) November 14, 2023
Source (1)