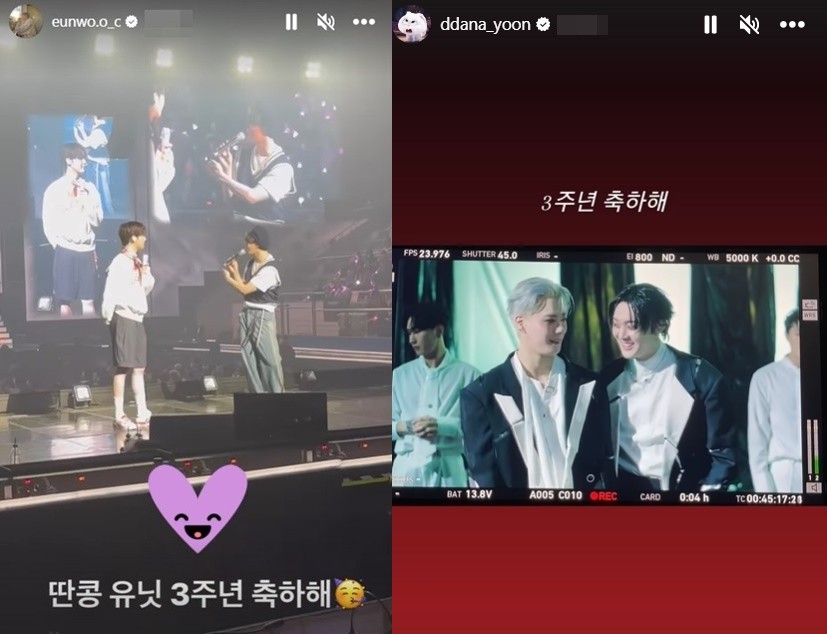 The members of ASTRO showed their unwavering friendship and lingering longing for the late Moonbin.
On the 14th, ASTRO's Cha Eun Woo and Sanha commemorated the 3rd anniversary of their ASTRO unit Moonbin & Sanha with the warm message, "Happy 3rd Anniversary."
Cha Eun Woo shared a video featuring Moonbin and Sanha, filmed at the "2023 Moonbin & Sanha Diffusion Fancon" held at the KBS Arena last March. In the released footage, Moonbin and Sanha are seen flashing their bright smiles. "Congratulations on the 3rd anniversary of our DDANKONG unit," Cha Eun Woo captioned, acknowledging the milestone of the duo's formation.
Not to be outdone, Sanha also released a behind-the-scenes clip of the two shooting "Madness" music video. He expressed his sentimental feelings with a simple, "Happy 3rd Anniversary."
3주년 축하한다 동생들😍 pic.twitter.com/fE3dxj8AEp

— ASTRO 아스트로 (@offclASTRO) September 14, 2023
Adding another layer to the tributes, Jinjin took to ASTRO's official Twitter to share photos taken at a Japanese amusement park and wrote, "Happy 3rd Anniversary, my brothers."
Moonbin passed away in April, leaving a void in the hearts of both fans and fellow artists alike. His agency Fantagio is set to release a DVD capturing moments from the March fancon. All profits from the DVD sales will be donated to charity.
>> Cha Eun Woo Sheds Tears on Stage Following Moonbin's Passing