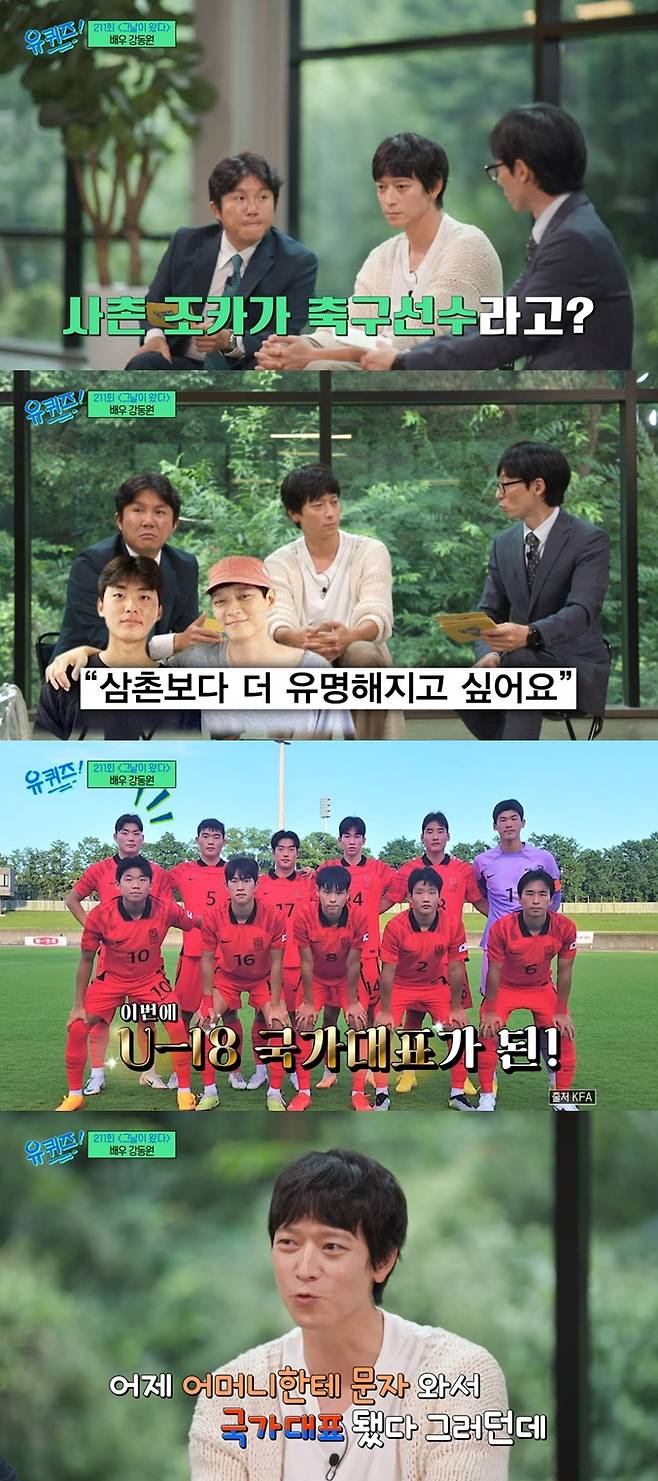 It turns out Kang Dong Won's family tree has more branches than fans might have suspected. The acclaimed Korean actor dished on his familial connections during a recent appearance on the tvN show You Quiz on the Block.
First things first, Kang Dong Won opened up about his sister, who is just two years his senior. "We're really close. She adored me. She would always hold my hand and take me places," he shared, adding that their bond strengthened during his high school years, "I went to a boarding school, so we cherished the times we did get to see each other."
Then, in a twist no one saw coming, it was revealed that FC Seoul's youth player Choi Jun Young is the actor's nephew. When asked about it, Kang playfully responded, "That's correct." The MCs jokingly asked him, "Is this the first time you're hearing it?" to which he said, "I got a text from my mom yesterday about him making the national team."
As if that weren't enough, Yoo Jae Suk mentioned that the young soccer star aims to surpass his famous uncle in popularity. With a chuckle, Kang quipped, "That won't be easy. He'll have to work hard."
Tidbits about the family's towering heights were also shared. "My family tends to be tall. My parents are also tall. I was short in elementary school, 154 cm in middle school, and reached 183 cm in high school. I've grown 3 cm since then," he revealed, confirming that he now stands at an impressive 186 cm.
On another surprising note, Kang Dong Won was previously discovered to be related to Gong Yoo by marriage. The two actors' grandfathers were lifelong friends who had their kids marry each other. With these unexpected revelations, all eyes are certainly on Kang Dong Won's fascinating family web.
>> Kang Dong Won's New Ocult Film Gets September Release Date and Teaser Trailer
Source (1)