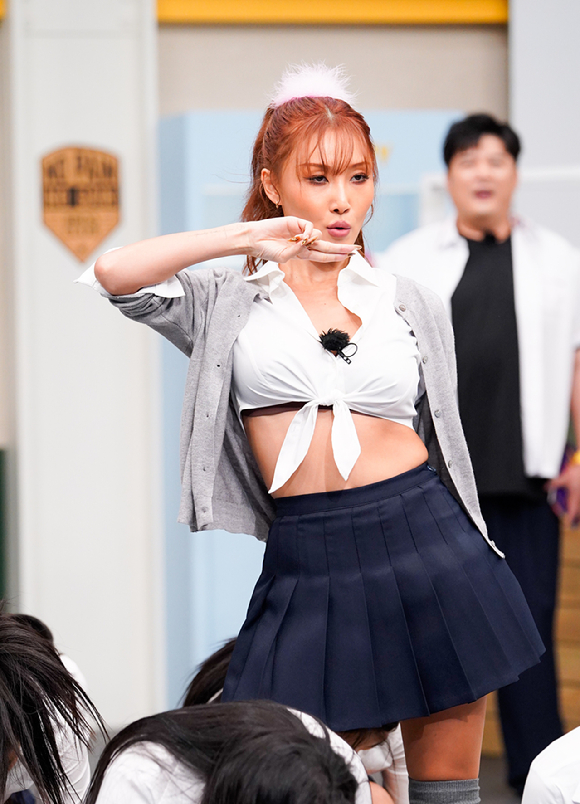 MAMAMOO member Hwasa has been investigated by the police on charges of publicly engaging in sexually explicit activity during a concert. Amidst the ongoing controversy, Hwasa appeared in a revealing outfit on the variety show Knowing Bros sparking further debate.
Hwasa's agency, P Nation, stated, "It is true that Hwasa was investigated by the police, and she cooperated fully with it." In May, Hwasa's actions on stage at a university festival, where she licked her fingers and touched a specific part of her body, were captured by fans through direct camera recordings. The clip quickly caught public attention, sparking controversy over its explicit nature.
Subsequently, the Student and Parents' Rights Association filed a lawsuit against the artist, asserting, "Hwasa's actions were sufficient enough to cause embarrassment and discomfort to the public." They also added, "Considering that this gesture does not align with the overall context of the choreography, it cannot be regarded as an artistic performance."
In reponse, Hwasa appeared on Sung Si Kyung's YouTube show and candidly expressed her feelings about the latest controversy surrounding her performance. She shared, "It is hurtful. I don't usually pay much attention to hate comments, but this time, it was quite intense."
In the meantime, the idol made a guest appearance on JTBC's Knowing Bros and performed her new song "I Love My Body" in a bra top and a short skirt to celebrate the show's 400th episode.
After the episode aired, some viewers criticized her performance for being "overtly provocative" and "sexually explicit," while others positively noted that her outfit paid a special homage to Britney Spears' style in her past music videos.
>> Hwasa Talks About Bursting Into Tears After the Recent Controversy Over Her Performance
Source (1)