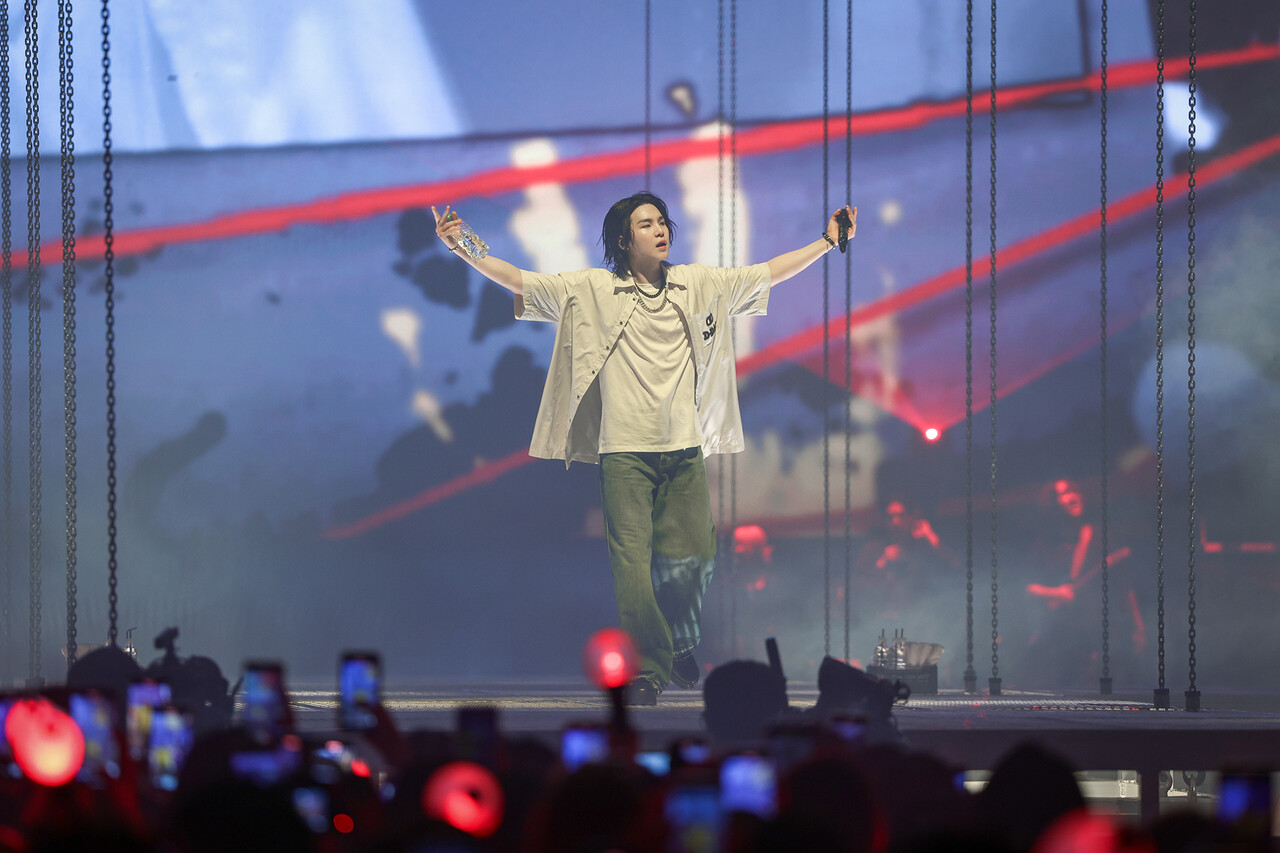 BTS came together to support Suga's concert.
Suga lit up the stage at the KSPO Dome in Olympic Park, Seoul, for the encore concert titled "Agust D TOUR D-DAY THE FINAL." Spanning three days from the 4th to the 6th, this encore performance of Suga's "D-Day" concert attracted over 38,000 concertgoers, all eager to see Suga.
Suga remarked, "Since today is the finale, I hope we all do our best so that there are no regrets and have a blast today."
Before performing "Dear my friend," Suga cautiously remarked, "I'm not sure I can do justice to this next song. I need all of your voices." As he delved into the song, which is about his friend who's facing drug charges, Suga couldn't hold back his tears.
윤기콘 이상하지 않은가 feat. 알엠 – 1 pic.twitter.com/TUI1RaYmPB

— 바보이마뽀뽀 rest (@jkoorm) August 6, 2023
In a thrilling twist for the fans, RM made a surprise appearance for the song "Strange." Sporting a new short-hair look, RM greeted, "It's been a while since I've been on stage. After seeing him work so hard alone, it's an honor to be part of Suga's finale." Addressing his fresh look, he said, "I get calls about it 5-6 times a day. It's unrelated to my enlistment. An announcement will come in its time, but for now, it's just a haircut. It was too hot, so I cut it."
Additionally, RM hinted, "Today might be my last live performance before enlistment," and treated fans to an unreleased track.
Jin and J-Hope, both serving their military duties, were spotted among the audience. Their appearance on the concert screen drew massive cheers as they greeted fans in a salute.
A jubilant Suga, wrapping up the concert, said, "I'm relieved we finished without any issues. I'm so grateful. Today was the best." He cautiously projected, "The next time I perform in Seoul, maybe all seven of us brothers will be on stage together," hinting at BTS's future activities.
After the concert, Jin posted a photo from backstage, captioning it with, "Love BTS, Love ARMY," and "Cool Guy Suga," showcasing the close bond among the members.
>> BTS' Suga Shares First Group Photo Since Jin's Military Enlistment