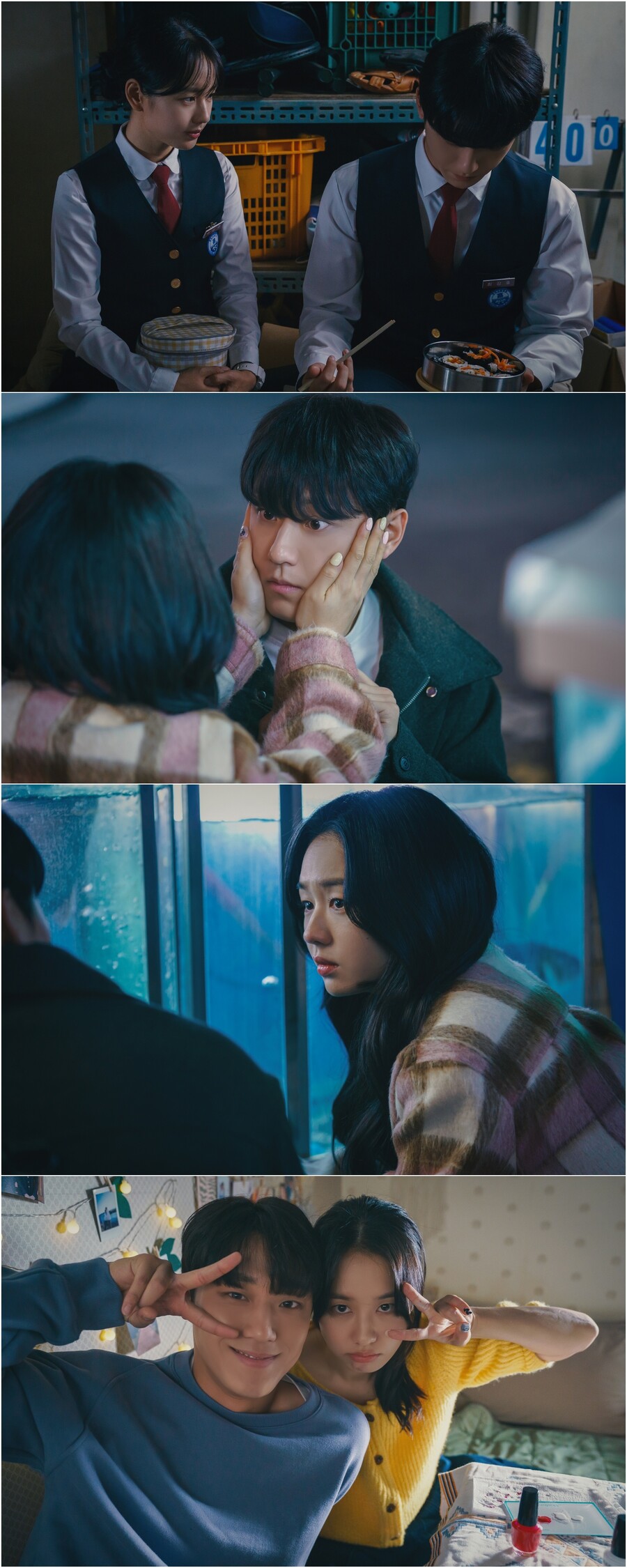 JTBC's new Wednesday-Thursday drama The Good Bad Mother released a timeline still cut featuring the changing relationship between Kang Ho (Lee Do Hyun) and Mi Ju (Ahn Eun Jin).
The Good Bad Mother is a healing comedy drama that tells the story of Young Soon (Ra Mi Ran), who chose to become a bad mom for her child, and her son Kang Ho, who unexpectedly turns into a child due to an accident. The show comes from Director Shim Na Yeon, who won the 57th Baeksang Arts Awards TV Drama Award for Beyond Evil, and 'Extreme Job' writer Bae Se Young.
In the released photos, the past of Kang Ho and Mi Ju is captured. Mi Ju, who brought kimbap for Kang Ho, can't take her eyes off him, and to Kang Ho, a straight-A student who is forced by his mom to only care about studying, Mi Ju is his sole refuge and source of comfort.. Another photo shows the two encounter each other again after leaving their hometowns. The narrative of the two, who were once "hometown friends: born on the same day in the same village, then "ex-lovers" who were once each other's everything, and now hint at an unexpected reunion, amplifies curiosity.
Lee Do Hyun plays the role of prosecutor Choi Kang Ho who suddenly becomes a child due to an unexpected accident. He thoroughly pursues success, even turning away from his mother, but one day he becomes a young child and starts a new life with his "bad" mom. Ahn Eun Jin plays Lee Mi Ju, a woman with a strong personality who cannot stand injustice. She faces changes as she reunites with Choi Kang Ho, who has returned as a child.
Lee Do Hyun and Ahn Eun Jin shared their thoughts on their first acting collaboration. Lee Do Hyun said, "I'm grateful to Ahn Eun Jin for making me feel comfortable on set. As Mi Ju, she looked at me and approached me, so every moment we acted together was a delight, and I remember them all." Ahn Eun Jin also said, "Lee Do Hyun makes his co-actors feel comfortable on set. When creating scenes with him, we ended up drawing deep and detailed points that I hadn't thought of before. He was very supportive and reliable."
Meanwhile, The Good Bad Mother is the new 14-episode series and will premiere at 10:30 PM KST on the 26th.
Source (1)