Korean celebrities' fervor for education is creating a buzz in the entertainment world.
On March 13th, the tvN STORY program Free Doctor delved into the topic of how famous personalities educate their children.
The show explored stars who spare no expense in supporting their kids' education, including sending them overseas for studies. Viewers were eager to learn about the various methods these stars use to raise their children.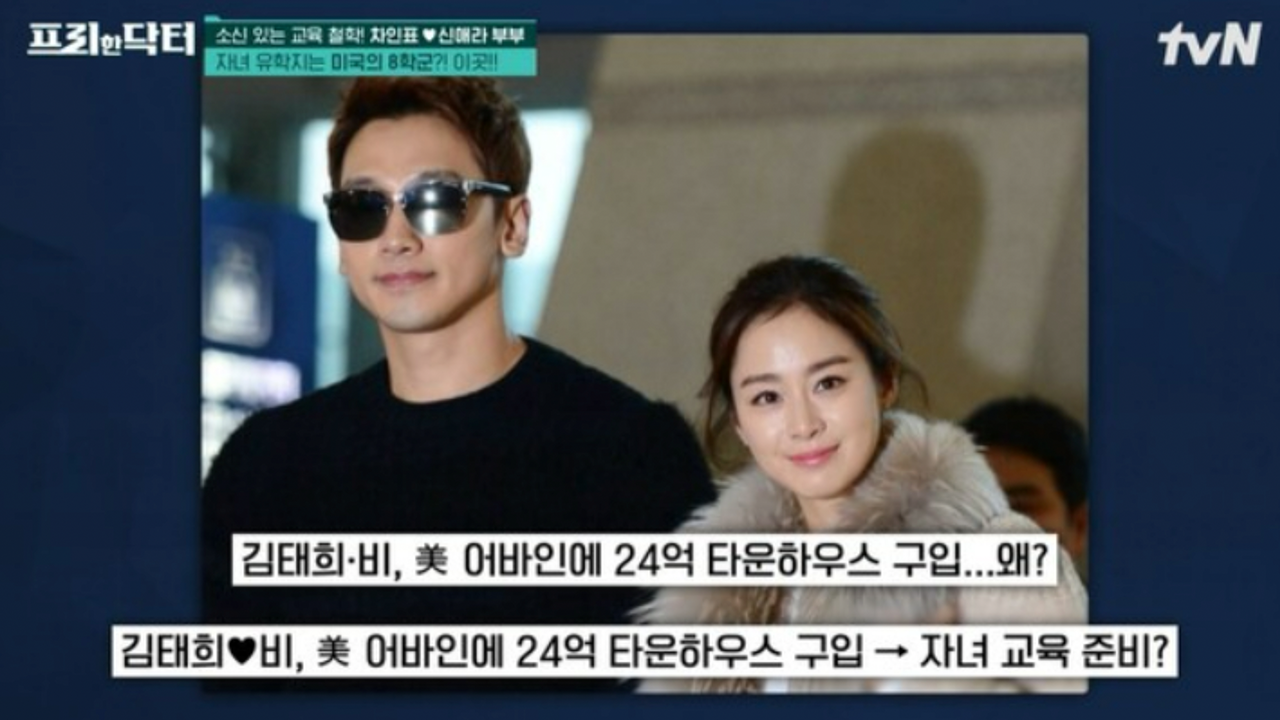 Kim Tae Hee and Rain's Expensive Investment in Children's Education Abroad
Irvine, California, has been  ranked as the safest city in the US for eight years in a row. With education as a top priority, celebrity couple Kim Tae Hee and Rain recently purchased a townhouse in Irvine for a whopping 2.4 billion won. Shin Ae Ra also joined the trend by taking her children to study abroad in Irvine. Other celebrities, such as Son Ji Chang and Oh Yeon Soo, Yoo Ho Jung and Lee Jae Ryong, and Han Suk Kyu, have also chosen Irvine as their children's study-abroad destination.
As Irvine boasts high academic standards, tuition fees can cost an arm and a leg. For instance, tuition fees in Irvine are estimated to be at least 1 billion won, including kindergarten at 30 million won per year, elementary school at 40 million won ($30,300) per year, middle school at 70 million won ($53,100) per year, and high school at around 80 million won ($60,700) per year. When you factor in living expenses, the total cost is expected to exceed 1 billion won ($758,500).
Kim Nam Joo and Kim Seung Woo Choose International School Instead of Overseas School for Their Daugther
Ra Hee, the daughter of Kim Nam Joo and Kim Seung Woo, scored in the top 5 percent of the gifted education test and the top 1 percent of students nationwide before enrolling in an International School in Songdo, Incheon. The school, which is based in LA, provides education from early childhood to high school for 12 years, and graduates often receive academic recognition both domestically and overseas
The exorbitant cost of tuition for this school is estimated to be 570 million won ($432,400), and when additional fees for special education and private tutoring are factored in, it's expected to exceed 1.5 times the total cost of education. Notably, this school is attended not only by Kim Nam Joo and Kim Seung Woo's daughter but also by the children of Yoo Jin and Ki Tae Young, Jun Ji Hyun, Ryu Jin, and Hyun Young.
It's also worth noting that the children of other Korean stars, including Kim Hee Ae, Lee Chan Jin, and Park Sun Joo, attended an international school in Jeju. In fact, Kim Hee Ae reportedly bought a villa in a location called Beverly Hills in Jeju just to send her children to this school. If a student completes all courses from kindergarten to high school at this international school, the tuition fee alone can cost approximately 300 million won ($227,700).
Kim Hee Seon's Approach to Education for Her Children
Kim Hee Seon has been ranked first as a "star who provides a good education for her children." Reportedly, her daughter took a gifted education test before the age of 6 and achieved a perfect score or missed only one or two questions.
The star emphasized the creation of a conducive study environment for her child as the key to successful studying. The kindergarten her daughter attended had a monthly tuition fee of about 2 million won ($1,500), and it is said that the cost of textbooks and after-school classes were separate. Currently, her daughter is studying abroad in Singapore.
Source (1)