Actress Kim Ji Young responded to the accusations raised against her by two rappers.
On the 23rd, Kim Ji Young took to her Instagram to address the recent money-related accusations. "My sincere apologies to everyone who got confused over this situation," she wrote. "My parents and I are seeking legal advice to take appropriate measures."
The day before, rapper ACHILLO and Lee Sang Jae from High School Rapper 4 each wrote that they lent Kim Ji Young money and that she did not pay them back.
ACHILLO wrote, "We basically live together. When Kim Ji Young was suffering from domestic violence, my parents borrowed money to rent her place even when they were already deep in debt. Of course, my parents paid her rent. Then one day, she suddenly moved out and told me never to contact her again because she is seeing someone else."
"My father sleeps only 4 hours and works as a driver even now because of this," the rapper went on. "Even if I'm sued for defamation, I thought I have to tell the world who she really is. My family can never return to how they were before, and I can't see her laugh and keep on living as an actress as if nothing had happened. I will get the money back."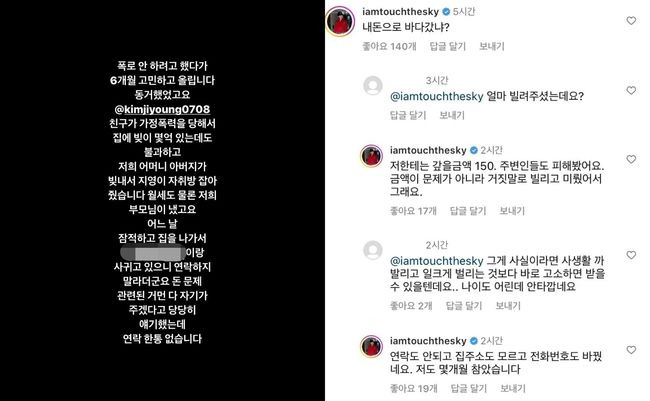 Lee Sang Jae further fueled the scandal by leaving a comment on Kim Ji Young's post. "Did you go to the ocean with the money I gave you? Pay me back," he wrote.
Meanwhile, Kim Ji Young made her name known through MBC's Jang Bo-ri Is Here and played the child roles in multiple projects, including Itaewon Class and Love in the Moonlight. After the accusations, the actress turned off the comments on her Instagram.