JTBC's Reborn Rich topped the list of TV shows with the worst series finales.
Reborn Rich took first place with 6,857 votes (34%) out of 20,497 votes. The drama garnered high viewership ratings thanks to the outstanding performance of the actors and its compelling storyline. But viewers reacted in anger to the hated finale as it was far different from the original book's ending. The original author also subtly expressed his disappointment in how the tv adaptation ended through several scenes in his new web novel he has been publishing online.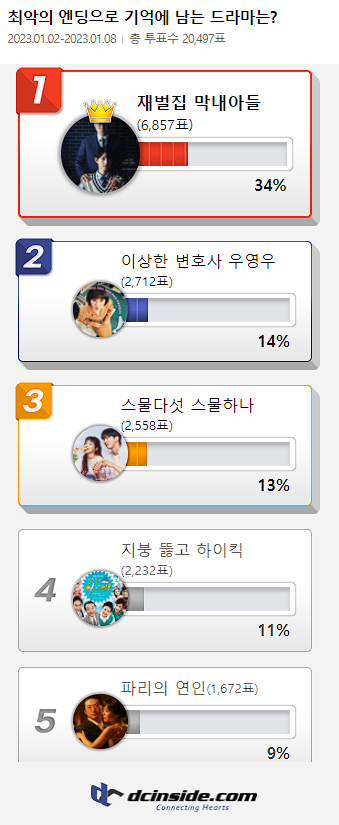 Extraordinary Attorney Woo came second with 2712 votes (14%). The drama gained massive popularity through its heartwarming story about an autistic lawyer. However, viewers were slightly disappointed when the story fell apart in the end.
Twenty-Five Twenty-One ranked third with 2558 votes (13%). Viewers criticized that its whole story crumbled in the end as there was a huge unexplained gap between the main character's break up and them living their separate lives in the future.
Other dramas including High Kick Through the Roof, Lovers in Paris and SKY Castle came in at No.4, No.5 and No.6, respectively. 
The survey was conducted for seven days from January 2nd to the 8th by a community portal site, DC Inside, under the theme of 'Which drama has the worst series finale?'
Source (1)