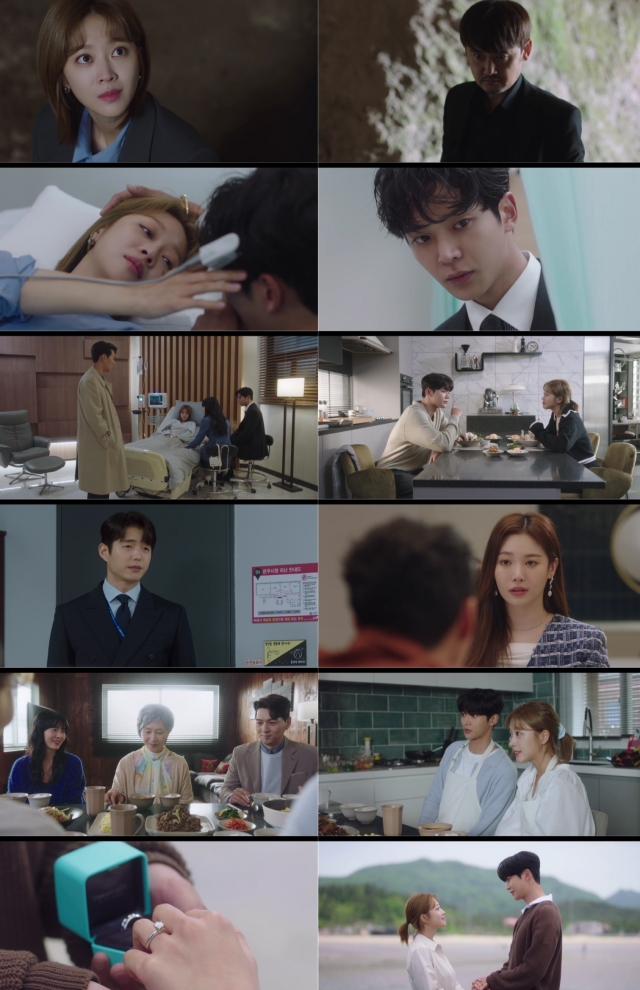 Jo Bo Ah and Rowoon found their happy ending in the final episode of JTBC's Destined With You.
In the latest episode, Hong Jo (played by Jo Bo Ah) faces an unexpected crisis when Na Jung Beom asks her to marry him. She manages to escape from him briefly but is eventually captured. To rescue her, Jang Shin Yu (Rowoon) heads to Onju Mountain with the police, only to discover that Jung Beom is nowhere to be found. Nevertheless, Shin Yu's desperate efforts to find Hong Jo continue, and he eventually locates her lying unconscious on the ground alongside Jung Beom. She is quickly rushed to the hospital and regains consciousness. With relief, Hong Jo and Shin Yu hold hands, marking a touching moment in the series.
>> Jo Bo Ah and Rowoon Share Their Insights as 'Destined With You' Heads Into Final Week
Meanwhile, a new incident unfolds as Yoon Na Yeon's (Yura) gets arrested for allegedly helping Jung Beom's escape. Shin Yu's legal battle to protect Bau Construction also begins. He and Kwon Jae Kyung (Ha Jun) testify in court to expose the corruption of Mayor Yoon Hak Young and CEO Lee Hyun Seo.
The final episode ends with Hong Jo and Shin Yu enjoying their normal lives. She is no longer lonely, and he is no longer burdened by curses. The two visit the beach, which holds special meaning for her, and there, he proposes her. He goes, "Would you allow me to be with you?," discovering the love they longed for a long time.
Source (1)