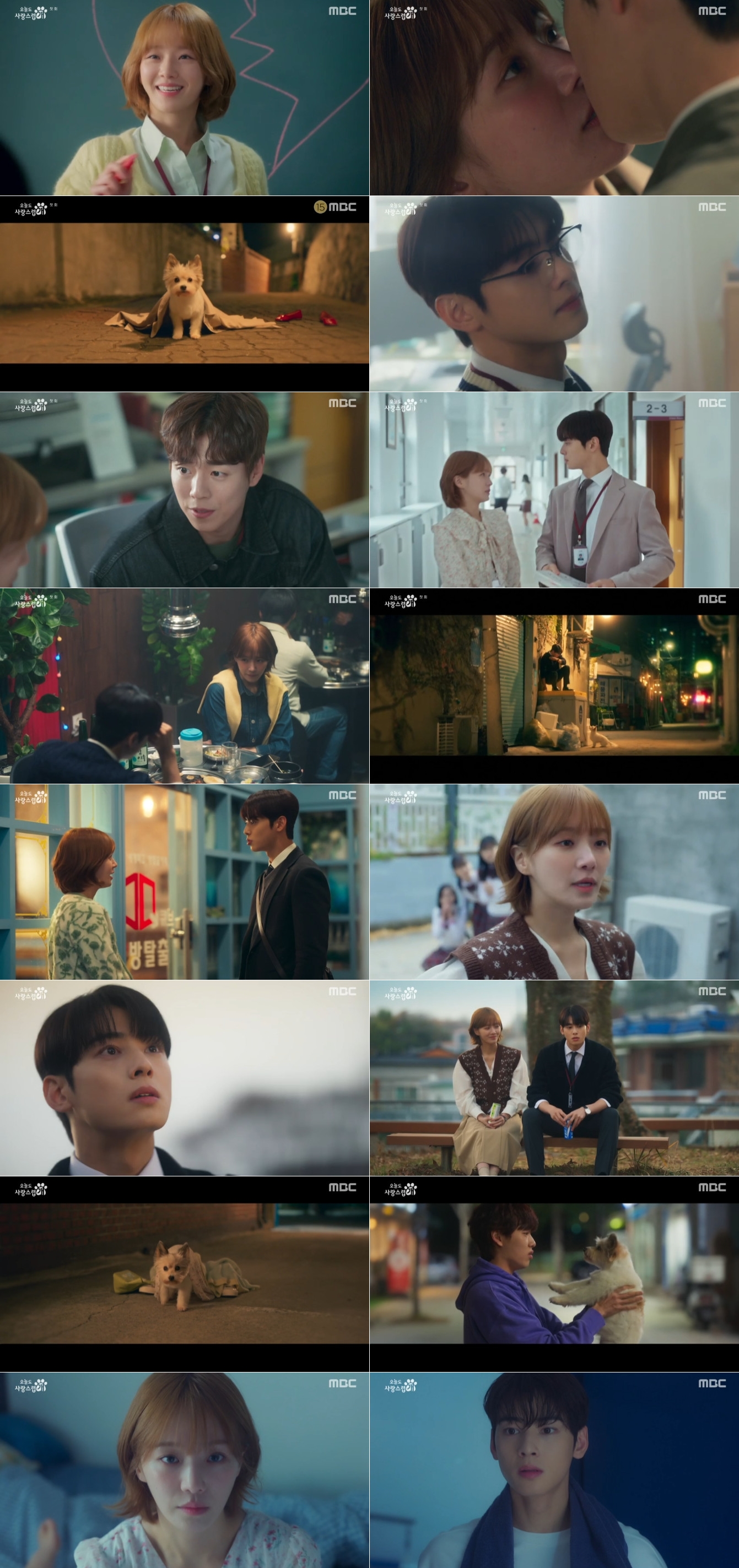 MBC's Wednesday drama, A Good Day to Be a Dog, kicked off its unpredictable story about the characters entangled in a mysterious curse.
Episodes 1 and 2 focus on the three main characters: Jin Seo Won (played by Cha Eun Woo), who has a fear of dogs due to childhood trauma; Han Hae Na (Park Gyu Young), who is cursed to transform into a dog when kissed; and Lee Bo Kyum (Lee Hyun Woo), who keeps following the two.
After watching the first two episodes, viewers shared their excitement with comments like, "This show is just so heartwarming, I love it", "Where can we find teachers like him in real life?", "The main cast's chemistry is just incredible", "When Hae Na turns into a dog, she's seriously the cutest thing ever", "Every single cast member is just so adorable", "They really nailed the explanation of the curse after the first episode", "This show's got everything, from romance to history to adorable dogs!" and "I can't wait for next Wednesday."
haena the most chaotic character#AGoodDayToBeADog #AGoodDayToBeADogEp1 pic.twitter.com/41r4pX26Lx

— diana 🐾 (@cewgrande) October 11, 2023
the first two episodes of #AGoodDayToBeADog were so much fun and were so cute!! the one ep a week wait is gonna be terrible but cant wait for the next ep 🫶 gyuyoung x eunwoo x hyunwoo is such a great casting, they are so perfect for this drama 🤍 pic.twitter.com/mR9Y5z2WsI

— diana 🐾 (@cewgrande) October 11, 2023
IT'S D-DAY! #AGoodDayToBeADog episode 1 pre release clip

Haena is flirting with Seowon, trying to get him having soju together 😂😂 an attempt for another kisspic.twitter.com/qV8Y1sZCda

— daisy han ✨🍉 (@kdramadaisy) October 11, 2023
bogyeom and seowon are the best duo 😭#AGoodDayToBeADog #AGoodDayToBeADogEp1

— diana 🐾 (@cewgrande) October 11, 2023
I'm guessing that the reason he kept disappearing on her, was because he kept seeing dogs… 🥲🐶🐾 She kept thinking he didn't like her.. 🥲#AGoodDayToBeADogEp1 #AGoodDayToBeADog #ChaEunwoo #차은우 #ParkGyuyoung #박규영 #AGoodDayToBeADogEp1and2 pic.twitter.com/pcdjqdkn3Q

— kaykdramanotes (@kaykdramanotes) October 11, 2023
It's so damn cute!! Hae Na as a dog going on this little journey to get back home.😃

The way he tests her as a dog. (Bang)🤣

I love how they keep switching aspect ratios. It feels very cinematic.
I'm enjoying #AGoodDayToBeADogEp1 ❤️#AGoodDayToBeADog #ParkGyuYoung #ChaEunWoo pic.twitter.com/wJqaJhyXCC

— Austin🤗 (@K_DramaClips) October 11, 2023
And everything ended here …. Seowon in shower …..woowww

My Jin Seowon is scared to hell from gaena ….#차은우 #CHAEUNWOO #AGoodDayToBeADogpic.twitter.com/tPImDOHjzL

— KaKu Seowon ▪︎A Good Day To Be A Dog▪︎🐕 (@ChaDonguu) October 11, 2023
done watching ep 1 & 2 & I'M IN LOVE! it was so adorable & fun😭 the casting is so perfect & the dog tho omg😭SO FREAKIN CUTE! I love the osts too. just everything is perfection. 1 ep/week is going to be sucha torture😭#Agooddaytobeadog #agooddaytobeadogep2 pic.twitter.com/sKTYLJDvEh

— keeks🐾 (@j1soocore) October 11, 2023
Meanwhile, the drama scored nationwide average viewership ratings of 2.2 percent and 2.8 percent for its first two episodes.
>> Cha Eun Woo Dishes on Kiss Scenes with a Four-Legged Star in 'A Good Day to Be a Dog'
Source (1)