Song Hye Kyo's BFFs
Song Hye Kyo and Park Sol Mi have been close friends for 21 years, since their co-starring role in the 2003 SBS drama All In. In 2021, Park Sol Mi showed her support for Song Hye Kyo by sending a coffee truck to the set of her SBS drama Now We Are Breaking Up, and these two stars are often spotted interacting on each other's Instagram feeds and comments.
They recently went on a memorable trip with two other celebrities, Park Hyo Joo and Choi Hee Seo, who have joined them multiple times. Sharing a photo of their group at a beautiful traditional Korean house, Song Hye Kyo delightfully captioned it with, "Our 21-year friendship."
Wooga Family
Wooga Family is a close-knit group of friends brought together by Park Seo Joon. It appears that Peakboy and Park Seo Joon first created the group as they were high school classmates. Choi Woo Shik became part of the group when he starred alongside Park Seo Joon in the sitcom Family, and V along with Park Hyung Sik joined in through their shared experience on the drama Hwarang.
What makes this group special is how they wholeheartedly support each other in their careers. They make playful cameo appearances in each other's projects, lend their voices to OSTs, and attend their premiere events. Recently, they showcased their unbreakable bond in the show In the SOOP: Friendship Trip.
97 Line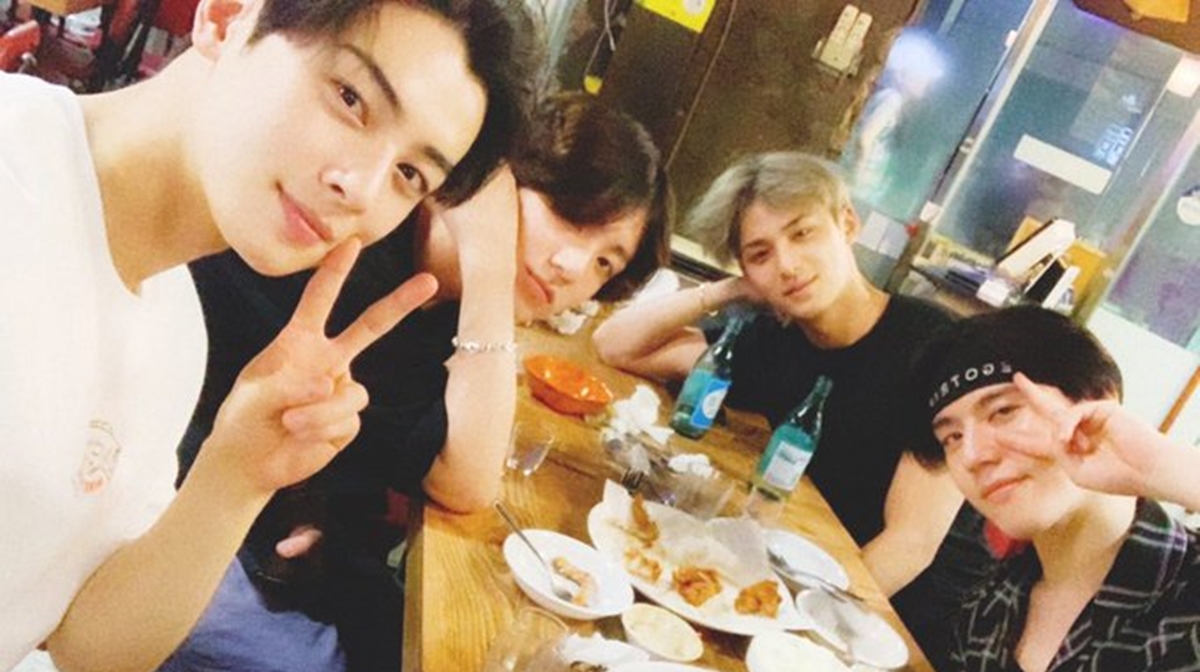 If you're looking for a hot and handsome idol friend group, you should look up the celebrity friend group named the '97 line.' Comprised of BTS's Jungkook, NCT's Jaehyun, ASTRO's Cha Eunwoo and SEVENTEEN's Mingyu, they are all born in 1997 and are active idols in the K-pop industry. Their interviews indicate that they've become friends through music programs and award ceremonies.
Jungkook sent a coffee truck to support Cha Eunwoo during his MBC drama Rookie Historian Goo Hae-ryung filming back in 2019, and Mingyu just recently revealed that they hung out on Jungkook's birthday this year. 
00s
00s is a squad of super close idol singers born in 2000 and 2001. It's got Choi Bomin from Golden Child, Lee Daehwi from AB6IX, Sanha from ASTRO, and Hyunjin from Stray Kids. They kicked it off by debuting as a project boy group on KBS Music Bank and even lit up the stage for the show's special events in 2019 and 2020.
Sanha and Choi Bomin both went to Hanlim Arts High School. Looking back on their first meeting, Bo Min chuckled and said, "Our teacher told us that we have a celebrity in class. But when I walked in, I had no clue who the celeb buddy was."
Dragon's Club
Dragon's Club, celebrating a 26-year-long friendship is a group of friends composed of Cha Tae Hyun, Kim Jong Kook, Hong Kyung Min, Jang Hyuk, and Hong Kyung In. This social club is known as a gathering of entertainers who were all born in the Year of the Dragon, 1976. These club members have been fostering their friendship since the 1990s. In 2017, they made an appearance on the KBS variety show Dragon's Club: Overgrown Bromance, where they candidly and humorously showcased their unpretentious friendship.
In August of this year, they went on a trip to Mongolia together on the show Express Delivery: Mongolia Edition.
Kim Woo Bin – Lee Jong Suk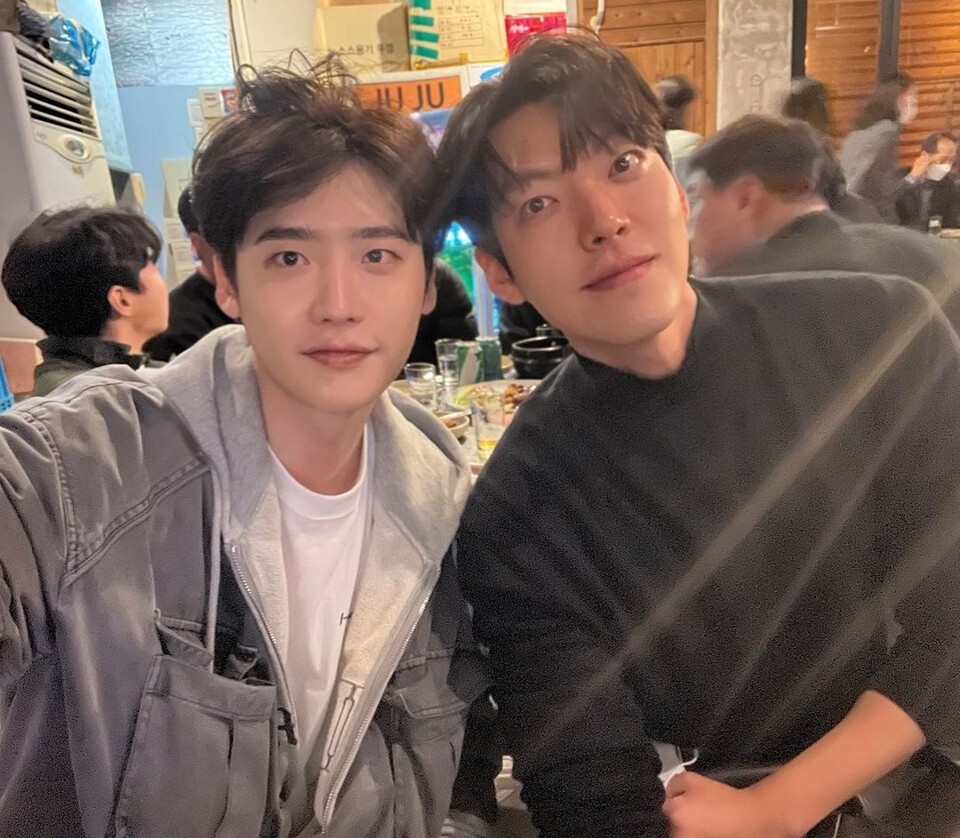 Kim Woo Bin and Lee Jong Suk became good friends while working together on the 2013 TV show School 2013. They were so close that people even thought they were dating because of their great on-screen chemistry. Kim Woo Bin cheered for his friend by attending a special screening of Lee Jong Suk's movie Decibel which came out last year. In addition, these two buddies have gone on trips to Hawaii together and are frequently seen sharing meals and working out together.
>> Lee Jong Suk and Kim Woo Bin Show Off Their Close Friendship
Nana-Suzy
Nana recently gave us a peek into her inner circle by sharing a snapshot from her birthday party this year. In the candid photo were the lovely actress Suzy, the talented Jang Hee Ryung, and the ever-charming Jo Hyun Ah from Urban Zakapa. Nana, being the gracious host she is, took to social media to express her heartfelt thanks: "Big shoutout to my awesome friends who made my day special! Much love to everyone who joined in the celebration!"
Nana revealed that she became friends with Suzy while working on the same project with Jang Hee Ryung. She shared, "Suzy and I got along really well. Suzy is three years younger than me. Normally, it's not easy to meet up again after meeting once, but because we live so close, we ended up seeing each other often."
>> Nana Spills the Beans on Why She Got Tattoos All Over Her Body
IU – Yoo In Na
Yoo In Na and IU are known for their close friendship. They appeared together on KBS Cool FM's Volume Up, showing off their great friendship and how age doesn't matter when you're good friends.
What's really sweet is that back in May, Yoo In Na surprised IU by sending her some chicken and ice cream while she was filming her new drama You Have Done Well. In return, IU shared a photo of the buffet gifts she received from her close friends, clearly expressing her love for her.
BYH48
Byun Yo Han's friend group is known as the Byun Yo Han Squad or BYH48 for short. BYH48 combines Byun Yo Han's initials with the Japanese idol group AKB48, and fans came up with this nickname because there are many members in the group. Byun Yo Han says that this group has become a comfortable and close-knit community for him, formed during challenging times.
Some famous members of this group include actors Ryu Jun Yeol, Lee Dong Hwi, Jisoo, and Suho from EXO.
Lee Jung Jae – Jung Woo Sung
Squid Game's Lee Jung Jae and his best friend Jung Woo Sung, known as the Cheongdam Couple, are a handsome duo famous for their long-standing friendship in the industry. They're close buddies who hang out together a lot, like eatting meals and visiting cafes together so often that it feels like they see each other every day of the week.
Notably, they co-founded a talent agency called Artist Company and starred in Lee Jung Jae's first directorial debut movie, Hunt. These friends not only share their personal lives but also work together on professional projects, which strengthens their friendship even more.
Jo In Sung Family
The Jo In Sung crew is the ultimate celebrity squad, including Jo In Sung himself, alongside Song Joong Ki, Lee Kwang Soo, Lim Joo Hwan, Do Kyung Soo, Kim Ki Bang, and Kim Woo Bin. They took a break from their busy lives in 2016 for a fun trip to Tokyo. Nowadays, they've been making appearances on Jo In-Sung's hit show, Unexpected Business, from 2021 onwards.
Surprisingly, Jo In Sung and Song Joong Ki's friendship started when they worked together on the movie A Frozen Flower. However, people couldn't help but wonder why Jo In Sung missed Song Joong Ki and Song Hye Kyo's wedding in 2017, leading to rumors of a rift.
Now,Lee Kwang Soo, Kim Woo Bin, Do Kyung Soo, and Kim Ki Bang are teaming up for a new TV show produced by the well-known producer Na. Get ready for their next adventure!
Walking School
Walking School is a club started by the well-known actor Ha Jung Woo, who is famous for his love for walking. They've adopted a 'school' theme, with Ha Jung Woo as the school principal, and their motto is 'Let's eat well and walk well.'
The group includes actors like Hwang Bo Ra, Lee Sang Won, Jung Woo Sung, and Kim Nam Gil, along with movie producers and staff members. The main rule in this club is to walk 10,000 steps every day, and if someone doesn't meet this target, they have to pay a 10,000 Korean won fine.
Hamino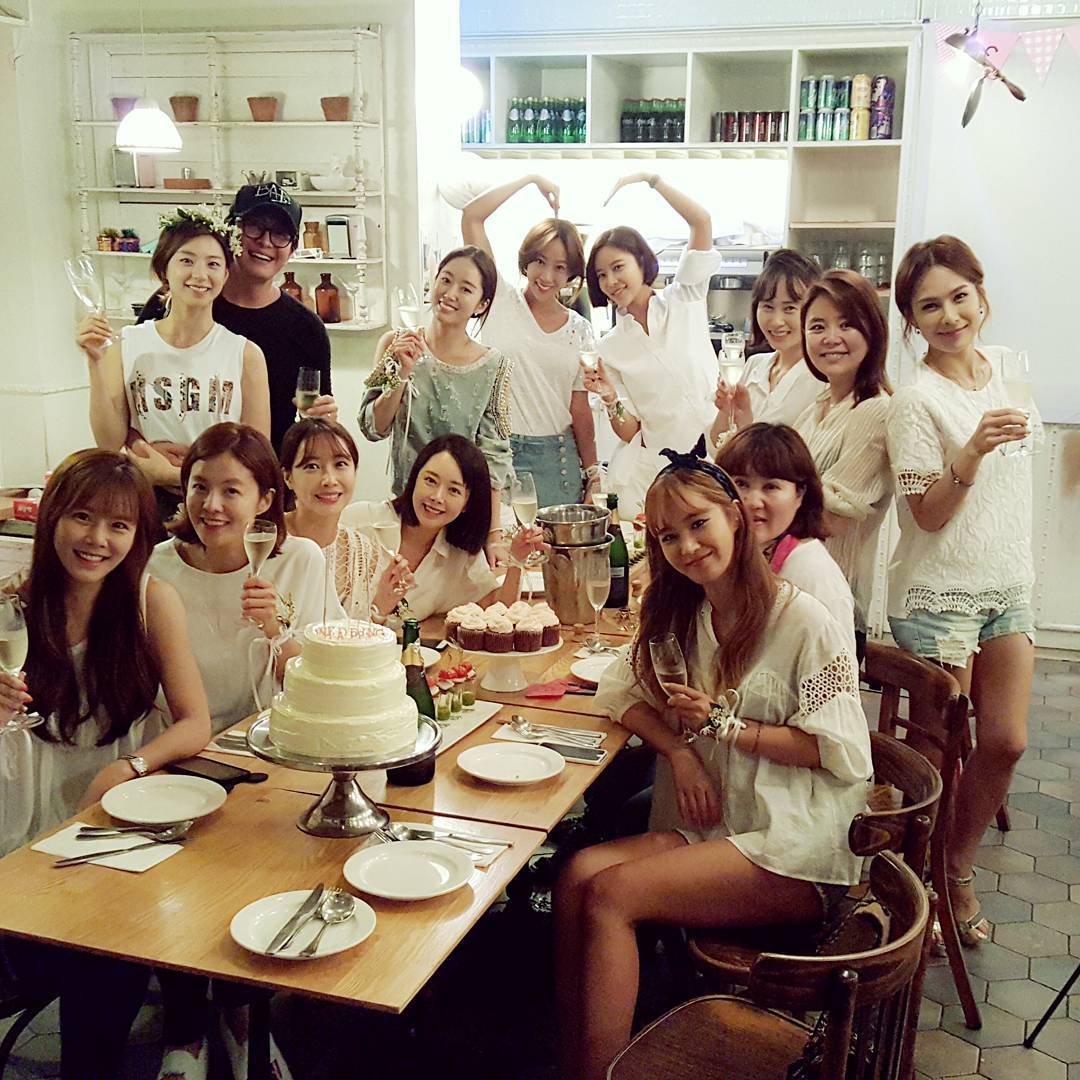 Hamino is a group where Christian celebrities get together to build friendships. The name stands for 'Gathering of Beautiful Women Who Love God.' Some of the members of the group are famous actresses like Ye Ji Won, Uhm Ji Won, Yoo Sun, Kang Hye Jung, Park Ji Yoon, Hwang Bo, Kim Sung Eun, Park Soo Jin, Han Ji Hye, Han Hye Jin, and more.
In 2015, before the wedding of Bae Yong Joon and Park Soo Jin, Hamino members organized a special bridal shower for Park Soo Jin, and they shared this heartwarming moment on social media.