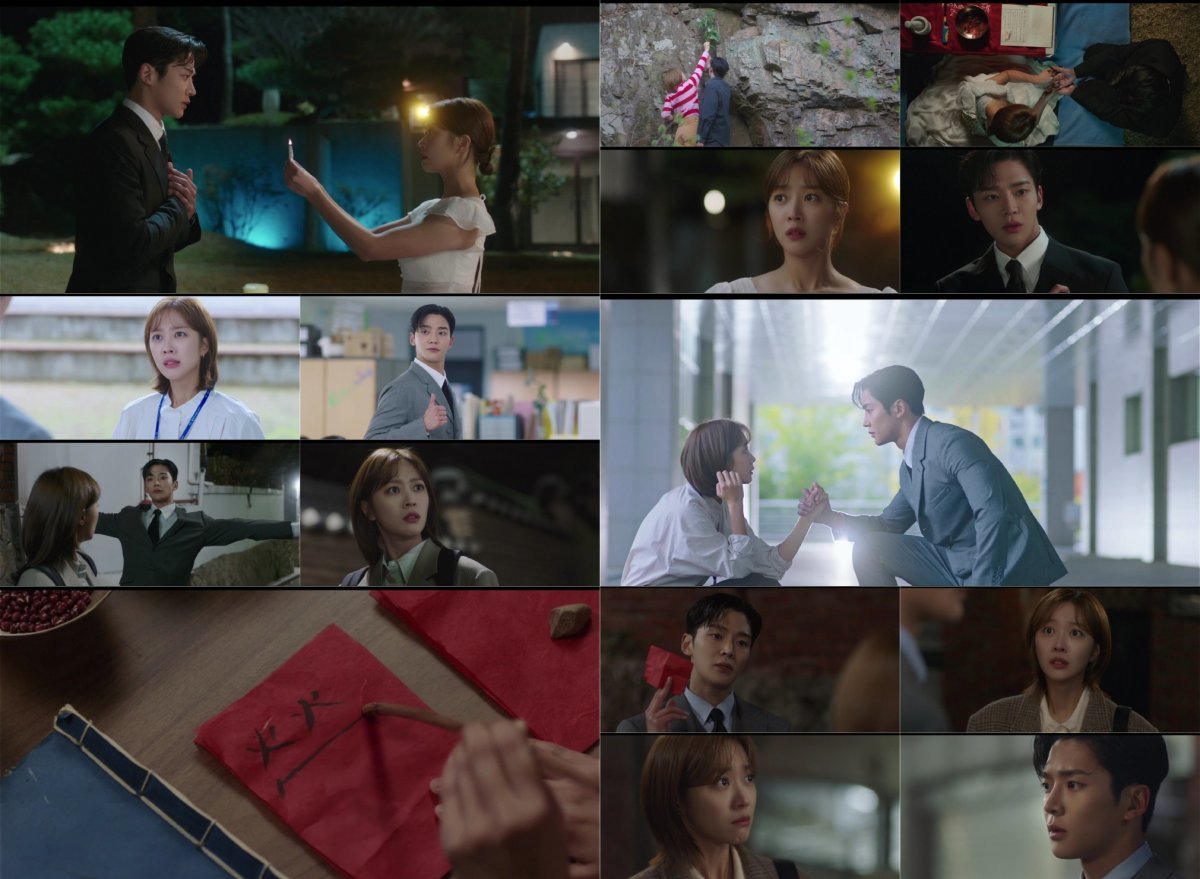 Lee Hong Jo (played by Jo Bo Ah) and Jang Shin Yu (Rowoon) are becoming more attracted to each other in JTBC's Wednesday-Thursday drama Destined With You. With a new romance about to blossom, the production team has chosen the 3 best moments from the show that highlights the shift in their relationship.
Episode 3: "What's so strange? You look beautiful in my eyes."
In the third episode, Hong Jo unseals the wooden chest and shows Jang Shin Yu the contents inside, which is a spellbook. Upon discovering the Divine Healing spell, Jang Shin Yu asks for just one thing in exchange for all the spells. With determination, Jang Shin Yu decides to perform the spell. As Hong Jo tears and burns the pages, an unknown force suddenly envelopes Shin Yu. His heart begins to beat rapidly as he faces her. Now knowing what he's going through, Hong Jo complains about the clothes and hardships. Right then, Shin Yu blurts out, "What's so strange? You look beautiful in my eyes." Uttering words that he himself cannot comprehend, he leaves her stunned due to the peculiar side effects of the spell. The tingly atmosphere of Jang Shin Yu and Lee Hong Jo hints at an exciting change in their relationship.
Episode 4: "You're responsible for this. There's a spark in my heart too."
Lee Hong Jo's love spell doesn't work out as planned. It turns out that Jang Shin Yu, not Kwon Jae Kyung (Ha Jun), drank the love potion. The spell is very strong, and Shin Yu's feelings for Hong Jo grows stronger. He starts following her around everywhere. To make sure she gets home safely, he even turns on the streetlights for her. With a playful grin, he says, "The funny thing is, there's a light shining in my heart too. It's sparkling." This confession gets everyone excited.
>> 'Destined With You' Episode 6 Recap: Rowoon Finally Confesses His Love for Jo Bo Ah
Episode 6: "Apparently, I love her. I love Lee Hong Jo"
While drunk, Jang Shin Yu confesses to Hong Jo, saying, "I don't want to perform that disaster nullification spell. My heart races every time I see you. When you shared about your father, it felt like my heart was melting. This is love," causing her to blush. Despite trying to play it cool, she makes a mistake while casting the spell, becoming overly excited and misspelling one of the Chinese characters on the lucky charm. Shin Yu notices the mistake and questions Hong Jo about it. She responds, "You confused me by telling me you love me." Hearing her words, he recalls what he said when he was drunk that day. Just then, Jae Kyung appears before them and asks if they've resolved things. Surprisingly, Shin Yu replies, "Not for me. It seems I love her. I love Lee Hong Jo."
Source (1)