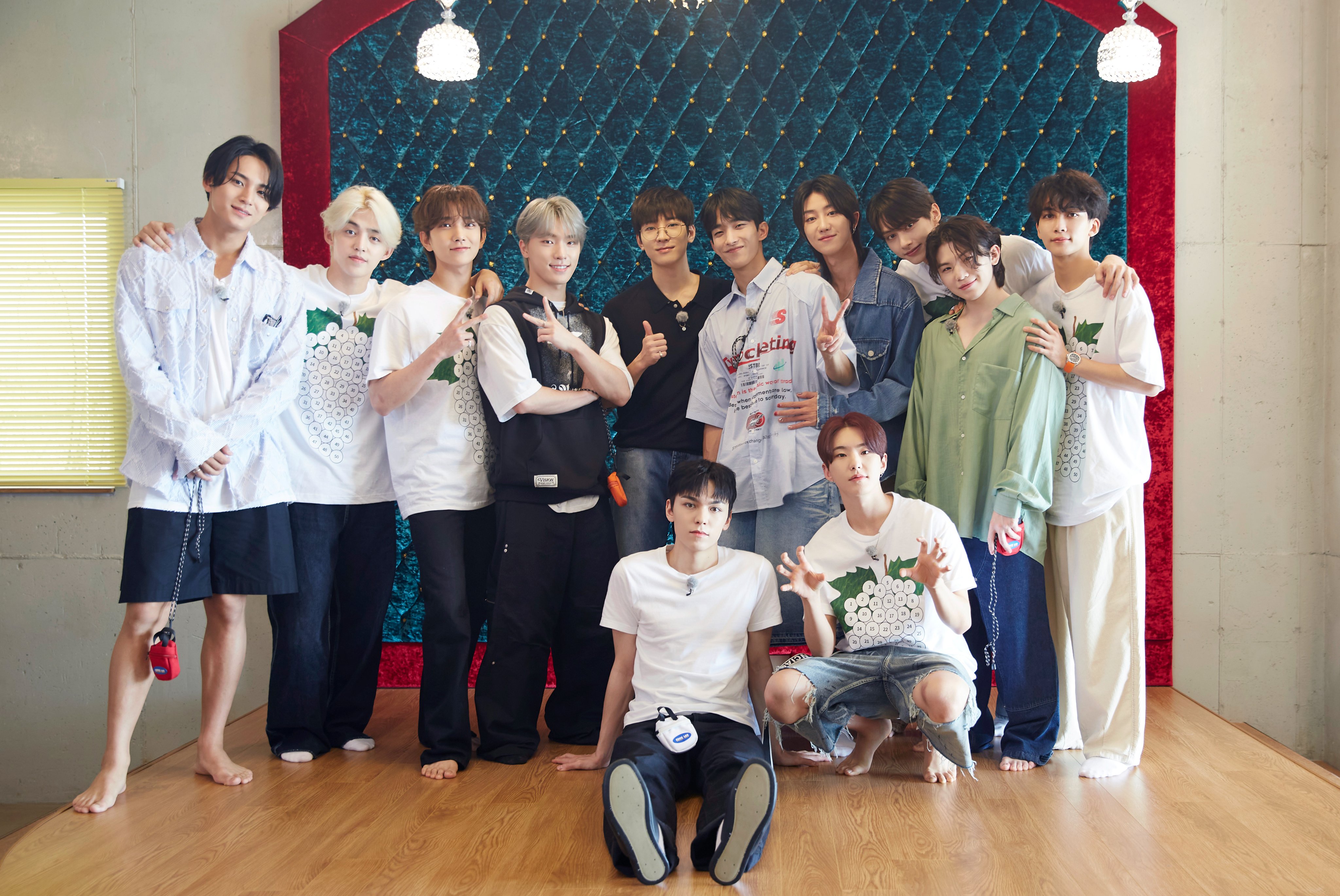 SEVENTEEN has officially started filming for tvN's iconic show, Youth Over Flowers.
According to Xportsnews on the 8th, the cameras are rolling and SEVENTEEN is finally getting their wish.
You might recall that back in May, SEVENTEEN guest-starred on the YouTube show hosted by "Channel Fullmoon" and Producer Na Young Seok. At the time, DK, Dino, and Wonwoo drew a "Youth Over Flowers" ticket, creating a buzz. With that teaser, anticipation has been high on whether SEVENTEEN would actually be the next stars of this beloved series.
SEVENTEEN's Youth Over Flowers episode is part of the Channel Fullmoon content. What form of release the show will take and when is still up in the air.
Youth Over Flowers has a storied past, debuting back in 2016 with episodes featuring star-studded casts like Jung Sang Hoon, Jo Jung Suk, Jung Woo, and Kang Ha Neul in Youth Over Flowers: Iceland and Ahn Jae Hong, Ryu Jun Yeol, Ko Kyung Pyo, and Park Bo Gum in Youth Over Flowers: Africa.
아니 애들 왜 다 마이크에다 카메라에다…진짜 세븐틴 꽃청춘 가나?? pic.twitter.com/31ijvh59Hc

— 톡쓰 (@tk_1004R) September 8, 2023
누가봐도 나PD님 이시죠 ‼️

세븐틴 꽃청춘은 현실이된다. 꽃청춘적은 원우 칭찬해요 ~ 뽑은 도겸이 칭찬해요 ~ 복복복복

— 세봉랜드 (@happysebongland) September 8, 2023
아 제발요 지금 세븐틴 꽃청춘 시작부터 너무 웃기잖아요 ㅋㅋㅋㅋㅋㅋㅋㅋㅋㅋ
1. 여기저기 등장한 나피디님 얼굴로 꽃청춘 촬영 알게 되기
2. 여권 잃어버린 민규 여권 찾기 (나피디님: 차자쒀?!?!?! 차자쒀!?!??!)
3. 팬들이 자료화면용 에어드랍 나피디님한테 쏴주기

아 제발요 ㅋㅋㅋㅋㅋㅋ pic.twitter.com/473tvwCJpU

— 크리링 (@SClilings) September 8, 2023
미치겠다 세븐틴 꽃청춘 시작부터 컨텐츠 넘침 ㅋㅋㅋㅋㅋㅋㅋ 나피디님 목소리들려ㅋㅋㅋㅋㅋㅋㅋㅋpic.twitter.com/I5D6uerzP5

— 호댱 (@hodang_hodang) September 8, 2023
Meanwhile, SEVENTEEN isn't slowing down on the global stage. Just recently, they wrapped up the largest-scale dome tour in Japan, "SEVENTEEN TOUR 'FOLLOW' TO JAPAN." But they're not done yet: they have performances lined up in Verona Dome in Saitama on November 23-24, Vantelin Dome Nagoya on November 30 and December 2-3, Kyocera Dome Osaka on December 7, 9-10, and Fukuoka PayPay Dome on December 16-17.
Source (1)