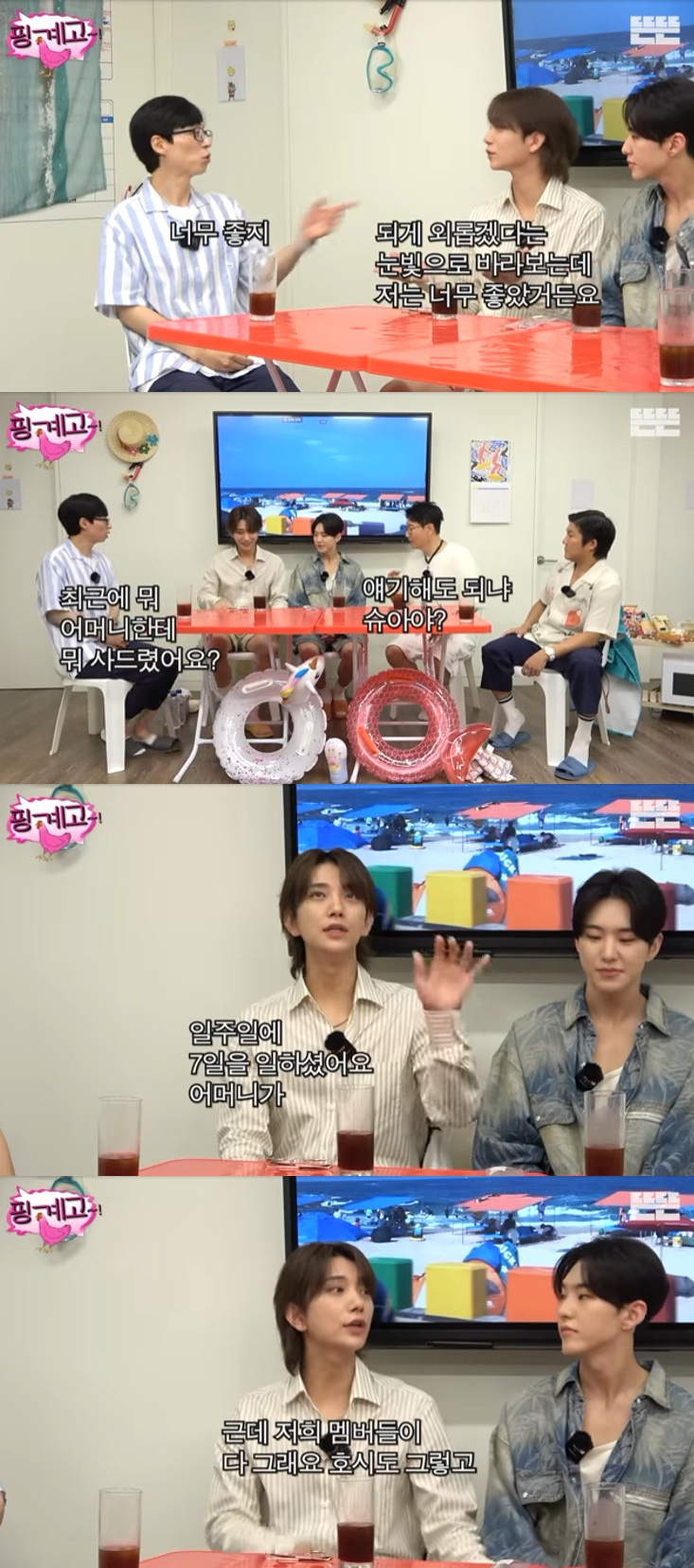 SEVENTEEN's Joshua and Hoshi shared their heartfelt stories of gifting their families with brand new homes.
On the morning of July 29th, a new episode of the YouTube channel "DdeunDdeun" was released, featuring SEVENTEEN's Joshua and Hoshi, along with Yoo Jae Suk, Jee Seok Jin, and Jo Se Ho as emcees.
During the broadcast, Jee Seok Jin praised Joshua, saying, "He is an incredibly loving son. I heard about everything he gifted his mother. Can I talk about it? He bought her a new home." In response, Joshua said, "My mother originally lived in the United States, but I got her a home in South Korea." Jee Seok Jin exclaimed, "Can you believe it? It's just another level of showing gratitude," and both Jo Se Ho and Yoo Jae Suk couldn't help but admire Joshua's love for his family.
Joshua further shared, "My mother raised me all alone. She worked seven days a week. She was a Korean medicine doctor, so she worked at a clinic and even ran a restaurant. I thought I should save money to buy her what she wants."
Hoshi also commented, "Joshua's mother is really cool. Even when she practices acupuncture, it's cool. When we all went to LA in the United States, Joshua hung out with friends, but I went to see his mother. She did acupuncture on my shoulder, and it felt so great." Joshua added, "My mother used to be a Korean medicine doctor, but she doesn't practice now. She told me not to work too hard and that she would work. But I told her I would work hard. Our other members are all like that too." Hoshi continued, "I also had a bit of a hard time when I was young, with our house. So as soon as I earned money, I immediately got my parents a home," adding to the astonishment.
Yoo Jae Suk praised, "It's not about the price, but this kind of heart is impressive." Jee Seok Jin also emphasized, "I have a son, so I know, even a single letter from him melts my heart. It's not about money."
>> Anticipation Builds for SEVENTEEN's Version of 'Youth Over Flowers'
Source (1)