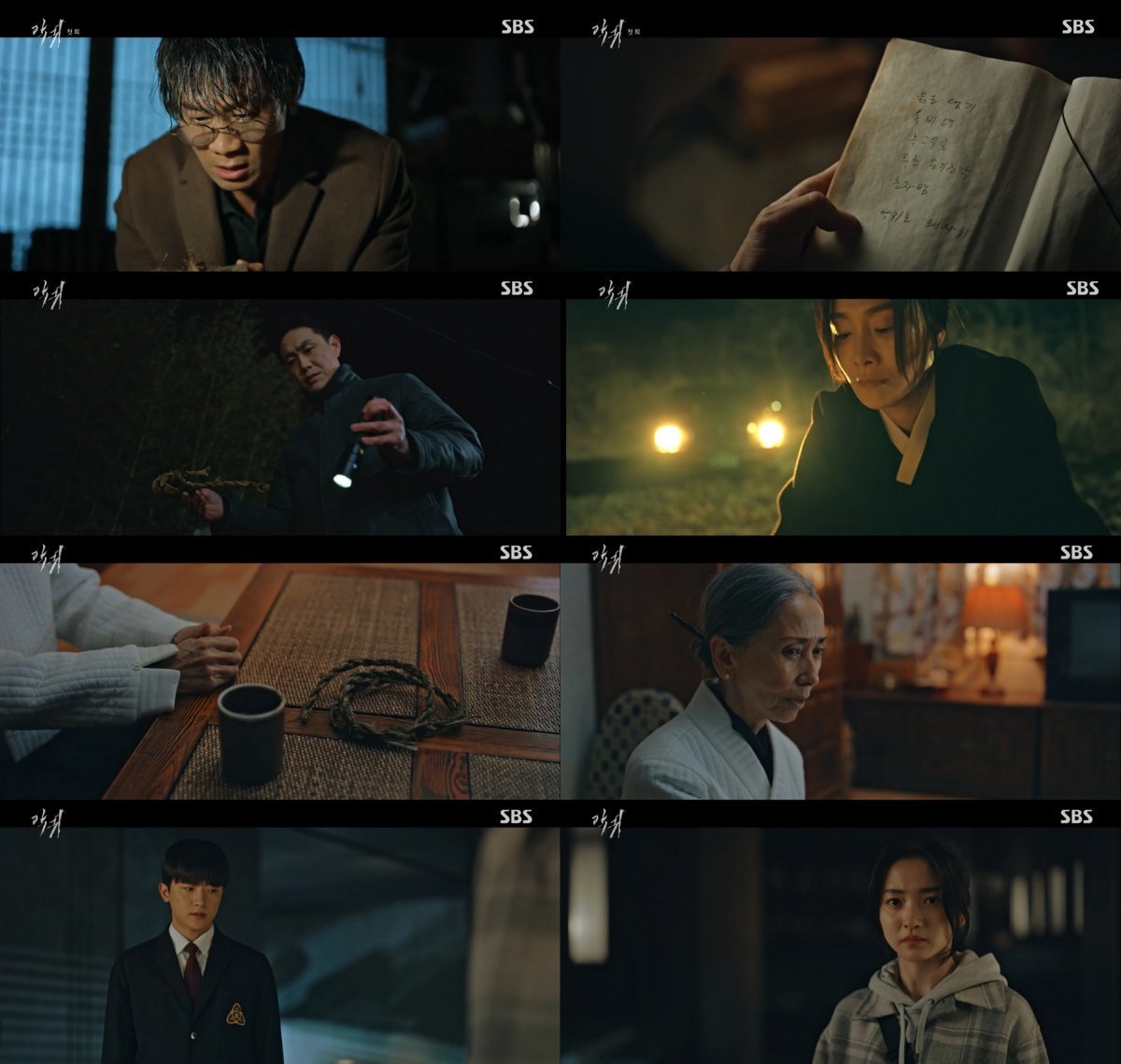 As SBS' drama Revenant progresses beyond its midpoint, Kim Tae Ri and Oh Jung Se are moving closer to the climax of the thrilling mystery they are investigating.
San Young (Kim Tae Ri) and Hae Sang (Oh Jung Se) have made a startling discovery. They have learned that there is someone responsible for creating the evil spirit that possessed San Young, and San Young's father Kang Mo (Jin Sun Kyu) and Hae Sang's mother (Park Hyo Joo) asked Eun Myung (Moon Sook) to make five golden threads. The threads serve the purpose of warding off evil spirits, and Hae Sang came across one at Kang Mo's old house. Furthermore, Hae Sang's mother buried a blue jar in the ground before passing, which Hae Sang later found, connected to a gold thread.
It is important to note that Kang Mo previously emphasized, "You must find five objects and discover the names of the spirits," which aligns with Hae Sang's explanation that identifying their names and reasons for remaining is crucial to exorcizing them. The ghosts also creepily told San Yeong, "Take a guess at my name."
Regarding the five items, a hint was given during the opening of the first episode. As Kang Mo rushedly entered the library of Hwa Won Jae, he confirmed in his research notes the following items: Red ribbon, jade hairpin, black rubber band, blue earthenware sculpture and glass bottle. However, he soon loses his life to an evil spirit, uttering the words, "What went wrong?"
Up to this point, San Young and Hae Sang have managed to find the red ribbon and the blue jar, with three items still left to discover: the black rubber cord, jade hairpin, and glass bottle.
Anticipation is mounting regarding whether Hae Sang, aided by his friend Woo Jin (Kim Shin Bi), will uncover the true identity of the evil spirit in the upcoming episode. Woo Jin has intriguingly revealed, "I saw the name of the person who created you, the evil spirit."
On July 9th, the production team shared, "San Yeong and Hae Sang's growing teamwork will add to the suspense in the upcoming episodes as they get inch closer to unraveling the mystery surrounding the evil spirit. It becomes increasingly apparent that San Yeong's life will face greater destruction at the hands of the evil force. Stay tuned to witness how they utilize their clues to ultimately uncover the truth."
Source (1)