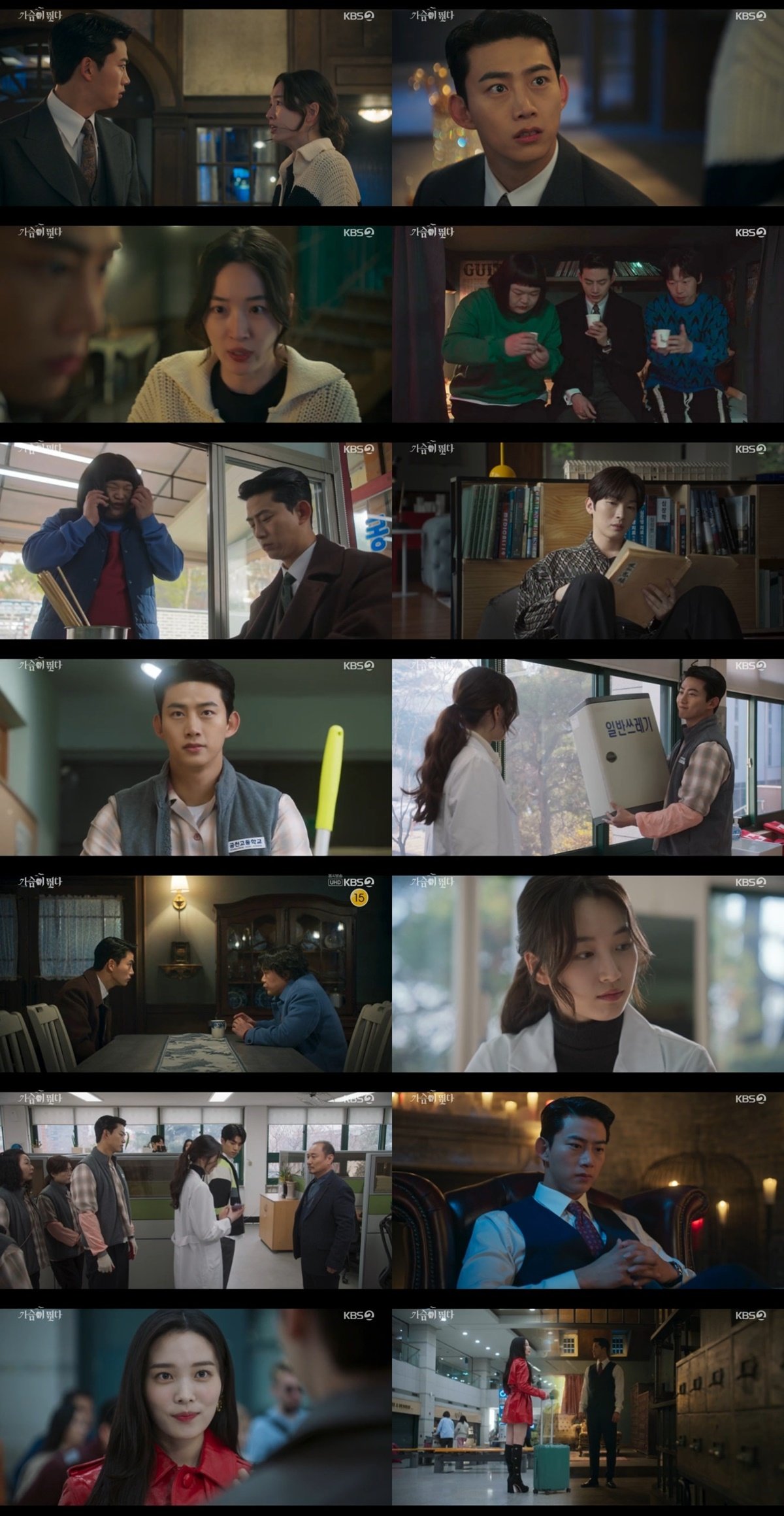 In the fourth episode of KBS' Monday-Tuesday drama Heartbeat, Ok Taecyeon surprises viewers by giving an unexpected kiss to Won Ji An. The intriguing episode garnered an average nationwide rating of 3.6 percent.
The episode unfolds with Seon Woo Hyul (played by Ok Taecyeon), a half-human and half-vampire, sensing the presence of Yoon Hae Seon (Yoon So Hee) within Joo In Hae (Won Ji An) after tasting her blood.
Picking up from where the previous episode left off, Woo Hyul impulsively kisses In Hae after noticing the blood on her lips. In Hae, completely bewildered, slaps and smacks him. Their playful moments drew out laughter from the start of the show.
Of course he can't help himself!!

He waited 100 years for this kiss!!
So it's excusable that he got caught up in the moment 😂#Heartbeat #WonJiAn #OkTaecYeon #TAECYEON

— Yibo's Skateboard 🛹 (@chicmuffet) July 3, 2023
As expected he got slapped and smacked *ouch*#Taecyeon #OkTaecYeon #옥택연 #택연 #テギョン #玉澤演 #Heartbeat#HeartbeatEp4 #가슴이뛴다 pic.twitter.com/LWhCiHQaDu

— 💚💛CC 💚💛🧛‍♂️🤴🏻 (@OnMyWay2SeeU) July 4, 2023
After experiencing the taste of In Hae's blood through the unexpected kiss, Woo Hyul starts begins to catch glimpses of Hae Seon within In Hae. Despite their contrasting physical features and personalities, this leaves Woo Hyul questioning his emotions towards In Hae. Seeking clarity, he confides in his vampire friends, Lee Sang Hae and Park Dong Seop, in hopes of finding an answer.
That Kiss?

Love how they're connecting both InHae and Hae Sun so much this episode. Doing the same things from the past, in the present

Your not afraid of me?

You saved me, your my only friend, your my savior.

That's InHae soon😅#Heartbeat #OkTaecyeon #WonJiAn #HeartbeatEp3 pic.twitter.com/yMLHlavel1

— Austin (@r_Austinn) July 3, 2023
Friends who drink soju together stay together ❌

Friends who drink blood together stay together ✅ #HeartbeatEp4 pic.twitter.com/9KY31NTLYI

— tali nancy drew era (@wiwifilms) July 4, 2023
he told his friends that he was able to taste the blood of inhae &that have they ever experienced drinking somone's blood &know their past? they were like only in dramas🤣🤣#2PM #TAECYEON #가슴이뛴다 #Heartbeat pic.twitter.com/uMWKxfR8Eo

— taec ily🧎🏻‍♀️guwon & woohyeol groupie (@only_oktaec) July 4, 2023
In the aftermath of the unexpected kiss, In Hae finds herself in a state of delightful discomfort. She exclaims, "Oh, it's just a mosquito nibbling on my lips. No big deal!" She also adds, "If you want to be treated like a human, show me the money! Go out there and hustle!" With these tantalizing scenes, viewers are left eagerly wondering what thrilling adventures await Woo Hyul.
In Hae's first kiss was with WooHyeol.

Now she can't stop thinking about it 😁#Heartbeat #HeartbeatEp4 #WonJiAn #OkTaecyeon #Taecyeon pic.twitter.com/50CUazDXyy

— Austin (@r_Austinn) July 4, 2023
This man is so tamed already 😭 he just cannot win once 😂🤣

Ep.4 preview clip 💚💚#Heartbeat #가슴이뛴다 #TAECYEON #OkTaecyeon #옥택연 #テギョン #2PM #WonJiAn #원지안 pic.twitter.com/L9mSlatqEq

— カルラBP (@KBrownsPark) July 4, 2023