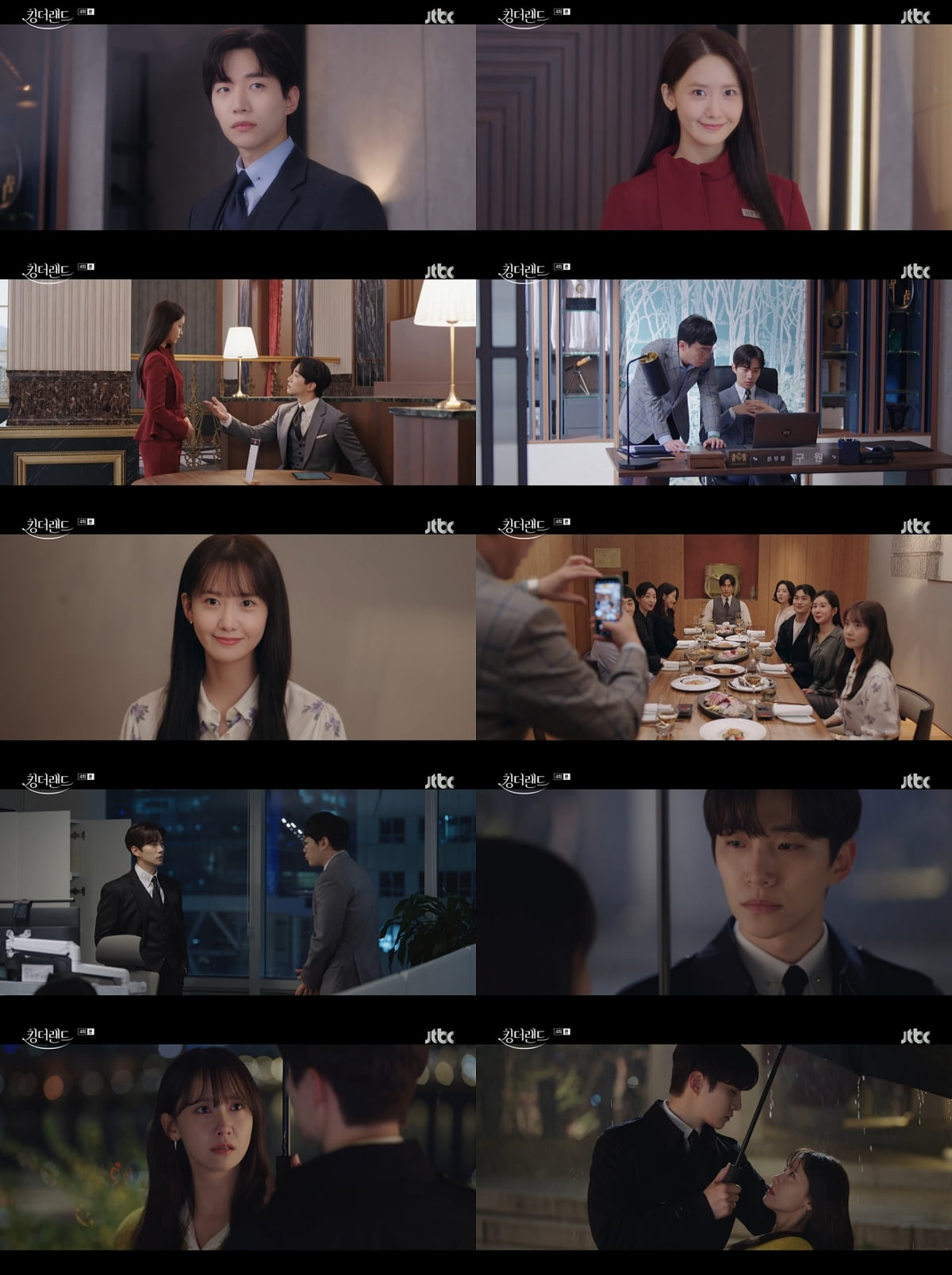 JTBC's King the Land is inching closer to double-digit ratings as the romantic tension heats up between Lee Junho and YoonA.
The 4th episode, aired on the 25th, left viewers' hearts fluttering as Gu Won (Junho) displayed his deepening feelings for Cheon Sa Rang (YoonA), under the pouring rain. Boosted by this romantic mood, the episode recorded a viewership of 10% in the metropolitan area and 9.6% nationwide, according to Nielsen Korea.
At the end of episode 3, Gu Won was seen walking away after seeing Cheon Sa Rang with another man. However, Cheon Sa Rang was only breaking up with her indifferent boyfriend, Gong Yu Nam (Ahn Woo Yeon). Despite facing pressure from declining sales and his sister belittling him, Gu Won had nothing but his new crush on his mind. To the extent that he, like a young child desiring attention from his crush, even acted up around Cheon Sa Rang, giving a big laugh.
Gu Won's plan to have dinner with Cheon Sa Rang under the pretext of a welcoming party even failed when his secretary No Sang Shik (Ahn Se Ha) invited the entire "King the Land." Gu Won's unusual caring demeanor, unfazed by the staff's gazes, left Cheon Sa Rang flustered. Gu Won too showed his frustration when his well-intentioned actions only caused trouble for her.
Adding to the drama, Cheon Sa Rang's ex Gong Yu Nam continued to disturb her even after their breakup. The heartbroken Cheon Sa Rang found herself alone in the rain, trying to wash away her sorrows. At this moment, Gu Won's umbrella appeared over her head, intensifying the emotional immersion of the scene.
>> 'King the Land' Audience Reactions: 'Insanely Gorgeous', 'The Rom-Com We All Needed'
Source (1)