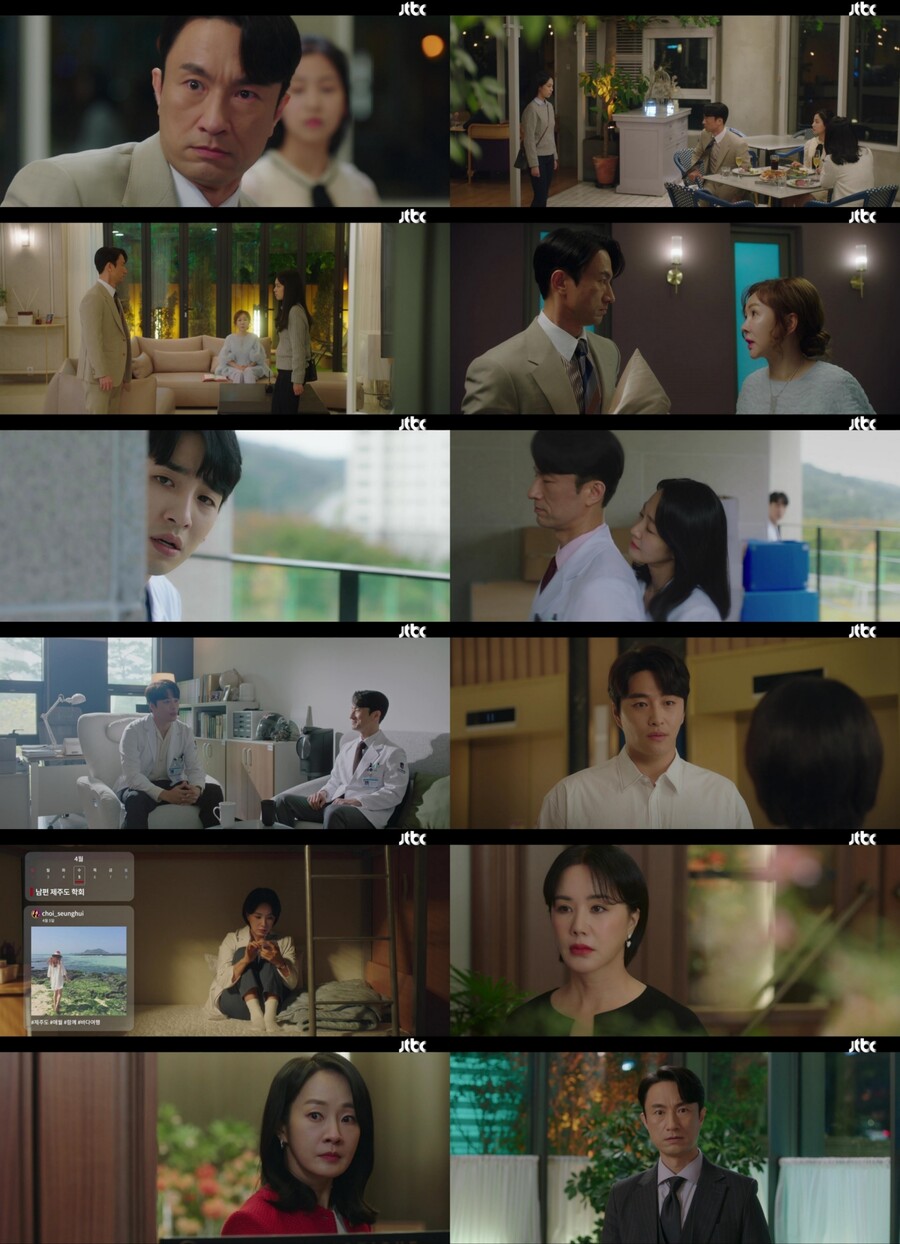 Weekend drama Doctor Cha on JTBC has surpassed the ratings of Dr. Romantic 3, which returned for its third season after a three-year hiatus. 
In its seventh episode, Doctor Cha achieved an average nationwide rating of 12.9 percent, which increased to 16.2 percent in episode eight. Meanwhile, Dr. Romantic 3 on SBS only managed to hit 13.5 percent and 12.5 percent for episodes three and four, respectively.
Although Doctor Cha's ratings are calculated based on the number of subscribers on its platform, it's still impressive to see it outperforming the popular South Korean drama Dr. Romantic 3, which made a grand comeback after three years.
Episode 8 of Doctor Cha begins with Jung Sook (played by Uhm Jung Hwa) crying after discovering the affair between her husband, Seo In Ho (Kim Byung Chul), and Choi Seung Hee (Myung Se Bin). Viewers are now curious to see what decision Cha Jung Sook will make after losing faith in her husband.
Cha Jung Sook's suspicions about her husband are aroused after In Ho accidentally let slip about a trip he had taken with Seung Hee. When Jung Sook suggests going on a family trip to Jeju Island after their daughter Yi Rang's (Lee Seo Yeon) college entrance exam, In Ho inadvertently mentions a place he visited with Seung Hee, but not with his wife.
Jung Sook's doubts about her husband intensify after learning about Seung Hee's divorce from her husband. At a dinner celebrating Seung Hee's daughter Eun Seo's (So A Rin) art contest victory, she reveals a shocking truth to In Ho. She admits that she intentionally got close to Yi Rang because she was curious about her father's family and drops a bombshell by revealing that she knows she and Eun Seo share the same father.
Seo Yi Rang is left stunned and can't help but burst into tears upon learning the shocking truth. In her determination to protect her mother, she even blames her grandmother (portrayed by Park Joon Geum), saying that she raised her son wrong.
Seo Jung Min, Cha Jung Sook's son (played by Song Ji Ho), also finds out about his father's double life. He is taken aback after seeing the text messages exchanged between Choi Seung Hee and Seo In Ho, and even witnesses them getting cozy with each other at the hospital. However, he keeps it a secret not to burden his mother with the truth.
Despite the family's efforts to keep the secret hidden, Cha Jung Sook eventually discovers the shocking truth on her birthday when she checks Choi Seung Hee's social media. With this cliffhanger, viewers are left wondering how the story will unfold in the remaining episodes.
>> Kim Byung Chul Steals the Show with His Adorably Hateful Portrayal in 'Doctor Cha'
Source (1)