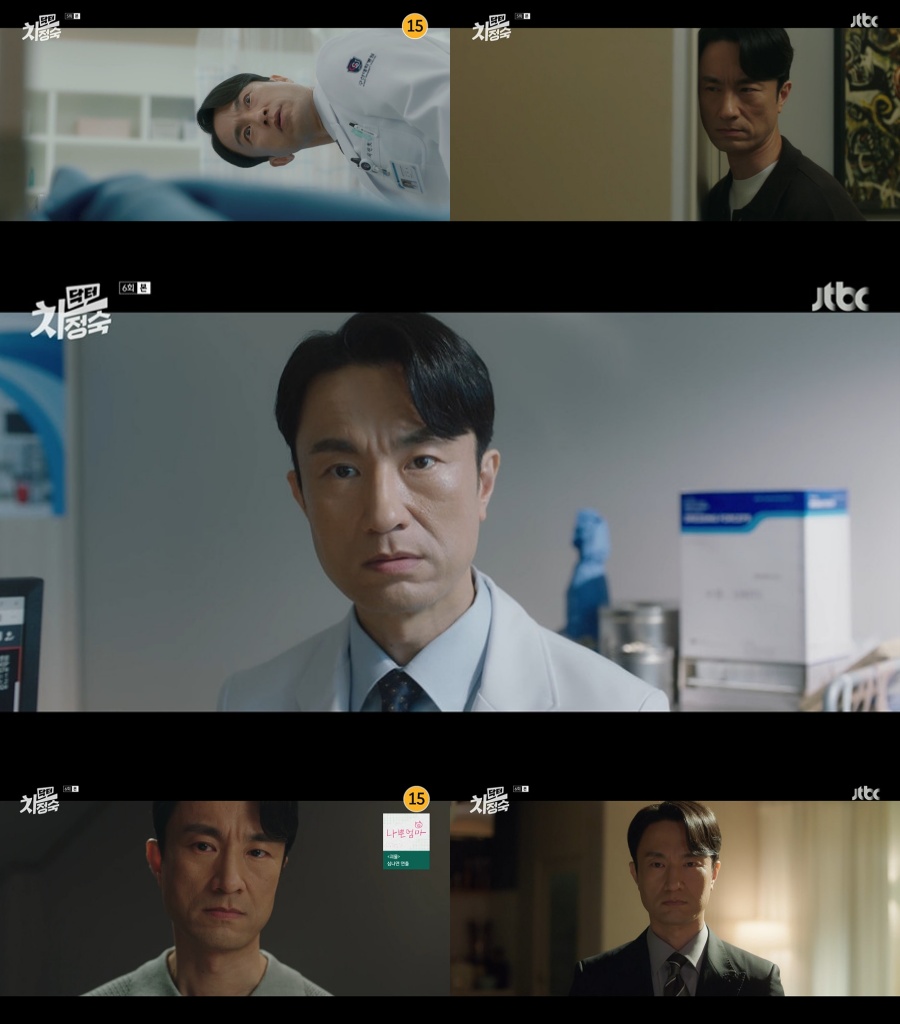 In Doctor Cha, Kim Byung Chul, who plays Uhm Jung Hwa's husband, delivers an exceptional performance of an adorable yet hateful man that both infuriates and amuses viewers.
JTBC's Doctor Cha has seen a steady rise in viewership, hitting a series-high rating of 13.2% during its sixth episode.
The catharsis provided by Cha Jung Sook's exhilarating rebellion, coupled with the ingeniously interwoven comedic elements, has captivated audiences. Above all, the husband Seo In Ho's struggles against Cha Jung Sook's life reboot add a delightful layer of humor while simultaneously evoking a sense of frustration.
If viewers sympathize with Cha Jung Sook's embark on a new life sparked by a life-or-death experience that forces her to reevaluate her self-sacrificing life for her family, her husband Seo In Ho's outrageous double life and his "pathetic" attempts to keep it under the rug bring laughter.
As Seo In Ho's sabotage of Cha Jung Sook's new life intensifies, so does the support for her. Kim Byung Chul deftly portrays the character's duplicitous nature. Seo In Ho appears to be a meticulous and flawless surgeon at the hospital, but in reality, he is a "petty" husband who even chickens out of giving a kidney to his supportive and dedicated wife. Moreover, he has an affair with his first love, Choi Seung Hee (Myung Se Bin), at the same hospital. Seo In Ho's true colors are revealed as the real reason he wants Cha Jung Sook out of the hospital comes to light. While his actions warrant anger, it is difficult to completely despise him thanks to Kim Byung Chul's charming performance, which makes Cha Jung Sook's rebellion and the power shift in their relationship all the more satisfying.
This power shift is another highlight of Doctor Cha. With Cha Jung Sook's new life choices, it will be interesting to see what changes Seo In Ho, who has always held the upper hand at home and at the hospital, will face in the latter half of the series. A critical turning point is expected as ominous signs begin to emerge in his secretive double life with Choi Seung Hee.
Regarding his portrayal of Seo In Ho, Kim Byung Chul stated, "It's fun and intriguing to see Cha Jung Sook grow and change, as well as Seo In Ho's reaction to it. I've put a lot of effort into portraying a couple who have been together for over 20 years. Thanks to Uhm Jung Hwa's delicate portrayal of Cha Jung Sook's transformation, I was really able to focus."
Meanwhile, Doctor Cha airs on JTBC on Saturdays and Sundays and is subsequently available on Netflix.
>> 'Doctor Cha' and 'Dr. Romantic 3' Impress Viewers With Ratings Surge
Source (1)