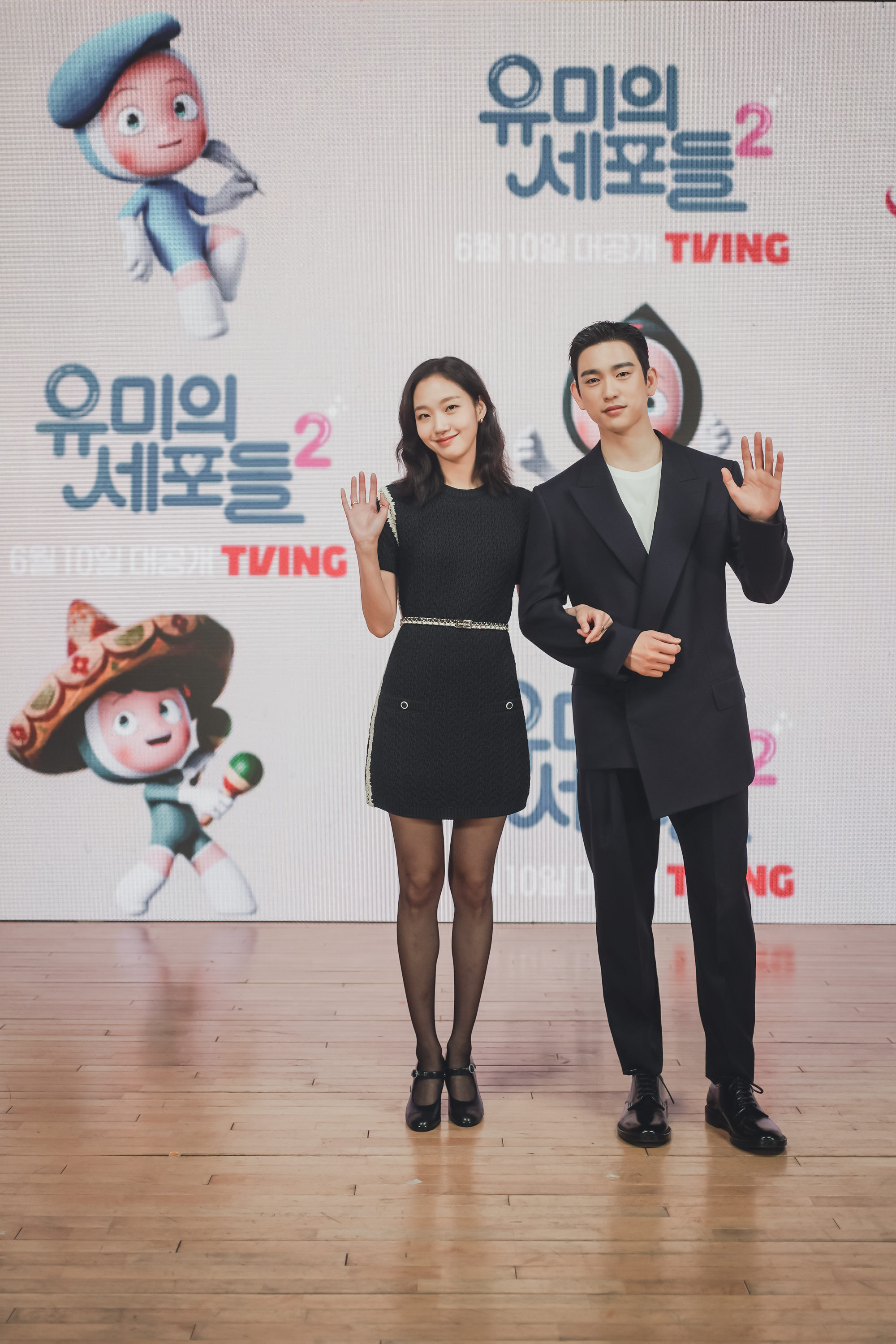 Kim Go Eun has grown after her heartbreaking breakup. Expectations are high for Kim Go Eun's new romance with GOT7's Jinyoung in Yumi's Cells 2.
Yumi's Cells unravels the daily life of an ordinary office worker Yumi through the eyes of the cells in her brain. After showing her growth through love and breakup with Goo Woong (Ahn Bo Hyun) last season, Yumi begins another exciting romance with Bobby (Jinyoung).
During the press conference held on the 7th, director Lee Sang Yeop chose "Bobby's charms" as the new charm unique to season two. "Jinyoung shows off his charm to the point where I wonder if there can be such a sweet guy," he shared. "Bobby's cells will appear, and new Yumi's cells that didn't appear in season 1 will also show up. The animated world (the brain) has also gotten grander."
About the new attempts she had made for the new season, Kim Go Eun commented, "There is a new cell called 'smooth.' Yumi grows her hair out thanks to this cell. Also, in this season, Yumi makes a courageous choice. It's a life-altering choice."
She added, "Yumi's Cells was written to root for Yumi. I wanted her to look like that. Bobby and Yumi's romance is the main story. But I went beyond the fun and tried to focus on the process of how they grow to understand each other."
Jinyoung shared, "The evaluations of Bobby will be divided into two – how he is in the first half and the second half." He continued, "There are fans who are already familiar with the original webtoon, so it might be confusing. So I hope you see Bobby as a warm person in the beginning. You can enjoy the whirlwind in the latter half of the show. But in the beginning, I want you to feel the 3D version of Bobby."
Meanwhile, Yumi's Cells 2 will be released exclusively on TVING on June 10th.
Source (1)