New Year Blues, a movie about the four couples wishing to become happier in the new year, has been confirmed to release on February 10th. 
After garnering attention with its reliable lineup of Kim Kang Woo, Yoo In Na, Yoo Yeon Seok, Lee Yeon Hee, Lee Dong Hwi, Chun Doo Ring, Yeom Hye Ran, Choi Soo Young, and Yoo Tae Oh, New Year Blues is set to be released. The film depicts a week filled with feats and hopes of four couples who want to end the despairing part of their lives and move on to a happier new year. Ji Ho (Kim Kang Woo) and Hyo Young (Yoo In Na) fear their new relationship as their previous ones failed, Jae Heon (Yoo Yeon Seok) and Jin Ah (Lee Yeon Hee) is experiencing growth pain as they worry about their futures, while Yong Chan (Lee Dong Hwi) and Yaorin (Chun Doo Ring) overcomes cultural differences while preparing for international marriage, and Oh Wol (Choi Soo Young) and Rae Hwan (Yoo Tae Oh) are long-time lovers who are starting to crumble because of others. The four couples' sympathetic stories are drawing attention as a 'healing movie' that could be enjoyed by all generations of lovers, friends, and family.
Expectations are higher as this is the work of 'romance powerhouse' SOO FILM and Hong Ji Young who directed Will You Be There? and Marriage Blue. 
Here's a synopsis of the characters. Divorced four years ago, Ji HO is a detective demoted from the homicide unit, and Hyo Young is a perfectionist rehab trainer who asks him for personal protection during a divorce suit. Jae Heon is a local wine delivery man who fled to Argentina after burnout, and Jin Ah is a ski resort worker who left for Argentina after a breakup. Yong Chan is the head of a travel agency that was scammed, and Yaorin is a bride-to-be who has been assigned to work at a Korean branch. Yong Mi is her future sister-in-law who is upset about Yong Chan's international marriage. Rae Hwan is a member of the Paralympic team who is against prejudices, and Oh Wol is a brave and positive horticulturalist who believes that there could be nothing that can stop her love. 
As New Year Blues plans to present perfect chemistry between attractive actors and professional producers, it attempts to warmly support the viewers for a happier future.
New Year Blues filled with nine beloved actors, is scheduled to be available on February 10th.
Source: AceMaker Movie Works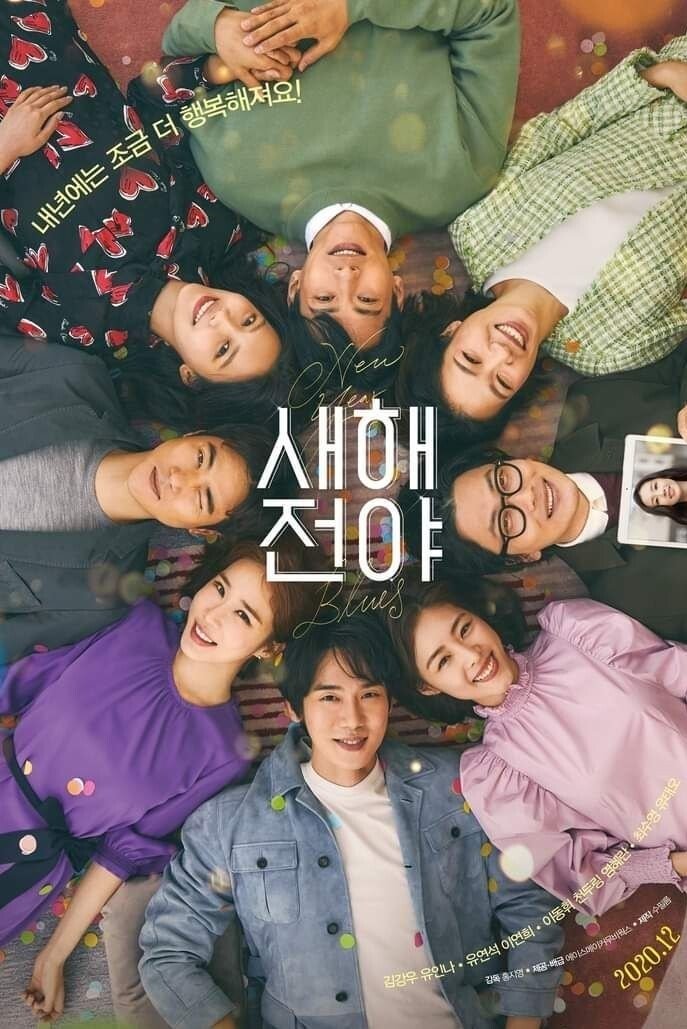 New Year Blues (2021) - 11DB.IO
One week before New Year's Eve, four couples try to overcome their fears and difficulties of life.