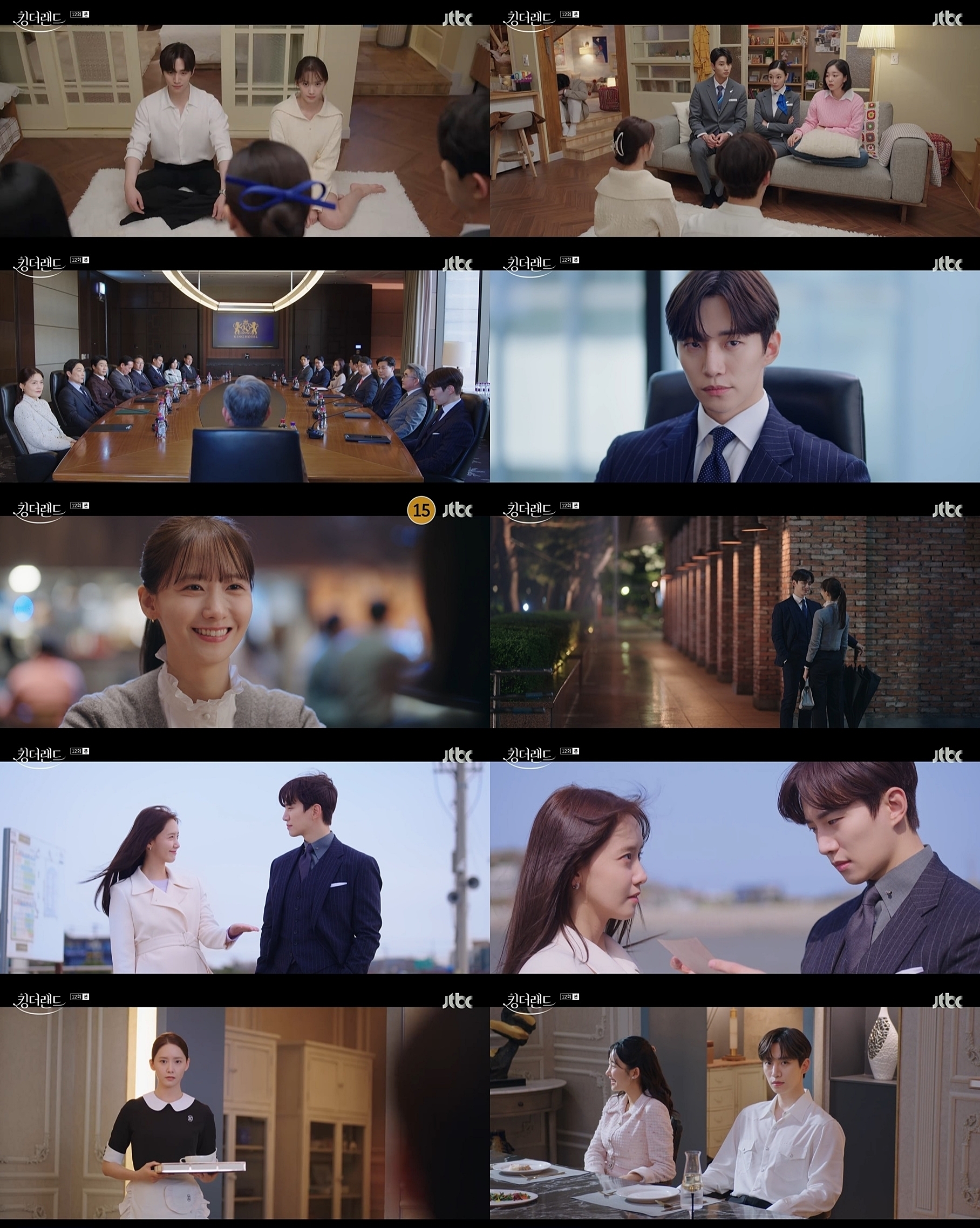 Episode 12 of JTBC's King the Land teased the looming crisis ahead for Goo Won (played by Junho) and Sa Rang (YoonA) as his arranged marriage was revealed.
"he doesn't make me anxious or disappointed."

guwon, you better right all the wrongs asap because my girl is definitely anxious, disappointed, devastated, humiliated & shattered just like that plate 😣#KingTheLandEp12 pic.twitter.com/ijme1c5sM0

— tanya 🌻 KTL HB DP2 (@tanyalmighty) July 23, 2023
guwon: i'm that rude, rotten nepotism guy

them: *grabs pillow and refreshments then gets excessively polite*

they're so cute! daeul and pyeonghwa are so hilarious ㅋㅋ even rowoon's microexpressions are funny 😂#KingTheLandEp12pic.twitter.com/ZkwfHovliM

— tanya 🌻 KTL HB DP2 (@tanyalmighty) July 23, 2023
Goo Won and Sa Rang candidly revealed all their secrets to their friends. Upon discovering Goo Won's notorious reputation, Oh Pyeong Hwa (Go Won Hee), Kang Da Eul (Kim Ga Eun), and Lee Ro Woon (Kim Jae Won) quickly changed their attitudes, reflecting on their actions and burst into laughter.
guwon: why are you being so shy? you're too cute.
sarang: im not.
guwon: i can't leave you alone if you're this endearing…take responsibility.

Im losing the idgaf war #KingTheLandEp12 pic.twitter.com/BPclo6KsbN

— ًًً (@yoongcel) July 23, 2023
the kiss was hotter and sexier, and even more intimate in my opinion. 🫣#KingTheLandEp12 #KingTheLandpic.twitter.com/PVYi1egv40

— rie 🏹 ktl rt bot (@mochijunho) July 23, 2023
Junho you will forever be my melodrama king. I knew he would give us a crying scene somehow even in a romcom #KingTheLand #KingTheLandEp12 pic.twitter.com/uhItsvWEHC

— SHA (@SHA88SO) July 23, 2023
My favourite scene from todays episode, Sarang going out her way to find out information about Guwon's mum and him being speechless and when he walks away to compose himself and the single tear falling down his face 😭😭#KingTheLandEp12 pic.twitter.com/jNyehKDHJo

— SHA (@SHA88SO) July 23, 2023
To heal Goo Won's emotional wounds, Sa Rang personally met with a friend of his mother, Han Mi So, and received a picture. Later, whenever Goo Won missed his mom, Sa Rang took him to the beach they used to visit. Goo Won, who had never been able to hear stories about his mom no matter how much he asked, silently shed tears in the presence of someone who cared for him deeply.
However, as the hearts of Goo Won and Sa Rang grew closer, the burden they had to bear also increased. As Goo Hwa Ran's (Kim Sun Young) position became precarious, she began suspecting the relationship between Goo Won and Sa Rang.
NOOOOOOOOOOO Sarang's heartbroken finding out the two families matchmaking Gu Won & other chairman's daughter to get married😭😭😭😭😭#KingTheLand #KingTheLandEp12pic.twitter.com/UTk3jgTaFA

— 😵‍💫 (@ordinarynojaem) July 23, 2023
In an unexpected turn of events, Sa Rang came to Chairman Gu Il Hoon's (played by Son Byung Ho) house and learned about Goo Won's arranged marriage. Goo Won was also startled upon seeing Sa Rang in the same place. Sa Rang, shocked by the news of her beloved's impending marriage, accidentally dropped a dish, and the room fell into a suffocating silence.
>> What Makes YoonA and Junho's 'King the Land' So Popular?
Source (1)