Kim Woo Bin and Krystal were spotted at the Wimbledon Championships 2023 Men's Singles Final match, surrounded by Hollywood A-listers.
The hottest ticket in town 🎟️#Wimbledon | @RalphLauren pic.twitter.com/chieCvAqoH

— Wimbledon (@Wimbledon) July 16, 2023
The two stars sat between Carlos Alcaraz and Novak Djokovic in London alongside other global A-listers like Tom Hiddleston, Jonathan Bailey, Robert De Niro, Angelababy, Andrew Garfield and Ariana Grande.
"The hottest ticket in town," Wimbledon's official Twitter account tweeted for Kim Woo Bin and Krystal, alongside other celebrities. The tweet has earned 2.9 million views, 2,781 retweets, and 29k likes as of now.
Back in 2013, Kim Woo Bin and Krystal starred in The Heirs alongside Lee Min Ho, Park Shin Hye, Park Hyung Sik, Kim Ji Won, and Kang Min Hyuk, amongst others.
윔블던 결승 보러간 김우빈 크리스탈
영도보나 세계관 미친다
더 줘 pic.twitter.com/6bWOONAkWD

— 비누 (@ssoap_d) July 17, 2023
One fan playfully commented, "Kim Woo Bin and Krystal went to watch the Wimbledon final together. This whole 'The Heirs' universe is so freaking dope! Give me more!" while sharing lovely pictures of the two stars at Wimbledon.
just some A celebrities in wimbledon. kim woo bin who??

i'd say choi young do and bona giving rich kids energy 😎#kimwoobin #krystal pic.twitter.com/GkwoQ1SerS

— ✿ kdrama ost ✿ (@sleeplessaliana) July 16, 2023
the heirs reunion… woobin and krystal at Wimbledon today, looking so good! 🔥😍#KimWooBin #Krystal pic.twitter.com/4uQsWo4TKY

— aurorarain. (@_aurorarain_) July 16, 2023
Other fans joined in, tweeting, "I'd say Choi Young Do and Bona exuding rich kids energy" and "The Heirs reunion," while sharing pictures of the two posing for a photoshoot.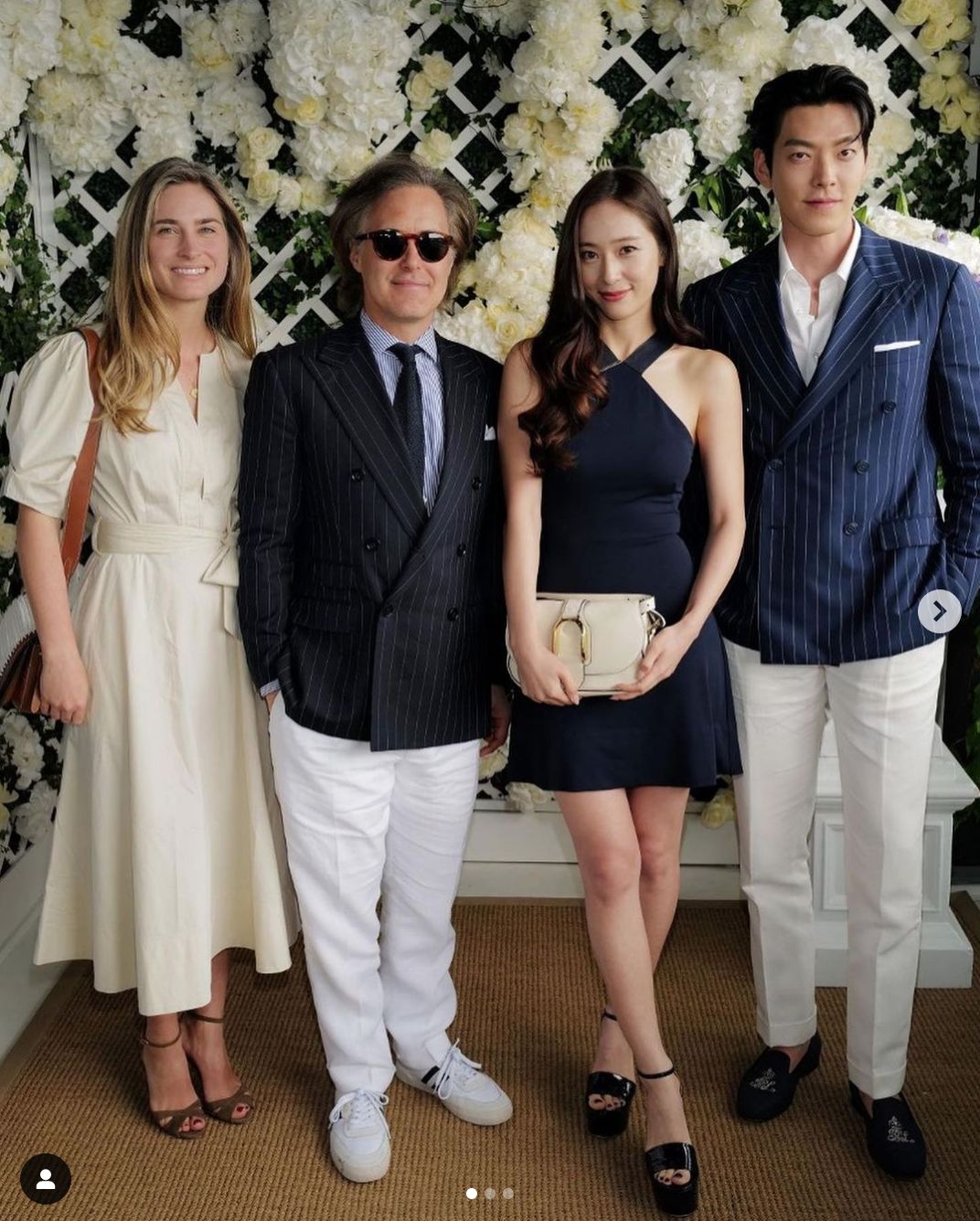 For the event, Kim Woo Bin completed a sophisticated look with a Ralph Lauren Purple Label wool suit jacket, paired with a white shirt and white silk pants.
Krystal, on the other hand, turned heads by matching a Ralph Lauren Collection lambskin halter strap dress with a Wellington shoulder bag inspired by horse saddles.
Ralph Lauren is celebrating its 18th anniversary as Wimbledon's official clothing sponsor, proudly displaying its world through the iconic sport of tennis.
Source (1)