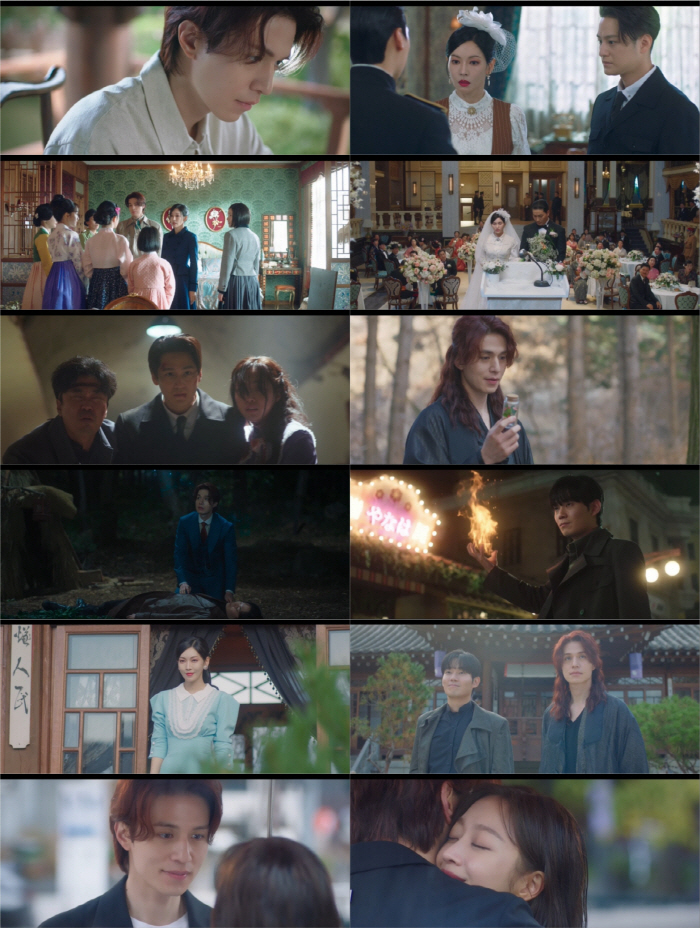 Tale of the Nine Tailed 1938 ended on a high note, capturing the essence of Korean fantasy-action historical drama.
The popular tvN weekend drama came to an end on June 11th amidst high praise. The final episode soared to new heights with an exceptional average nationwide viewership rating of 8.0 percent, dominating its time slot.
In the series, Lee Yeon (played by Lee Dong Wook), who found himself stranded in 1938, went above and beyond to repay the debts he owed to that era. His genuine efforts to ensure the happiness of his loved ones in a peaceful world awakened the 1938 version of himself and restored the friendships that had been strained. The heartfelt reunion between Lee Yeon and Nam Ji Ah (played by Jo Bo Ah) following his emotional farewell with Lee Rang (played by Kim Bum) provided a touching and heartwarming conclusion.
Moreover, the finale featured an animation from the Joseon era, showcasing Lee Yeon's character and creating anticipation for a potential Season 3.
Here are some reactions from viewers who watched the final episode:
"Why does everything come together flawlessly when the story focuses on Lee Yeon and Lee Rang as brothers in 'Tale of the Nine Tailed?' There's one clear reason: the creators nailed it by crafting strong and impressive characters for Lee Yeon and Lee Rang right from the start."
구미호뎐은 왜 항상
이연이랑 연랑 형제 서사만 나오면
스토리 흐름과 전개와 개연성이 완벽해 지는가…
이유가 하나 있을 듯
처음부터 구미호뎐을 쓸때부터 이연, 이랑 형제의 설정을 기가막히게 탄탄하게 잡았기 때문임

— 자기😎 (@9U___tae) June 11, 2023
"OMG, in 'Tale of the Nine Tailed,' I seriously thought Lee Rang was gonna have another sad ending. It almost made me cry! Thank goodness it turned out happy. Writer, please let our precious Lee Rang live a happy life… And for Season 3, I'm hoping we'll see more of Lee Rang and how he's become even stronger than his brother."
아 구미호뎐 또 랑이 불행해지는 줄 알고 눈물 뽑을 뻔 진짜 다행이다 행복한 결말 ㅠㅠ 우리 랑이 안 죽고 행복하게 해줘요 작가님 제발… 시즌3 에서 이제 형보단 강해진 구미호 모습 더 많이 보여줘

— 🏳️‍🌈931(차단되어 있으면 체인블락 때문임) (@jungsooyeon46) June 11, 2023
"'I'm a nine-tailed fox.' Finally Lee Rang started believing in himself and unlocked his full potential as nine-tailed fox!!! This scene was so cool!"
"I'm a nine-tailed fox" 🔥🔥🔥🦊

Finally Lee Rang started believing in himself and unlocked his full potential as nine-tailed fox!!! This scene was so cool! #구미호뎐1938 #TaleOfTheNineTailed1938ep12 #TaleOfTheNineTailed1938 pic.twitter.com/IBPrUlNnRZ

— Elisa 🦋🦊 (@emily89punk) June 11, 2023
"'It's nothing much but they say it brings good fortune. So you don't forget me.' 'How could I? You are my one and only little brother.' Them saying goodbye to each other made so emotional."
"It's nothing much but they say it brings good fortune. So you don't forget me"

"How could I? You are my one and only little brother"

Them saying goodbye to each other made so emotional. 😭😭#TaleOfTheNineTailed1938Ep12 #LeeDongWook#TaleOfTheNineTailed1938 #KimBeom pic.twitter.com/CiQl4YjEwe

— ✨ (@kdramas__) June 11, 2023
"We got another beautiful Yeon Ji Ah umbrella scene. Yeon spent this whole season missing her and now he's back to her and it's so good to see Bo Ah again"
we got another beautiful yeon jiah umbrella scene ☔️ yeon spent this whole season missing her and now he's back to her and it's so good to see boah again 🥹💗pic.twitter.com/t2BIEkUVkj#TaleOfTheNineTailed1938 #TaleOfTheNineTailed1938Ep12

— ً (@kdramamiss) June 11, 2023
"It's must be so hard to bid farewell again to that character which is really close to your heart. You did well Lee Dong Wook. Nobody could have potrayed Lee Yeon better than you!!"
It's must be so hard to bid farewell again to that character which is really close to your heart🥺
You did well Lee Dong Wook. Nobody could have potrayed Lee Yeon better than you!!🦊🧡#TaleOfTheNineTailed1938Ep12#TaleOfTheNineTailed1938 #LeeDongWook pic.twitter.com/HOBsYwNoUg

— ✨ (@kdramas__) June 11, 2023
"Finally Yeon and Ji Ah Reunite. Now I see why didn't they play around with Yeon's loveline in s2. They have crazy chemistry in a 1 min screentime."
Finally Yeon and Ji Ah Reunite. Now I see why didnt they play around with Yeon's loveline in s2

They have crazy chemistry in a 1min screentime 😭❤️🔥#TaleOfTheNineTailed1938Ep12#TaleOfTheNineTailed1938 pic.twitter.com/rpSM6axMLd

— Lee Yun (@LeeYunnes) June 11, 2023
"I am so happy and tbh I was so scared that writers will kill at least one but NO we got happy ending for everyone though few things remained unanswered but I think they're left like this for S3 But overall loved the ep."
I am so happy and tbh i was so scared that writers will kill atleast one but NO we got happy ending for everyone though few things remained unanswered but i think they're left like this for S3 But overall loved the ep

{ #TaleOfTheNineTailed1938Ep12
#TaleOfTheNineTailed1938 } pic.twitter.com/WAqTOw5cmR

— دیجا (@deejasays) June 11, 2023
"Thank you, #TaleOfTheNineTailed1938!! Thank you for such a full-of-laughter and full-of-tears drama, thank you for accompanying our weekend with much laugh and suspense! It has been such a great ride these past 2 months. Good bye and see you again, Gumihodyeon!"
thank you, #TaleOfTheNineTailed1938 ‼️ thank you for such a full-of-laughter and full-of-tears drama, thank you for accompanying our weekend with much laugh and suspense! it has been such a great ride these past 2 months💗
good bye and see you again, gumihodyeon! 🦊 pic.twitter.com/J48XL4oKNg

— engry (@hwanansae) June 12, 2023
"Kim So Yeon are very beautiful, talented, strong. I love her and thank you unnie for trying hard to get fans to watch Gumiho 1938. I love every scene unnie acts so cool. Huh! I must really miss Ryu Hong Joo. Thank you for the fun of Gumiho 1938."
Kim So Yeon are very beautiful, talented, strong. I love her and thank you unnie for trying hard to get fans to watch Gumiho 1938. I love every scene unnie acts so cool. Huh! I must really miss Ryu Hong Joo. Thank you for the fun of Gumiho 1938. 🦉👋🫶⭐️ #TaleOfTheNineTailed1938

— A Tu Corazón (@ArassiranSucof) June 12, 2023
"Damn I so sad and emotional about TOTNT 1938 ending I cried. I'm so happy everyone survived I love them so much."
Damn i so sad and emotional about TOTNT 1938 ending i cried 😭😭😭😭 I'm so happy everyone survived i love them so much 😭😭❤️❤️❤️ #TaleOfTheNineTailed1938

— Mar 🌸 very inactive (@moonjongwoos) June 12, 2023
"Thank you to everyone who was a part of 'Tale of the Nine Tailed 1938.' My heart is so empty and full at the same time. I'm speechless – sad that it's over and very happy that this was created and part of my world. Lee Rang moves my heart. Thank you all."
Thank you to everyone who was a part of Tale of the Nine Tailed 1938. My heart is so empty and full at the same time. I'm speechless – sad that it's over and very happy that this was created and part of my world. Lee Rang moves my heart. Thank you all 💜 pic.twitter.com/cSFVNc7kvZ

— nbpjm 💜 (@jihopecrave) June 12, 2023
Source (1)