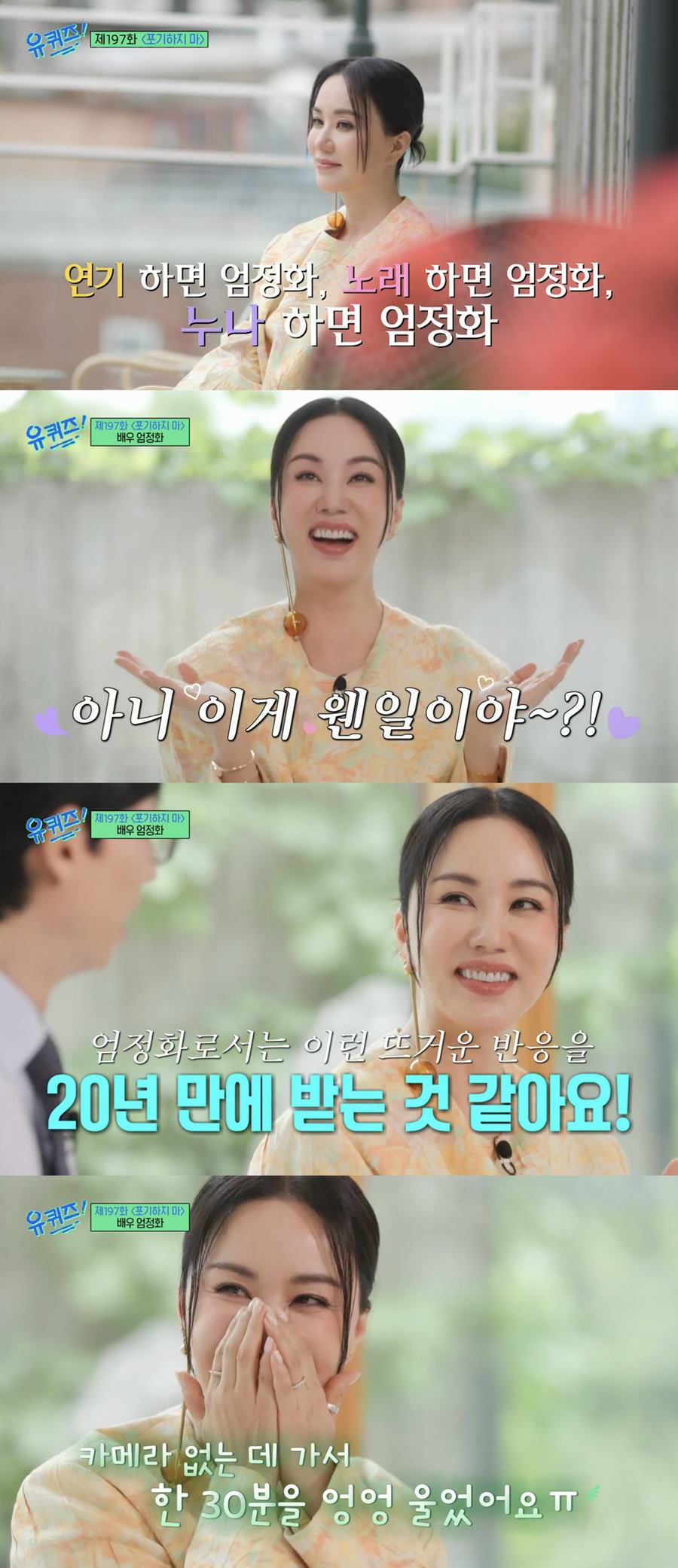 Uhm Jung Hwa shared a frightening experience of losing her voice after thyroid cancer surgery and having her second heyday through Doctor Cha on tvN's You Quiz on the Block.
The actress has been enjoying popularity for her work in the latest drama, Doctor Cha. "I can't believe this is happening to me. I am thankful for all your love for the drama," she expressed. "The reaction was as hot as when I released two hit singles, 'Invitation' and 'Poison.' I think it's been 20 years since I received that much love. I was too nervous to watch the episode on the premiere day. Fortunately, many loved the show, so I was very relieved and happy. It was such a joyful moment that I cried for 30 minutes off-camera on set."
Uhm Jung Hwa debuted as a singer with her lead single "Pupil" in 1993. She revealed, "I was unsure about what image I should set for myself as a singer back then. All thanks to my debut single, I could have come this far." Since her debut, she has actively promoted herself as a dance singer and made a splash with various hits, including "Rose of Betrayal," "Poison," "Festival," "Invitation," and "I Don't Know."
But she was eager to venture into the film industry. "My songs were loved so much, but I didn't receive any film offers because I was mostly recognized as a singer, not an actress. That's when I was offered to join the film Marriage is a Crazy Thing. It was an R-rated movie, so everyone told me not to accept the offer. But I wanted to be in it so bad," she stated. Uhm Jung Hwa won Best Actress for her role in the project at the Baeksang Arts Awards.
She recalled the days of battling thyroid cancer. She explained, "I had thyroid cancer surgery after releasing my mini-album Disco. However, I lost my voice for eight months. I was afraid I would have to give up on what I wanted to do. It was such a frightening experience. I also had a tough time while promoting as Refund Sisters due to my voice. During that time, Yoo Jae Suk paid for my vocal lessons and gave me lots of support. I gained courage and strength from him."
The actress feels her voice trembling and cracking at times even now, which some netizens have pointed out in the comment section. She said, "I have to clear my throat whenever a new scene is filmed. I thought it was my weak point and tried to hide it from others. But the more I did so, the smaller I felt. I am not sick, so I just want my fans to understand that this is just how my voice is. I like my voice."
>> Uhm Jung Hwa Feels Lucky to Star in 'Doctor Cha' and Is Satisfied With the Ending
Source (1)