tvN's Alchemy of Souls: Light and Shadow ended with a happy ending. Following the drama's wrap, the comments Go Youn Jung and Lee Jae Wook exchanged online are drawing attention.
On January 8th, the actress shared several photos of them along with three emojis of a four-leaved clover, a blowfish and a turtle. In the pictures, Go Youn Jung and Lee Jae Wook are seen posing with a peace sign and a camera, showing off their close friendship.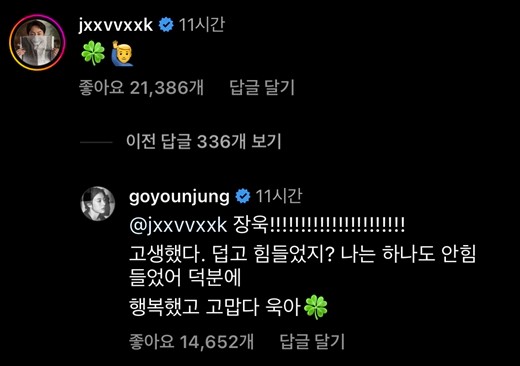 The actor left two emojis — a four-leaved clover and a person raising his hand – on her post, and the actress replied him, saying, "Hey, Jang Wook! You made it through. It must have been a tough day for you to film it on a hot day. But I think I enjoyed filming all thanks to you. Loved working with you. Thanks, Jang Wook," along with a four-leaved clover emoji.
>> Go Youn Jung Shows off Her Close Friendship With Lee Jae Wook
Source (1)