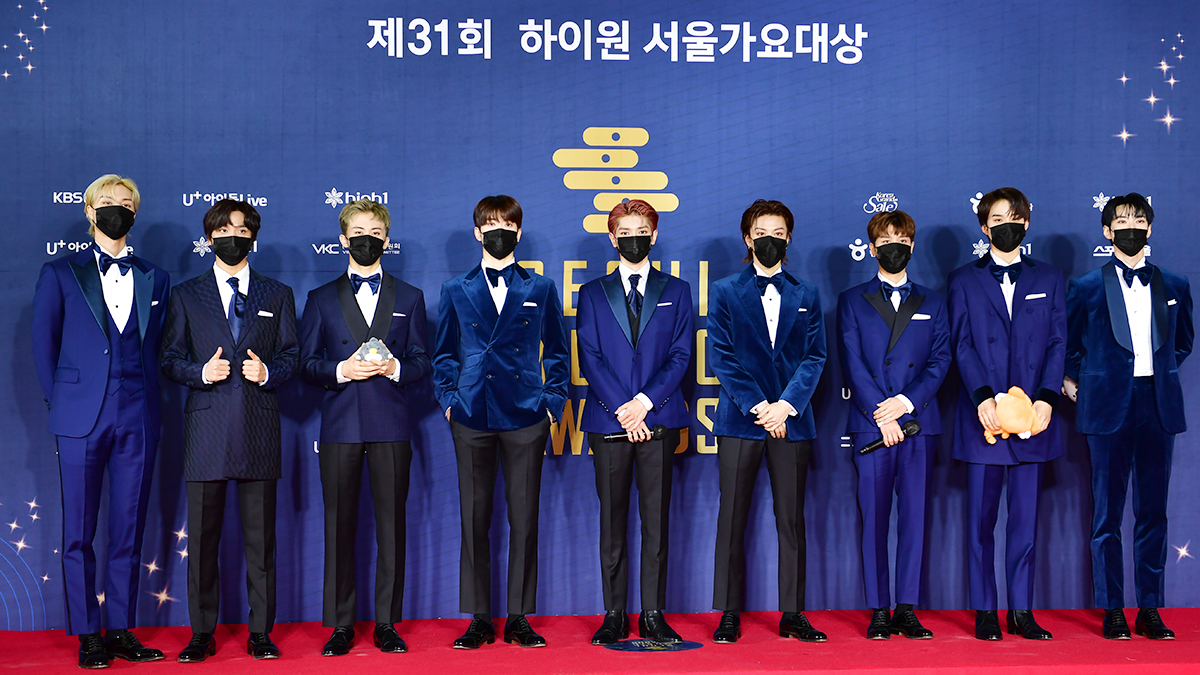 NCT 127 won the Grand Prize (Daesang) at the 31st Seoul Music Awards (SMA) on January 23rd.
In the acceptance speech, NCT 127 said, "We didn't expect such a great honor. All the nine members have worked really hard. This is all thanks to the NCT members, including those who are in NCT 127, NCT DREAM, WayV, and NCT 2021. We are proud of all of you!"
At the same event, IU won the Best Song Award for her popular single, "LILAC." She shared, "It was a joyful and wonderful time in my life. I enjoyed working on this studio album. Although it wasn't easy wrapping up my 20s, I didn't expect this song to win such a big award. Thank you." She also sent a heartfelt message to UAENA (the name of IU's fanbase) by saying, "This honor belongs to UAENA and the producers who helped me with the LILAC album. Thank you, UAENA. I love you."
The Best Album Award went to NCT DREAM for their first studio album Hot Sauce. They shared, "Thank you for giving us such a big award. We want to thank all the people who worked with us at SM Entertainment. We will make it up to our fans in 2022 with better music. I hope you stay tuned for more of our songs. Thank you NCT 127, DREAM, and all of NCT members!"
Below are the full list of winners:
Daesang (Grand Prize): NCT 127
Best Album Award: NCT DREAM
Best Song Award: IU
World Best Artist Award: BTS
Bonsang (Main Award): ENHYPEN, Heize, Brave Girls, Oh My Girl, Kang Daniel, aespa, ATEEZ, NCT 127, THE BOYZ, Lim Young Woong, BTS, SEVENTEEN, IU
Rookie of the Year: Lee Mujin, OMEGA X, EPEX
Popularity Award: Lim Young Woong
U+ Idol Live Best Artist Award: BTS
K-Wave Award: EXO
Discovery of the Year: Lang Lee
Best Performance Award: STAYC, ENHYPEN
Trot Award: Lim Young Woong
Ballad Award: Wendy of Red Velvet
OST Award: Lim Young Woong
R&B/Hip Hop Award: HyunA
Special Jury Award: Jung Dong Ha
Source (1)
Translator Changhyun Kim: Hello, K-pop, K-drama, and K-movie lovers! I will provide you with accurate and reliable Korean Entertainment news.